Cawthorn to Speak at Trump Rally Despite GOP Fury Over Orgy, Cocaine Claim
North Carolina Representative Madison Cawthorn is set to give remarks at an upcoming Trump rally despite anger from some in the party over his recent comments about orgies and drugs.
In a Friday release, Cawthorn's name was listed under the "special guest speakers" at a rally where former GOP President Donald Trump is also scheduled to deliver remarks in Selma, North Carolina, on April 9. Cawthorn's inclusion comes after Republican House Leader Kevin McCarthy said the freshman congressman's recent claims about being invited to sexual get-togethers and witnessing drug use were exaggerated.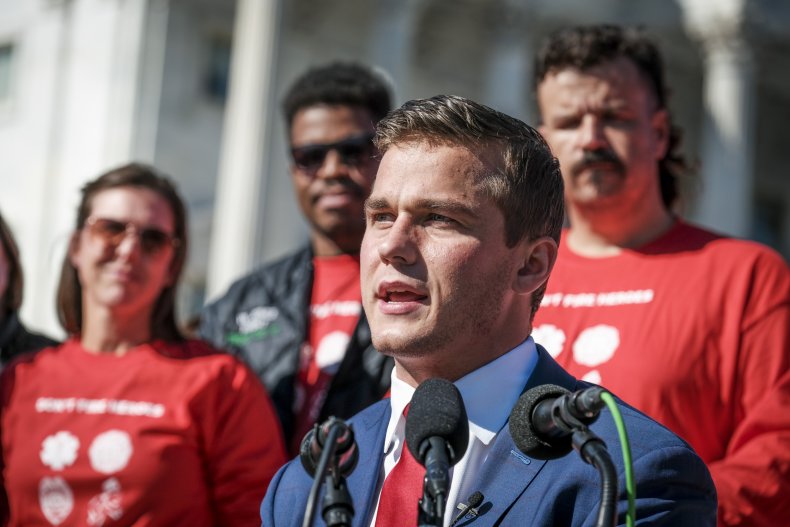 On Wednesday, Cawthorn had a 30-minute meeting with McCarthy and House Minority Whip Steve Scalise following his allegations, which reportedly upset many of his House Republican colleagues.
Next Saturday night's rally in the Tar Heel State is being held as a show of support for U.S. Representative Ted Budd, who is running for the U.S. Senate in the state, as well as other candidates the former president has endorsed, according to The News & Observer.
Thom Tillis, a GOP senator from Cawthorn's home state of North Carolina, announced that he would not be backing Cawthorn in his upcoming May primary, instead choosing to endorse one of his opponents, state Senator Chuck Edwards.
In announcing his support of Edwards over Cawthorn in North Carolina's 11th congressional district primary, Tillis said the district "deserves a congressman who is fully dedicated to serving their constituents," according to The Hill.
Tillis went on to say that Edwards "would never turn his back on Western North Carolina or abandon his constituents for the sake of political expediency," The Hill reported.
Another Republican senator from North Carolina, the retiring Richard Burr, has said that he does not plan to get involved in Cawthorn's primary.
Earlier this week, in comments to CNN, Burr mentioned in reference to Cawthorn that "on any given day, he's an embarrassment."
Other GOP leaders in North Carolina have begun backing Edwards over Cawthorn in the May primary. Republican state House speaker Tim Moore and state Senate leader Kathy Harrington attended a fundraiser for Edwards this week.
Moore, in an interview with CBS affiliate WNCN, referred to Cawthorn as a clown.
"If you have clowns in office who aren't serious about what they're doing, you can't get somewhere. I'm just kind of without the words to describe what Congressman Cawthorn is doing and saying. I mean, some of these ridiculous recent comments that continue to build on one another," Moore said to WNCN.
This comes after a video surfaced in early March in which Cawthorn, while speaking to supporters, referred to Ukrainian President Volodymyr Zelensky as a "thug." In his remarks, Cawthorn also called the Ukrainian government "corrupt" and "incredibly evil."
In addition to Budd and Cawthorn, Bo Hines, a candidate for North Carolina's 13th congressional district, is scheduled to speak at the rally.
Newsweek reached out to a Trump spokesperson and Cawthorn's office for comment but did not hear back before publication.