CBP Is 'Gaslighting' Iranian Americans by Denying It Detained Dozens at Washington Border, State's Lt. Governor Says
Washington state's second-in-command has accused the U.S. Customs and Border Protection (CBP) agency of gaslighting Iranian Americans by denying the claims of dozens who say they were detained and questioned about their connections to Iran at a border crossing in Blaine over the weekend.
In a statement sent to Newsweek, Washington Lt. Governor Cyrus Habib, who made history as the first Iranian American to be elected to state legislature, said his office had received multiple reports of Iranian Americans being stopped and questioned about their heritage at the Peace Arch border crossing between the U.S. and Canada over the weekend.
"I have heard directly from people I know that they—U.S. citizens of Iranian American heritage—have been held at the border for extraordinary lengths of time," Habib said.
In some cases, he said, Iranian Americans had been detained for more than 10 hours at the border, while being "subjected to invasive questioning."
"When we hear story after story of Iranian Americans being singled out based on their ethnicity, stopped for hours, and questioned about their family backgrounds, it is hard to call it anything other than racial profiling," he said.
Ultimately, Habib said: "To have U.S. Customs and Border Protection deny these claims is like being gaslighted from the federal government."
As Newsweek reported on Monday, the Washington state chapter of the Council on American Islamic Relations (CAIR-WA) had claimed to have identified more than 60 Iranians and Iranian Americans "of all ages" who said they had been "detained at length and questioned" by CBP officers at the Peace Arch crossing.
In one such case, CAIR-WA said a 24-year-old medical student, identified only as "Crystal," claimed to have been detained with several other people of Iranian descent for more than 10 hours before being released.
Others, the organization said, were reportedly refused entry to the U.S. due to a "lack of capacity" for CBP "to detain them."
CBP has issued a blanket denial of the alleged incidents, however, sharing with Newsweek a statement it had previously posted to Twitter, asserting that "social media posts that CBP is detaining Iranian Americans and refusing their entry into the U.S. because of their country of origin are false."
The agency also asserted that neither the Department of Homeland Security, nor CBP, had issued any "directive" ordering border agents and officers to detain people of Iranian descent.
CBP further noted that based on the current threat environment, the agency is operating with an enhanced posture at U.S. ports of entry. Processing times, it said, are the result of current circumstances, including staffing levels, volume of traffic and threat posture.
While CBP did acknowledge that wait times had increased on Saturday evening to an average of two hours, with some travelers experiencing longer delays of up to four, the agency said those delays were due to increased volume and reduced staff during the holiday season.
In an interview with Newsweek, National Iranian American Council (NIAC) spokesperson Mana Mostatabi said a number of Iranian Americans had crossed the border into Vancouver, British Columbia, on Saturday to attend a music show featuring Persian pop duo Masih & Arash Ap.
As a result, Mostatabi said, "there were a lot of folks of Iranian heritage coming across the border at this point."
According to an event listing for the concert, it would have taken place starting at 7 p.m. on Saturday at the Chan Center. Therefore, U.S. concertgoers may have been trying to make their way back home through Washington later that evening or on Sunday.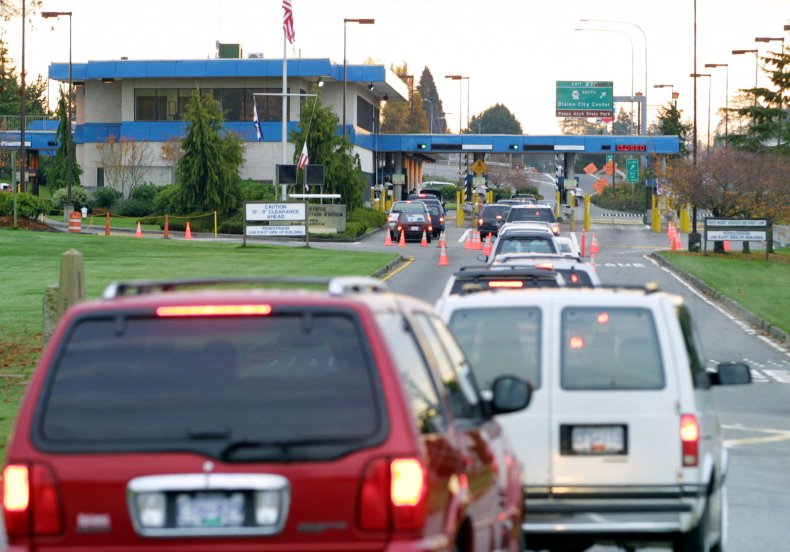 Mostatabi said that even if there had been an influx of people, including Iranian Americans, passing through the Blaine border crossing in connection with the concert, that would not explain why Iranian Americans would have been delayed for upwards of 10 hours and questioned about their ties to Iran.
Mostatabi said she suspected CBP was "using semantics" to try to avoid taking responsibility for the situation. The NIAC spokesperson questioned why CBP's statement only appeared to respond to "social media reports" and why the agency specifically said it did not detain and refuse Iranian Americans entry "because of their country of origin."
"They said social media reports are false that we are detaining and refusing entry, so we think they're using semantics to try to get around this, which is quite concerning," the NIAC spokesperson said.
Newsweek has followed up with CBP for further information.