Border Apprehensions Have Plunged Since May—So Why Are U.S. Military Troops Still There?
U.S. Customs and Border Protection Acting Commissioner Mark Morgan has lauded the Trump administration's efforts to deter migration to the U.S. border, crediting President Donald Trump's hardline immigration policies for overseeing a sharp decline in enforcement actions at the southern border in the month of September.
"This September marked the lowest number of law enforcement actions during fiscal year 2019," Morgan said Tuesday, speaking at a White House press briefing.
According to CBP, the agency saw a combined total of 52,546 people apprehended or deemed inadmissible at the U.S.-Mexico border last month, representing a major drop from the record-breaking 144, 255 who were apprehended or turned away from the border in May.
Celebrating the significant decline as an "unprecedented achievement," Morgan said September's numbers represented the "fourth month in a row of a steady decline," with the month's data representing an 18 percent drop from August's numbers.
Newsweek subscription offers >
"And why have we achieved these significant results?" Morgan asked. "President Trump."
"Make no mistake... President Trump has worked to have other countries in the regions like Mexico and the northern triangle countries to join us as true partners, to come together and address this as a regional crisis that it is and that's exactly what is happening," he said.
Newsweek subscription offers >
Morgan specifically pointed to the Trump administration's controversial "Remain in Mexico" policy, which has forced tens of thousands of asylum seekers to wait in Mexico for their asylum cases to be processed in the U.S.
Indeed, the policy has prevented as many as 48,000 asylum seekers from entering the U.S.'s immigration detention system, forcing them to instead wait in Mexican border towns, where human rights organizations have repeatedly warned their safety could be at risk.
According to Human Rights First, there have already been as many as 340 reports from asylum seekers forced to return to Mexico under the policy who say they have been targeted in violent attacks, including instances of kidnapping, rape and torture.
Still, Morgan praised the policy on Tuesday as having played a significant role in bringing about the "downward trend in border enforcement statistics" and strengthening "the integrity of the immigration system."
Yet, if there has been a consistent "downward trend" in border enforcement actions, it begs the question of why CBP still requires the assistance of thousands of military members at the U.S. border.
Last month, Defense Secretary Mark Esper approved an extension of the Defense Department's border support mission, which had been set to expire on September 30, the end of fiscal year 2019.
In a statement sent to Newsweek, CBP spokesperson Michael Scappechio said "DoD support was approved to continue throughout FY 2020."
Asked to clarify whether that meant the DoD's border support had been extended until the end of fiscal year 2020, or whether an earlier expiration date had been set, he did not respond.
However, in a separate statement, a DOD spokesperson confirmed that the deployment had been approved to continue until September 30, 2020, the end of the current fiscal year.
Under the renewal, as many as 5,500 service members have been given the green light to continue missions along the U.S.-Mexico border. It is unclear whether that number includes both National Guard and active-duty troops.
What is clear, however, is that the continued deployment could cost the U.S. hundreds of millions of dollars more.
Already, the costs have been estimated to come to hundreds of millions of dollars, with early estimates in February suggesting that they could even reach $1 billion by the end of fiscal year 2019.
Asked whether the DoD's decision to extend the border mission another year made sense, given the steady decline CBP has seen in the number of arrivals at the border, Todd Rosenblum, a former senior-level executive with both the DHS and DoD, told Newsweek: "The short answer is no."
"The numbers are down and that's a good thing," he said. But, he said, in his view, the role DoD personnel are currently serving is "not a military activity."
"It's not military activity, in my view," Rosenblum, who previously served as acting assistant secretary of defense for homeland defense and America's security affairs and as deputy undersecretary of intelligence, said. "This is border security. It's an element of national security, but it is not a military activity."
If anything, he said, the U.S. should be investing in expanding the Department of Homeland Security and hiring more CBP personnel, rather than keeping troops stationed at the border.
"For whatever reason, [the DHS] has never been able or willing to hire the number of people it needs. It's leaned on the DoD to do these inherently law enforcement activities."
Newsweek has contacted CBP and the Defence Department to ask whether the steady decline in border enforcement will have any impact on the DoD's border deployment. However, given that the extension was approved in September, when numbers were already declining, it appears unlikely.
Since being deployed to the U.S.-Mexico border, military members appear to have largely been focused on providing mobile surveillance and detection, assisting with aviation support and helping harden points of entry, in addition to installing concertina wire between designated entry points.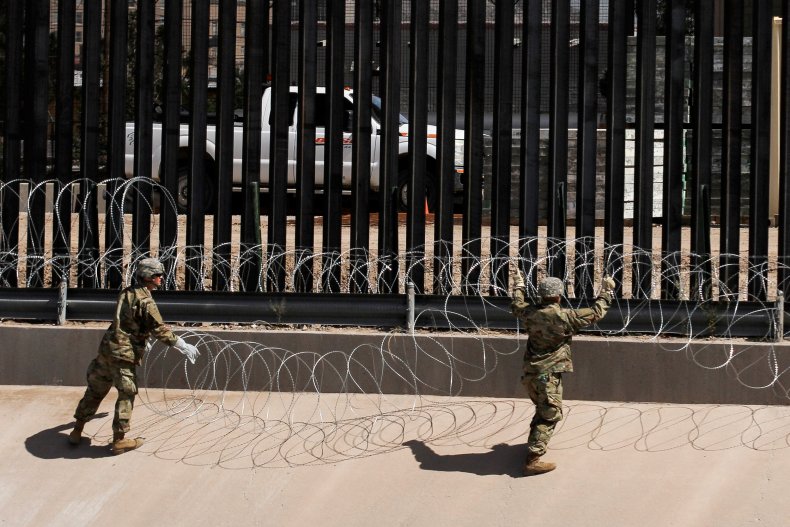 Border Apprehensions Have Plunged Since May—So Why Are U.S. Military Troops Still There? | U.S.