CBP Chief Tells Fox News Agents Are 'Required to Protect' Migrants from Visitors After Criticism From Lawmakers
Aaron Hull, the chief Customs and Border Patrol agent from El Paso, Texas, insisted to Fox News on Wednesday that he and his staff were "required to protect" migrants from visitors after he was confronted with criticism from Representative Joe Kennedy III.
Kennedy, who represents Massachusetts' 4th Congressional district, wrote on Twitter this week: "Spent the morning in TX at Clint and El Paso detention facilities. Big takeaways -- 1) @CBP was very resistant to Congressional oversight. They tried to restrict what we saw, take our phones, block photos and video. Atmosphere was contentious and uncooperative."
Fox News America's Newsroom co-host Sandra Smith read the tweet to Hull during an interview, asking him to respond directly to the criticism.
Hull explained that the Clint facility had been specifically used to detain "alien children" since 2014. He argued that legally, the "unaccompanied alien children" are not able to grant permission to be photographed or interviewed because they are minors.
"We have to protect them not only from outsiders and people who wish to do them harm but even from visitors, who may wish to speak to them or photograph them. We cannot grant that consent for them. And the aliens – these children – cannot grant their own consent," Hull said. "We are required to protect them from visitors," he added, insisting that "this was explained very clearly throughout the visit."
In addition to the tweet Smith read to Hull, Kennedy had posted two more in the thread.
"2) Facilities are wholly inadequate. Cells maxed to capacity, concrete floors...It felt jail-like. No way to keep a child or innocent human being. Group of 13 women from Cuba were in tears when we spoke with them," he wrote in the second tweet.
"3) The entire system is broken, rotten and rife with abuse. And Trump doubles down on it despite the growing horror -- child detention, metering, Remain in Mexico, threatened ICE raids. Every action he takes exacerbates and entrenches the humanitarian crisis at our nation's feet," the congressman concluded.
Although conditions in migrant detention centers have long been criticized, even drawing lawsuits against former President Barack Obama's administration, the situation has worsened under President Donald Trump.
This week, numerous Democratic members of Congress visited the controversial facilities to shed light on the conditions endured by migrants. Representative Alexandria Ocasio-Cortez of New York has alleged that women were told by CBP agents to drink from a toilet and were also subjected to "psychological warfare," with guards calling them "whores."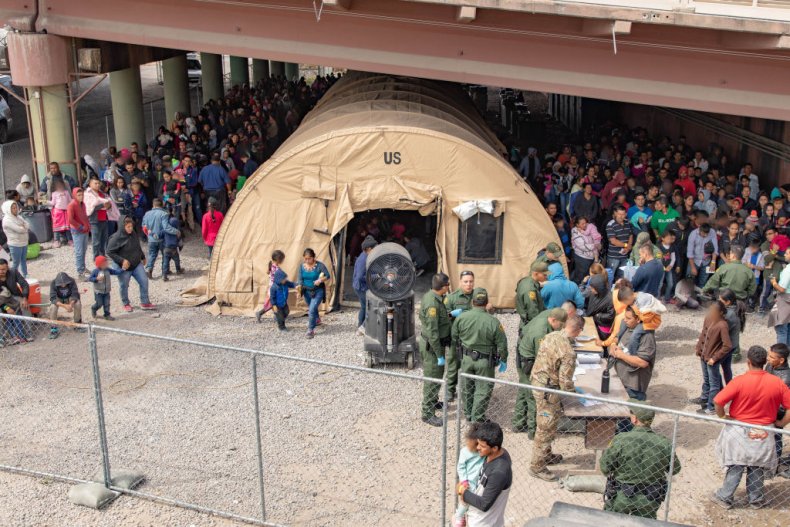 Photos and videos of the overcrowded facilities have now circulated widely on social media and in the news. Migrants are often required to sleep on cement floors with only thin blankets, due to a lack of beds. They have also often not been provided hygiene basics such as soap, toothbrushes and clean clothes.
In a report published on Tuesday, the Office of the Inspector General of the Department of Homeland Security, which oversees the CBP detention centers, warned that "immediate attention and action" were required to address the facilities' problems.
"At one facility, some single adults were held in standing room only conditions for a week and at another, some single adults were held more than a month in overcrowded cells," the report said. "We are concerned that overcrowding and prolonged detention represent an immediate risk to the health and safety of DHS agents and officers, and to those detained."