U.S. Customs and Border Patrol (CBP) deputy chief Scott Luck will reportedly be celebrating his retirement later this month by holding a party at a golf resort belonging to President Donald Trump.
A flyer obtained by Quartz, apparently posted in the Border Patrol headquarters, invites people in the Washington, D.C., building to honor Luck's "33 years of exceptional service to the Patrol" at the Trump National Golf Club in Virginia. The cost to attend is $75 per person and includes hors d'oeuvres, dinner and a gift for Luck.
Having Luck's retirement party at a Trump property is not illegal. Federal ethics rules prohibit government employees from giving gifts to superiors, but let them spend up to $10 on birthdays and some holidays. Employees may give an "appropriate" gift on "special infrequent occasions" such as marriage, illness, a new child and "occasions that terminate the subordinate-official superior relationship, such as retirement, resignation, or transfer," Quartz reported on Friday according to the Office of Government Ethics.
A Border Patrol spokesman told the publication, "U.S. Border Patrol is not sponsoring or funding this private event taking place outside of duty hours."
Luck was a keynote speaker at the Border Patrol Foundation's annual dinner, which was moved from a Marriott hotel to Trump International Hotel in Washington, D.C. The foundation recognizes agents who have died while serving.
Trump has been accused of conflicts of interest with his business and job as president of the United States. Upon winning office, Trump stepped down as the head of the Trump Organization but still has not fully divested from his businesses.
Past presidents have divested from their business interests or put their assets in a blind trust to ensure there is not even the appearance of any conflict of interest.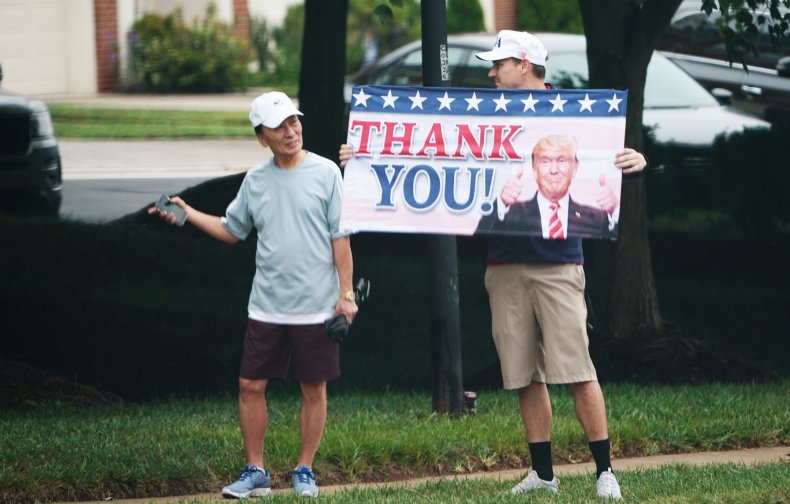 The president has voiced great support for CBP and in August 2018 honored Border Patrol and U.S. Immigration and Customs Enforcement officials.
"Without the brave heroes of ICE, we would have no enforcement, no laws, no borders and therefore — we wouldn't even have a country," Trump said in a statement at the time.
A press release from the White House stated that "ICE and CBP play a vital role in protecting our safety by combatting the flow of criminal aliens, gang members, and deadly drugs across our borders and into our communities."
Luck's retirement party is scheduled about two-and-a-half months before Attorney General William Barr's planned family holiday party at Trump International Hotel.
The White House did not immediately respond to a request for comment from Newsweek on Friday.