CBP Credits Drop In Arrivals Of Asylum Seekers At U.S. Border To Trump—Not Seasonal Trends
The U.S. Customs and Border Protection has praised President Donald Trump and his administration for being behind a sharp decline in the number of migrants apprehended at the U.S.-Mexico border.
In a press conference on Monday, CBP acting Commissioner Mark Morgan said it was Trump and his administration–and not "seasonal trends"–that were responsible for a nearly 35 percent drop in apprehensions at the border in August.
During the month of August, CBP apprehended more than 50,6000 people at the border, compared to the nearly 72,000 that were stopped in July.
As Morgan noted, the August numbers also reflect a dramatic drop from the peak in May, which saw nearly 133,000 people stopped at the border, including more than 84,000 family units.
While Morgan condemned Congress for having "failed...to pass meaningful legislation to address the crisis of the border," he praised Trump for his hardline crackdown at the U.S.-Mexico border.
"President Trump is making it clear that if you come to the United States of America illegally, you will be removed," Morgan said. "If you come here as an illegal alien in the United States, if you commit crimes or illegally take American jobs, you will face consequences."
"The President has made it very clear that he's going to use every tool available to him and this administration to address this unprecedented crisis at the southern border," he continued. "We have seen historic agreements and policies put in place by this administration; an unprecedented network of initiatives, from regulatory reforms, policy changes, interior enforcement efforts. The list goes on and on, what this administration has done."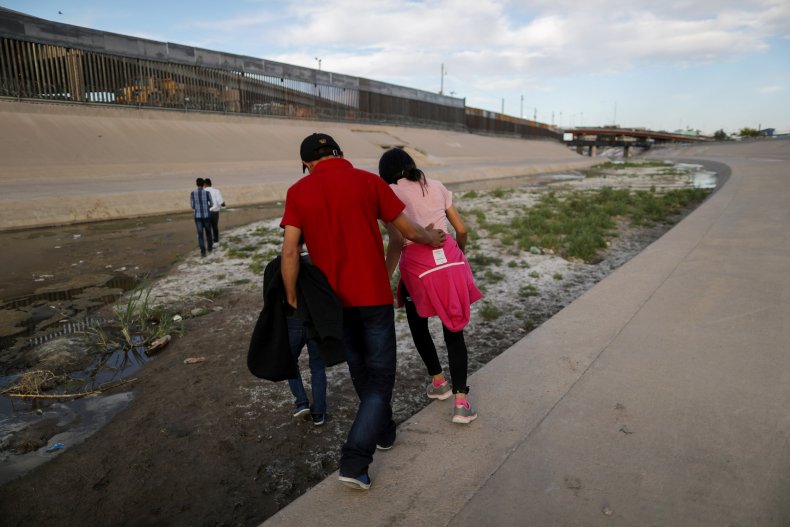 Asked by a reporter whether seasonal trends might have also played a role in the reduced numbers at the border, with apprehensions traditionally dropping around this time of the year due to the heat, Morgan said that notion was a "false narrative."
"I think that's a good question, because that's one of the false narratives out there," Morgan said. "The past five years, due to seasonal reasons, we've seen, on average, those numbers drop about 8 percent."
However, this year, Morgan said, "if you look from, you know, June to July, we saw those numbers drop by 40 percent. So it's just not supported by the facts."
The CBP chief also noted that last year, from July to August, the numbers of apprehensions at the border "actually went up."
Indeed, the number of people apprehended at the border did rise from July 2018, which saw more than 31,000 people stopped, to August 2018, which saw more than 37,500 people apprehended.
The number also rose between the months of July and August in 2017 as well, with more than 18,100 people apprehended in July of that year compared with more than 22,200 the following month.
"It's what this President and this administration is doing" that is bringing about the decline in numbers, Morgan maintained. "It has nothing to do with seasonal trends."
The graph below, provided by Statista, shows how Trump has talked about immigration during rallies over the last two years.
Whether or not Trump's policies are behind the drop in migrants arriving at the U.S. border, as Morgan noted, Mexico's role in boosting efforts to prevent migrants from reaching the border due to pressure from the U.S. appears to have been significant.
"Mexico has apprehended approximately 134,000 people so far this calendar year. Last year—2018 calendar year—the entire year of 2018: 83,000. That's a substantial increase of apprehensions that the government of Mexico has executed," Morgans aid.
"In addition, since June, Mexico has deployed thousands of troops. They've created a new national guard within their country: 10,000 troops to the southern border; 15,000 troops to the norther border with the United States," he said. "Again, unprecedented support and cooperation with the government of Mexico."
Despite those efforts, however, Morgan said he believed Mexico needs to "do more" to prevent migrants from reaching the U.S. border by expanding the controversial "Migrant Protection Protocols" or "Remain in Mexico" policy, which has seen people seeking asylum in the U.S. forced to wait in Mexico as their claims are being processed.
Immigration advocates have roundly condemned the policy, however, asserting that it puts already vulnerable asylum seekers at risk by forcing them to wait for proceedings in the U.S. to unfold in often unsafe conditions in Mexican border towns.