Border Protection Commissioner Admits No New Border Wall Miles Built Despite Trump's Claim of 'Great Progress'
President Donald Trump has been claiming that the border wall is well underway in construction, but the acting U.S. Customs and Border Protection (CBP) commissioner was unable to support those remarks after repeated questioning by a reporter.
The exchange occurred on Thursday when a reporter, whose identity was not clear from a C-SPAN video, asked acting CBP commissioner Mark Morgan for a status update on "how many miles of wall has been constructed, not wall that's replacing old wall, but new wall that has been built to this point."
"So 78 miles of new wall has been built," Morgan replied.
The reporter, skeptical about Morgan's claim, pushed him further.
"Much of that obviously is replacing wall that formerly existed, that the president said was insufficient," the reporter said. "How many miles of wall where there was no wall whatsoever?"
Morgan responded that "every mile of wall that is being built is a new mile of wall."
The reporter asked again for Morgan to differentiate between renovated or replaced wall, and wall where no barrier previously existed.
"So right now, 78 miles have been built, have been built where there was an existing form of barrier," Morgan said, effectively admitting that none of the wall that has been constructed has been in new areas.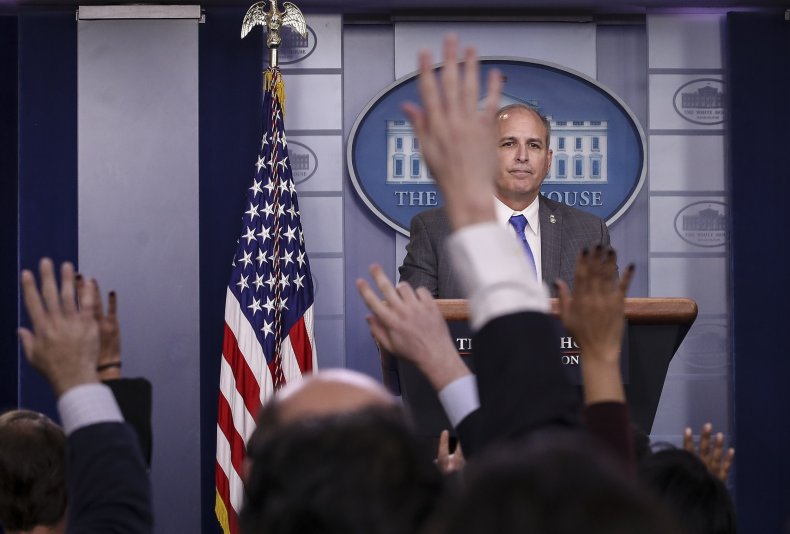 Morgan then remarked on plans for new border wall—that have not yet come to fruition.
"We just started breaking ground in [Rio Grande Valley] where we're building miles of new wall where there has been no structure there at all," the acting CBP commissioner said.
"So that's just now starting the construction of new wall?" the reporter said, seeking to clarify.
"That's correct, that's correct," Morgan admitted.
Morgan added that land acquisition in a section of Texas would "continue to be a challenge." He explained that a mile of land could in the past have several owners, "from 10 to 100," and that records may not be clear.
"It's a challenge to go through that process," Morgan said.
Trump in mid-September tweeted, "GREAT progress on the Border Wall!" along with video with officials from a construction site.
Two steel squares have been erected in areas where there was no barrier before, The New York Times reported last week, almost three years after Trump entered the White House with the promise of building the wall at the border with Mexico. Construction began in late October in Donna, Texas, months before the work was scheduled to begin.
More than 400 miles of wall are left to be constructed in about 60 weeks in order to meet the 2020 deadline set by the Trump administration.