CBP Official Compares Southern Border Defense to Iraq and Afghanistan 'Hot Zones'
A top U.S. Customs and Border Protection official compared military troops' efforts to fortify the southern U.S. border to "fortifying operating bases in hot zones" in Afghanistan and Iraq.
In statements shared in a CBP "spotlight" release, Benjamin Attella, the logistics section chief in the agency's Area Command in Washington, D.C., commended the military troops sent to the U.S.-Mexico border by the Trump administration on their work there.
Noting that the military had worked in advance to get border fortification materials, including concertina wire and concrete barriers, to key locations along the southern border before the arrival of thousands of Central American asylum seekers, Attella said, "That's just how the military operates.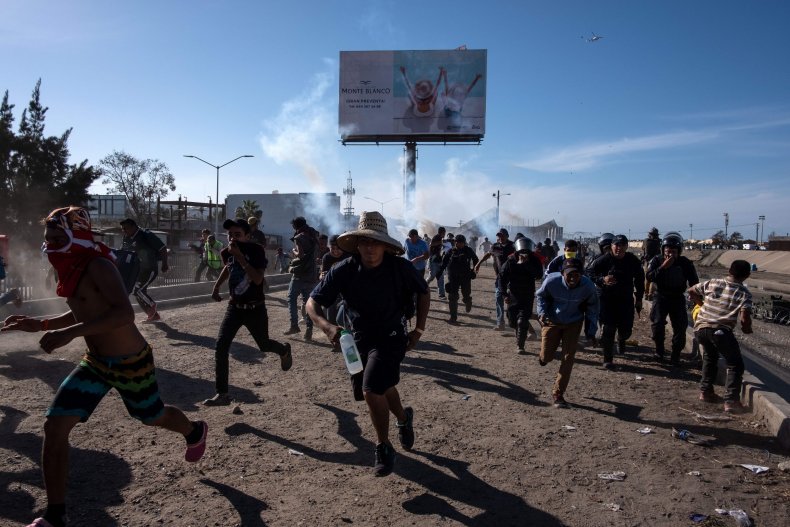 "You move your troops forward to cut back on that lag time," Attella said. "We train this concept and execute on a smaller scale, but to see the Army do it as doctrine with such efficiency is amazing."
The CBP news release stated that "just like the experience of moving materials across the country, the military is also used to building effective entry control points at its bases in the U.S. and overseas, similar to what CBP has to do with ports of entry," apparently comparing military border fortification efforts abroad with CBP's at home.
"We've had a lot of military officers up here (in the Area Command) who have a lot of experience in Afghanistan and Iraq with fortifying operating bases in hot zones," Attella said.
"This is what they do," he continued. They're experts, and it shows."
CBP has used, according to the news release, a total of $4.3 million in materials provided by the Defense Logistics Agency, an arm of the Department of Defense, across three locations along the southern border: Southern California, Texas and Arizona.
CBP said those materials included "approximately 36 miles of concertina wire (with more on the way), concrete and water-fillable traffic barriers, more commonly known as jersey barriers, and old metal shipping containers the military can no longer use but make for great border barriers."
The agency said the shipping containers would not cost taxpayers "anything extra," since they were "already bought, used and are now recycled at the border.
"It all totals up to around $4.3 million in materials the Defense Logistics Agency is providing so far to support Operation Secure Line," CBP said, using the official name given to the joint effort by CBP and the the Department of Defense to "secure" the southwest border.
CBP noted that while the Defense Department had supported CBP at the border in the past, "this latest effort between the military and CBP is unprecedented."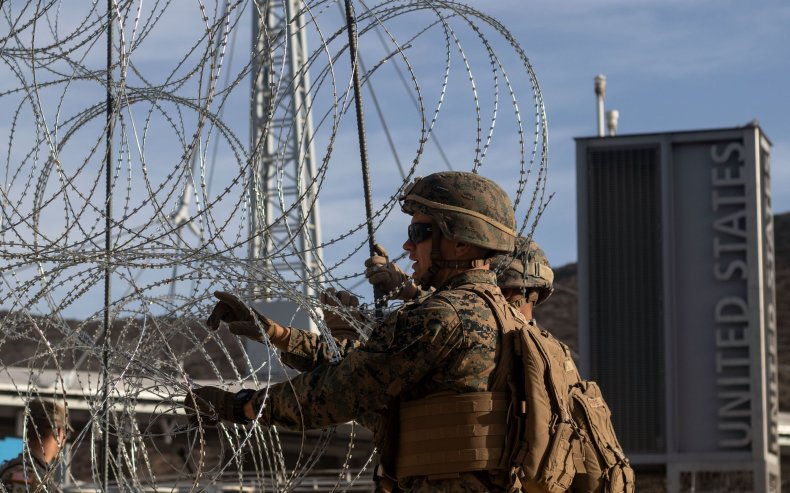 "This is a historical event," CBP's Area Command deputy commander Louis Godino said in a statement.
"CBP has never seen a mass of migrants this large come this way at once," Godino said of the roughly 5,000 migrants forced to wait in the Mexican border town of Tijuana to make their asylum claims in the U.S.
"DoD has never supported at the border like this," Godino said. "The military has been amazing support in getting us focused on hardening the border."
He said CBP was learning from its military partners and vice-versa. "This is just the beginning of a great partnership and amazing learning experience for both," he said.
Godino said he believed that having a "show of force, a show of solidarity and unity" for the U.S. at the border "could make a very large difference."
"People with [bad intentions] that decided to come to the border now to cause a riot or cause out-of-control things to happen will be curtailed by the show of force by itself," Godino said.
"We're welcoming people to apply for asylum and do the process the right way," he said. "We're going to be orderly."
CBP published its announcement online a day after a clash at the U.S.-Mexico border saw U.S. Border Patrol agents fire tear gas at Central American asylum seekers, when hundreds of them rushed the border in an apparent bid to make it onto U.S. soil.
Among the asylum seekers were families with small children. Photos of the showdown showed asylum seekers running away from the border as tear gas filled the air.
Read more: Trump says migrants storming Mexico border are 'grabbers'
After many denounced the U.S.'s response to asylum seekers, President Donald Trump defended the move, saying that immigration officers were "being rushed by some very tough people."
The president appeared to acknowledge that children were among those in the melee, but said a "very minor form of the tear gas itself" was used, claiming that the substance was "very safe," a point on which many medical experts disagreed with the president.
The U.S. leader also questioned why a parent would be "running up into an area where they know the tear gas is forming...with a child."
Without offering any evidence, Trump claimed that some of the asylum seekers pictured with children may not actually be parents, but could instead be "grabbers," or people who he claims stole children under the belief that making an asylum claim as a family unit would help their chances of being allowed into the U.S.
The president also threatened to "close the border permanently" in a separate post on Twitter on Monday morning "if need be."
In its own statement, CBP defended its use of tear gas, tweeting that Border Patrol agents deployed the substance to "dispel" migrants "because of the risk to agents' safety."
The agency said a number of asylum seekers had thrown projectiles at its agents, hitting some of them.