CBS Host Confronts Russian Ambassador on Claim No Ukraine Invasion Planned
Russia's ambassador to the U.S., Anatoly Antonov, said Sunday that his country has no plans to invade Ukraine, days after President Joe Biden said he believes Russian President Vladimir has already made the decision to do so.
During an interview on CBS' Face the Nation, host Margaret Brennan grilled him about his claim.
"President Biden says that President Putin has decided to invade Ukraine. Is he correct?" Brennan asked.
"There is no invasion and there is no such plans," Antonov said. He added that Russia "has publicly declared its readiness to continue the diplomatic efforts to resolve all outstanding issues." He also argued that Russian troops "are on sovereign Russian territory."
"We don't threaten anyone," he said.
The host pointed out that Russia has troops in Belarus "which is not technically Russian territory." Russia has been conducting military drills in the country, which were supposed to end Sunday. However, the Defense Ministry of Belarus said that those exercises will be extended.
"You have troops in Moldova. You have separatists you are funding and supporting in the east of Ukraine. This is not your territory," Brennan said, before asking if Russian troops will be "staying in Belarus indefinitely."
"You'll see that as to United States, you have so many military bases in various countries," Antonov responded. "As to us, we have just only a few. And we can't see any contradiction to any legally binding norms on this issue."
"It looks like intimidation," Brennan replied. "You have over 190,000 personnel in and around Ukraine, you've got it surrounded on three borders. Your words and your actions don't seem to match, sir."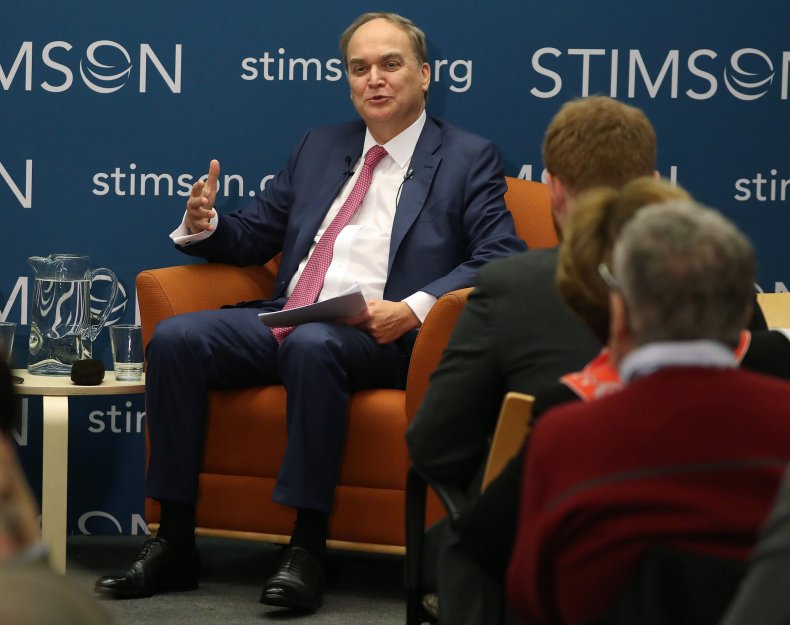 Antonov repeated that Russia has a "legitimate right to have our troops where we want on Russian territory."
"And I would like to say [to] you that we are not threaten to anybody," he said.
The host also asked him why Putin doesn't meet with Ukrainian President Volodymyr Zelenskyy if Russia is interested in diplomacy. On Saturday, Zelenskyy called for a meeting Putin in an effort to deescalate tensions.
"You don't want to listen to Russian concern regarding security issues," Antonov said. "I'll take a one proverb from our American friends that each coin has two sides. Why are you all looking just only on the one side? Why you prefer to ignore the second one? Why you are ignoring Russian concerns on security?"
In an interview on Sunday, U.S. Secretary of State Antony Blinken raised concerns about Russia extending its military exercises in Belarus.
"All of this, along with the false flag operations we've seen unfold over the weekend, tells us that the playbook that we laid out is moving forward," Blinken said on CNN.
Meanwhile U.S. Defense Secretary Lloyd Austin said that Russian tanks rolling into Kyiv is a "high likely" possibility if Russia moves forward with an invasion.
"You could see a significant amount of combat power move very quickly down to take Kyiv," Austin said in an interview with ABC.