CBS Producer Calls #MeToo Rebranding a 'Sham' in Sexual Harassment Lawsuit
Cassandra Vinograd, an associate producer for 60 Minutes, filed a lawsuit against CBS on Tuesday, claiming that the company did not take appropriate action when she reported a case of sexual harassment by her supervisor, producer Michael Gavshon, and that he retaliated against her.
In the lawsuit, Vinograd claimed that efforts made in the midst of the #MeToo movement were done as a PR move and did not accurately reflect changes the company had made to protect women. "Despite paying lip service about purging men that behave badly and assuring female employees that their voices will be heard, respected and protected, this case shows that nothing has changed and legitimate progress towards eliminating sexual harassment at CBS remains elusive," the suit read.
After a series of high-profile accusations of sexual harassment at the network, CBS issued a statement to say the company is "committed to being part of the solution to those important issues." In 2017, anchor Charlie Rose was fired for sexual misconduct allegations. In 2018, CEO Leslie Moonves resigned, following sexual harassment allegations. That same year, 60 Minutes executive producer Jeff Fager was dismissed for violating company policy over a text message he sent to a CBS reporter involving her coverage of Ronan Farrow's reporting on accusations of sexual misconduct.
Vinograd's suit states that when she went to work for the network in June, senior executives told her it was "a great time to be joining CBS" because the company had cleaned house of troublesome individuals.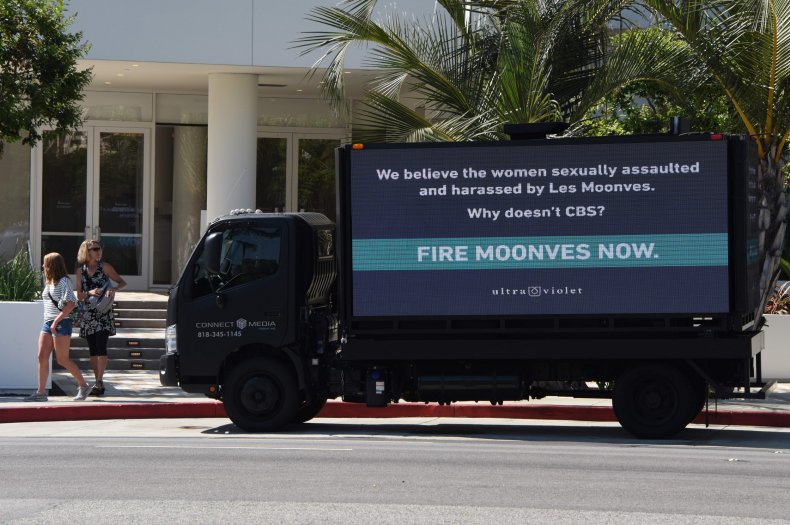 In the 29-page filing, Vinograd's attorneys alleged that she instead encountered an uncomfortable work environment at CBS. "Gavshon often consumed so much alcohol that Cassie and other employees would have to repeat things to him as well as decipher his slurred words," the suit claimed, adding that Vinograd was afraid to speak up against the producer, due to the 30 years he'd been at CBS and the praise he'd received.
Vinograd reached a turning point when Gavshon texted her an old photo that showed him urinating on a smoldering coal. The lawsuit stated that Vinograd found it "creepy and gross to receive a picture of her boss's penis and urine stream." The lawsuit claims Gavshon texted her over an hour later, apologizing and claiming he meant to send the photo to his sister.
In a statement to Newsweek, Gavshon said the photo was an accident, which he apologized for. "I immediately deleted the picture and apologized profusely. I was mortified," he wrote. "The following day I went in early and reported the incident. I cooperated with an investigation by the company and was told not to come into work during the course of the investigation. I continue to regret this mistake and sincerely apologize for it."
Gavshon also opposed Vinograd's drinking accusations. "I also want to refute Ms. Vinograd's allegations regarding drinking and add that I have an established record of responsible behavior at work over the last thirty years."
Upon reporting the incident to Human Resources, Vinograd was told to call in sick, and that the company would hold an internal investigation. The suit alleged that when Vinograd returned, she was told that Gavshon would not be in the office. Shortly after returning, Vinograd was told that CBS' investigation cleared Gavshon.
Following the photo incident, Vinograd's suit alleged, "she was stripped of all her work responsibilities," including being taken off segments that she'd pitched or put a significant amount of work into. According to the suit, CBS recommended she meet with Gavshon to try to resolve the issues.
The lawsuit took specific aim at CBS' claims of culture change following the #MeToo movement. "CBS wants the public to believe that it takes the #MeToo movement seriously and has cleaned house by removing harassers from the workplace," the suit stated. "Duped by its self-serving PR campaign and representations from executives, Cassie Vinograd learned the hard way that CBS is doing nothing to change."
In a statement to Newsweek, Vinograd's lawyer accused CBS of not changing in light of the #MeToo movement. "Contrary to CBS's claims that it is doing the right thing when female employees report gender-related misconduct, as alleged, it appears that no meaningful changes to the culture at CBS have been made," she wrote. "It appears that CBS continues to protect senior male talent at the expense of junior women—business as usual."
"CBS News is in the process of reviewing the complaint filed by Ms. Vinograd and plans to vigorously defend against this lawsuit," a company spokesperson told Newsweek. "CBS thoroughly and immediately investigated the matter in accordance with its policies. Subsequently, Ms. Vinograd asked to no longer work with Mr. Gavshon and CBS has made every reasonable effort to honor this request. CBS News vehemently denies there was any retaliation."
Correction 12/18, 4:07 p.m.: This article originally stated that Vinograd is a former CBS producer. She is a current producer.