CBS Will Have Unusual, Non-SEC Game Saturday to Replace Ole Miss vs Texas A&M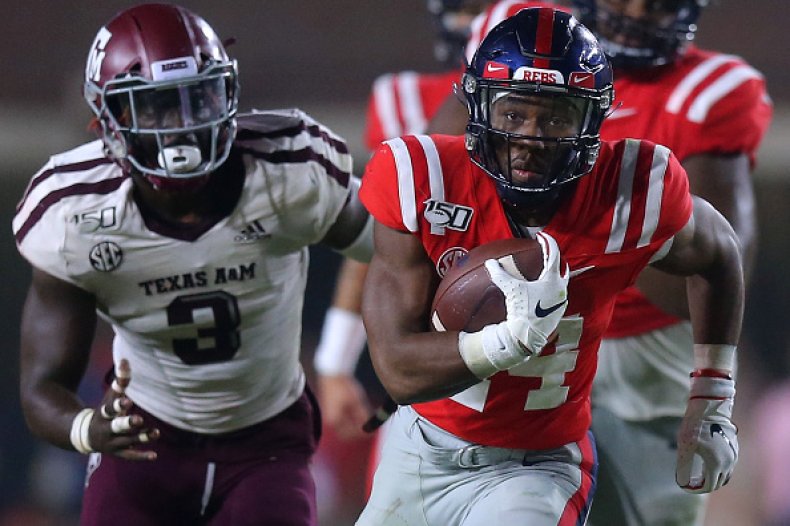 The sudden postponement of this Saturday's football game between Ole Miss and Texas A&M left executives at CBS scrambling to find a replacement to fill the time slot. So, the network went for a game that didn't involve a Southeastern Conference team at all.
CBS, which is home to the SEC game of the week, will use its 3:30 p.m. (ET) time slot this Saturday to showcase the San Diego State Aztecs at the Nevada Wolf Pack.
The Ole Miss-Texas A&M game was postponed because Texas A&M will not have enough scholarship players on its roster because of too many positive tests for COVID-19.
Why the need for a replacement? The network likely lost money from the COVID-induced postponement of the Alabama-LSU game on Nov. 14, which was not filled by college football coverage. This weekend would make it two-consecutive weekends with no football if the slot wasn't filled.
The matchup does make sense for a national audience, though. San Diego State is 3-1 in conference while Nevada is 4-0 in the Mountain West Conference (MWC). An Aztec win would put them in a hunt for a league title, and a loss would leave them on the outside looking in. Nevada, on the other hand, needs a win to keep pace with San Jose State and Boise State, who are both perfect in MWC play at this point.
In other words, it works out perfectly for San Diego State, the University of Nevada and the Mountain West in general.
Not to mention, the CBS team of Brad Nessler and Gary Danielson will call the game Saturday.
The MWC postponed its season because of the COVID-19 pandemic, and it finally started its 2020 season on the weekend of October 24, which is when the Big Ten also kicked off its COVID-delayed season.
The coronavirus shut down the sports world beginning in mid-March this year, starting with the NBA and the NCAA men's and women's basketball tournaments. Sports around the world, one by one, began postponing or canceling altogether.
Since college and professional football had already completed their seasons, they were left in a holding pattern, so to speak. College programs canceled spring football and the NFL canceled offseason training activities (OTAs). The NFL held a virtual draft last spring, and eventually announced the cancellation of preseason games and the annual Hall of Fame ceremony.
Professional baseball, basketball and hockey all resumed with shortened regular seasons and they played before no fans. They all concluded their seasons with playoff champions.
Football was dicey with different teams playing in different states with different COVID restrictions. The Big Ten, Pac-12, MWC and Mid-American Conference (MAC) all initially declared a postponement of 2020, perhaps moving it to the spring of 2021. Big leagues like the ACC, Big 12 and SEC marched forward to play games in the fall of 2020, most with limited fans in the stadiums.
The Big Ten, Pac-12, MAC and MAC all eventually followed suit and started with delayed, shortened seasons.
It hasn't come without difficulty, though. Last weekend, the SEC had to postpone four of its seven games because of COVID problems with one team or another. Texas A&M's game at Tennessee was one of the casualties, along with Alabama-LSU and Auburn vs Mississippi State.
Top-ranked Clemson lost star quarterback Trevor Lawrence, for positive COVID testing, for two games. In that span, Clemson lost in double overtime at Notre Dame. In Miami, the Hurricanes had almost enough positives to cancel last week's game at Virginia Tech. However, the Canes have enough positive cases now to postpone the next two weekends and reshuffle their next three games.