CC Sabathia Bonus: Yankees Pitcher Gets Extra $500,000 Despite Ejection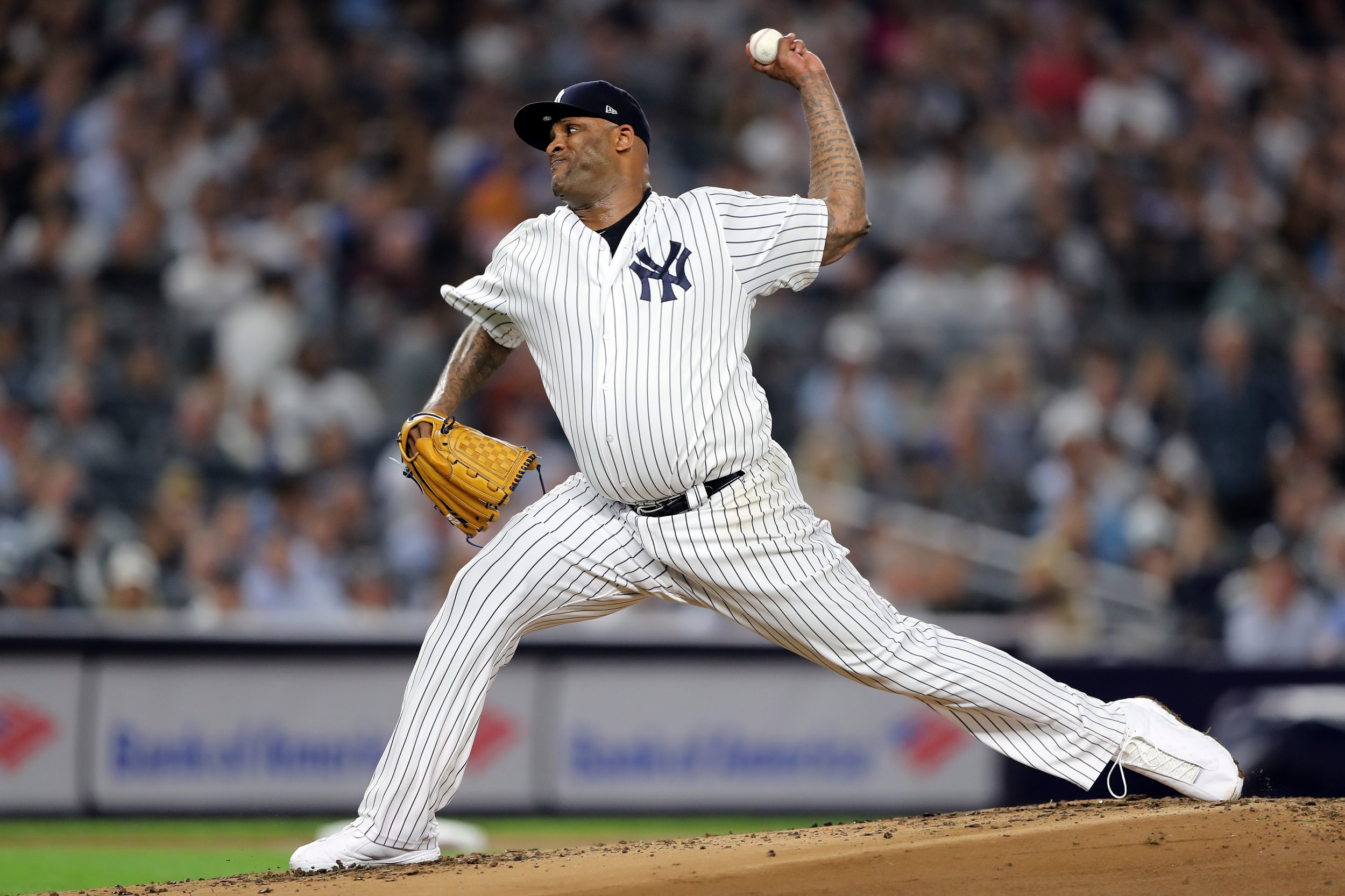 The New York Yankees paid starting pitcher CC Sabathia a $500,000 performance bonus that he would have earned if he wasn't ejected during his final regular-season appearance of the 2018 season.
Sabathia was six outs shy of reaching the 155 innings needed to earn the extra payment before hitting Tampa Bay's Jesus Sucre with a pitch at the beginning of the sixth inning on Sept. 27, which was retaliation for Andrew Kittredge throwing behind Austin Romine in the top half of the inning.
Sabathia initially hit Jake Bauers on the knuckles of his right hand with two outs remaining in the fifth inning, which led to Kittredge throwing behind Romine's neck with his first pitch in the sixth. The Yankees held an 11-0 lead when Sabathia threw at Sucre's lower left leg with his first pitch.
Sabathia's agent, Kyle Thousand, told the Associated Press: We thought it was a very nice gesture by the Yankees" on Monday.
Sabathia signed a one-year deal with the Yankees last month to return for his final MLB season. The left-hander officially announced that he plans on retiring after the 2019 season in October.
"Thinking about retirement, it is that time to start thinking about that," Sabathia told Steiner Sports CEO Brandon Steiner during a Facebook Live interview. "Shifting into dad mode and my son, he's a freshman in high school this year and he'll be a sophomore next year so I don't want to miss a lot more of him playing ... It'll be hard to be selfishly extending my career for no reason to miss a lot of his so next year will be my last for sure."
Sabathia acknowledged that he mulled the decision during an episode of his R2C2 Podcast with co-host Ryan Ruocco, but hadn't officially announced his decision until his Q&A session with Steiner.
"Easy decision," Sabathia added. "I've been blessed. I've had a phenomenal career. I feel like I've been able to meet some great people and made some great lifelong friends in this game and be able to play with some great players. I played with Derek Jeter, Ichiro, Mo [Rivera], ARod, the list goes on."
Sabathia enters his 19th MLB season, which will be his 10th with the Yankees should he re-sign as a free agent this offseason. Prior to his announcement, Sabathia confirmed that he planned on playing next season regardless of whether it's in New York or elsewhere.
"I definitely want to play next year," Sabathia said via ESPN. "I'll play anywhere. I still want to play. I still want to pitch. I definitely can help and still get guys out.
"So whoever needs me."
Sabathia signed a one-year, $10 million contract with the Yankees last December and remained one of the most consistent pitchers in their rotation, despite many believing he'd reached the twilight of his career.
The 37-year-old lefty finished with a 9-7 record, 3.70 ERA, 140 strikeouts and 51 walks in 153.0 innings pitched in 2017. Sabathia currently has a 246-153 record and 3.70 ERA for his career, which includes a 129-80 record and 3.74 ERA during his 10 seasons in New York.
Sabathia also revealed that he underwent knee athroscopic surgery two days after the Yankees were eliminated from the ALDS earlier this month and is rehabilitating in prepartion for the upcoming season.
"I've just been rehabbing down on the field the last couple of weeks after the season," Sabathia said. "Here in the next couple, 10 days I'll start working out, start throwing the football again. My knee feels great so I'm able to move around and stuff so I'll start moving mobily and start pushing and get into getting ready for next Summer."