CCP Games Wants to Make 'EVE Online' Easier for New Players
EVE Online is not an easy game to play. There are thousands of different things going on at any time that can be overwhelming for both new and experienced players alike. Developer CCP Games knows these frustrations, and is looking to work with the community to make it easier for new players to get flying.
"The challenge is that you're almost trying to squeeze an MBA program into a tutorial. Aspects of EVE are things you learn in business school: trading on a market, building strategies, advertising, leading people, negotiations, conflict management," CCP Games CEO Hilmar Veigar Pétursson told Newsweek at this year's EVE Fanfest. "There are a lot of hardcore skills EVE players learn just from playing the game. We don't want to dumb down the game, so it's an onboarding challenge. We've been trying to improve it for 15 years, but it's a big and complicated project."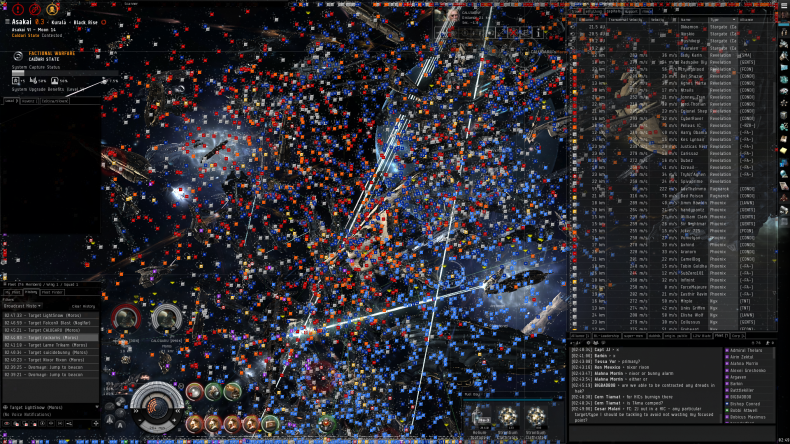 Senior Game Designer Linzi Campbell says one of the major goals is to get players grouped up with others as soon as possible, even if the players don't want to be a part of a larger group.
"We've noticed when new players find a group to play with quicker, they stick around longer. However, we also noticed people don't necessarily want to join a group immediately," Campbell said. "We don't want to force players to communicate with others. We want to look at all the opportunities to give players the option to talk to others."
CCP developers cited several examples of initiatives they have in mind to achieve this. One example given was to have players play missions where other players aren't necessarily needed to complete the mission, but are still involved in some way. This could be other players acting as the "bad guys" in a mission, or players all completing the same mission in a shared space.
Executive Producer Andie Nordgren thinks improving EVE Online in general will improve the experience for new players. "One [way to improve the new player experience] is improving the overall experience, which we are doing by putting in this activity tracker and making it more accessible to see what's going on," she said. "If we improve on the game as a whole, onboarding will be a better experience."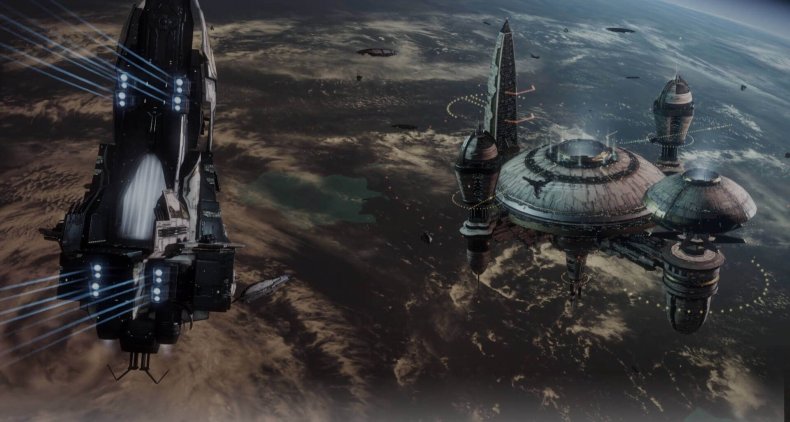 Nordgren thinks utilizing the passionate EVE Online community will also help attract and retain new players. "If you have someone next to you helping you, that will always be better than a tutorial," she said.
This idea of leaning into the community to help is shared by many at CCP, including Senior Game Designer Raphael Morado. "I trust the players more than CCP," he said. "I believe the game is more on them than on us. But we have to give them the means to solve it. Mentoring is a very powerful thing. Players are the most valuable asset in EVE . It incentivises corps to bring in new players."
Sveinn Kjarval, senior community development lead at CCP Games, agrees. "We have this philosophy of we'd rather raise the sails than man the oars," he said. "There are people out there that understand community really well, so we want to help them out to reach everyone and do great things. There's a good level of trust there, but it always works out."
There are already groups in EVE Online dedicated to teaching new players, such as EVE University. This public resource was created by fans, and is constantly being updated to include new tips, tricks and information. There are articles, videos and even classes held through EVE University so players can learn all aspects of the game.
"I think the one I'm most impressed by is EVE University, which is the player organization that helps new players try to figure this game out," Pétursson said when talking about player initiatives. "They do a phenomenal job of it."
Ultimately, once CCP Games can give players a sense of progress every time they log in to play, the company feels the game will be in a better place for new players. "Our main philosophy is to not overload players, but give them easily digestible chunks," said Campbell. "We want them to feel like they are achieving and mastering something every day."
EVE Online will be celebrating the game's 15-year anniversary this May. If you want to check the game out for yourself, be sure to also look at EVE University to help you get started.
So what do you think? Have you tried to play EVE Online only to be overwhelmed with information? Are you one of the players dedicated to helping newbies? Let us know your thoughts in the comments section below.