Learner Driver Killed After Stalling in Front of Train as Instructor Fled, CCTV Shows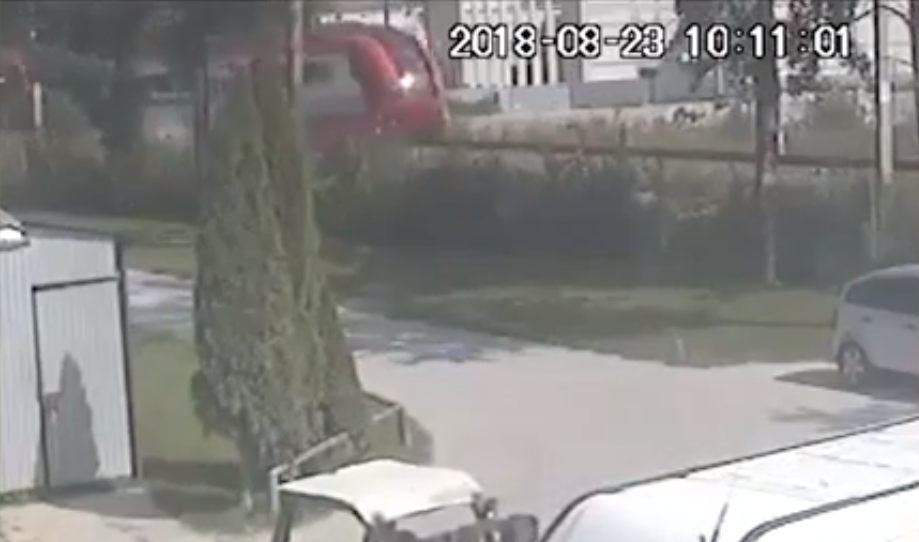 An 18-year-old learner driver who is believed to have stalled her car on a level crossing in southern Poland was killed last week after being hit by a large train.
The victim, named only as Angelika, later died in hospital from wounds suffered in the collision. Eyewitnesses said the teenager's instructor had jumped out of the vehicle before the crash. CCTV footage which captured the incident appeared to corroborate the claims.
A clip that has since been uploaded to social networking websites and YouTube shows the car—reportedly a red Suzuki Baleno—coming to a halt on the tracks, before one individual leaps out of the side door. Within seconds, the speeding train slams into the car's right side.
The timestamp on the footage shows the accident took place on August 23. Reports have said the driving instructor was a 62-year-old male, but a name has not been released by authorities. The CCTV footage was from a building located close to the railway lines, Yahoo7 News said.
Describing the scene, onlookers criticized the instructor for abandoning his client, who died in hospital in the town of Nowy Targ. No other injuries were reported.
One eyewitness, named as Rafal Kwak, 40, said: "When we ran to the wreck, the girl was strapped in and the instructor stood nearby and did nothing.
"I wanted him to give me a first aid kit, but he couldn't find it. She was still breathing, but she was very wheezy, she was getting weaker. She was disappearing before our eyes."
Another witness, who was not named, said: The examiner escaped at the last minute, the girl…didn't. She tried to move but was half a meter away from surviving, she was already starting to move the car. I saw the train pushing the car along the tracks in front of me."
A third, named by Yahoo7 News as 39-year-old Michal, said: "The girl had a big head wound, her blood was everywhere, we tried to stop it. I heard her heavy breathing, fading in front of us."
An investigation is now underway by the District Prosecutor's Office in Nowy Targ. In pictures of the collision, the small red car is seen with its doors and bonnet taken off, surrounded by local authorities. The windscreen is smashed. There appeared to be little damage to the train.
Learner Driver Killed After Stalling in Front of Train as Instructor Fled, CCTV Shows | World