CCTV Company Hiring Remote Workers to 'Yell' at Thieves Through Cameras
An unusual security job posting is getting attention online for its new approach to business security — having remote workers reprimand customers through CCTV cameras.
Washington-based CCTV company Live Eye Surveillance has gotten attention online for their job posting in Karnal in Haryana, India. The position of "Process Analyst," which requires a worker to monitor the security cameras in retail locations, allows international workers to "yell at" and help stop robberies in American stores with their technology.
According to a report from VICE Motherboard, Live Eye Surveillance offers a modern solution to business security and surveillance. In media package videos obtained by the outlet, the company demonstrates how, in instances of armed theft, a camera operator can intervene and ideally deter robbers.
"In the arena of security and surveillance, we provide 24 x 7 x 365 intelligent video-based surveillance and loss prevention services," the company's website purports. "We continuously strive to make it easier for our clients to view and analyze their daily sales, losses, net profits with our daily reports tool ... At Live Eye Surveillance, we continuously enhance over 2000 consumer experiences daily while protecting millions of dollars of assets."
In one of the promotional videos posted to YouTube, two armed assailants enter what appears to be a 7-Eleven or similar retailer. They charge in and push the store clerk behind the cash register, demanding he hand over money.
"Get the f**k behind the cash register," one yells. "Go, go! Hurry up!"
As the frightened cashier complies and begins opening the register, a voice is heard from the CCTV camera. "This is Live Eye team security," he says. "This is to inform you that you are under CCTV camera surveillance and we have called 9-1-1."
The two burglars quickly flee the scene. The CCTV operator then checks in with the cashier: "Cashier, please call 9-1-1 and just check outside if they have come by car and try to take their registration number.
According to the job description on the Live Eye Security website, the Process Analyst is responsible for "monitoring sites ... for our end clients/customers, assisting employees located overseas remotely via phone or camera, [and] creating reports for any suspicious activities."
"You will act as a virtual supervisor for the sites, in terms of assuring the safety of the employees located overseas and requesting them to complete assigned tasks," the post added. CCTV operators are also required to have "computer skills" and "good communication skills."
According to their mission statement, Live Eye Security seeks "to reduce the risk of business operations with the need to protect the employee and company assets" and "make doing business more profitable, easier and safer." They also claim to work with major retailers and corporations, including 7-Eleven, Dairy Queen and Shell.
Newsweek reached out to 7-Eleven, Dairy Queen and Shell to confirm whether or not they use Live Eye Security in their establishments. A representative for 7-Eleven said that the company does not endorse the use of Live Eye Security nationwide.
"7-Eleven, Inc. cares deeply about the safety of our associates and customers. We provide every 7-Eleven store with a base security system that includes CCTV and alarms, however, independent franchise owners can install their own system on top of what is provided. Live Eye Surveillance is not a recommended vendor of 7-Eleven," the representative told Newsweek.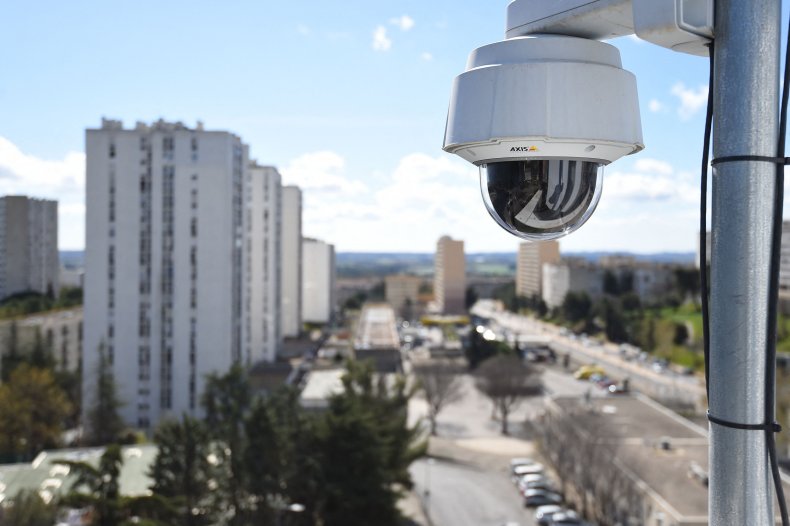 An anonymous former 7-Eleven field consultant also told VICE Motherboard that the surveillance system is a "solution in search of a problem," claiming that any goods stolen from the chain cost little for store owners.
"That's how someone is going to get killed," they also claimed. "You don't startle someone with an assault rifle. That violates 7-Eleven policy. There's a reason why the silent alarm is silent [in banks]."
Neither Dairy Queen nor Shell immediately responded to Newsweek's request for comment. Newsweek also reached out to Live Eye Security for comment, but they did not respond in time for publication.
The use of CCTV cameras for security has been criticized in recent months. A school in England came under fire for installing "creepy" cameras in the boy's restroom. "It's beyond disturbing. I appreciate the school will say it's to stop vandalism or bullying, but this is just creepy, not to mention completely unnecessary over the urinals," one mother said at the time.