CCTV Footage Shows Customer Stealing Gunman's Loot During Armed Robbery
Footage of a robbery from South Africa shows a robber pulling a gun on a supermarket store clerk, only to lose some of his own ill-gotten gains to a customer witnessing the holdup.
The gunman had been in the process of robbing a Shoprite Usave store in Johannesburg, South Africa. He can be seen on the footage holding a gun on the shop keeper with his right hand while he scoops money into a bag strapped to his left hip with his left. But some of the money manages to slide through his grip in the process. That's where the second robber gets involved.
A man can be seen crawling commando style from the right and up behind the robber. But instead of attempting to attack him, as security guards reviewing the footage expected him to do, he grabbed handfuls of the bills the robber had lost control of, snatching the money from around the robber's legs and feet, before crawling out the shop and through its front turnstile on his belly.
The (second) robber apparently got away with roughly £40. No estimate of how much the first robber took from the market's till.
The police are apparently unsure whether or not they'll charge the second individual for robbing the robber. A South African Police spokesman confirmed to SA People News that the robbery was being investigated.
The supermarket chain in which the video of the robbery takes place, USave, released a press statement declaring that "Nobody was injured and trauma counselling has been provided for those who were involved."
The incident has gone viral on South African Twitter and Facebook, with its audience of thousands galled by the cheekiness of the "second" robber.
Mzandile Nokwindla tweeted: "Jeez… that's how bad it is. A robbery within a robbery. Hope crawler is safe with his loot at the back there!"
@LusaphoLuu9 added via Twitter: "Even the robbers are not safe in this country."
Marcus Robinson said in a Facebook post: "There really is no honour between thieves! How cheeky is that!!! I hope he stole enough for a large brandy to get over his shock!!!"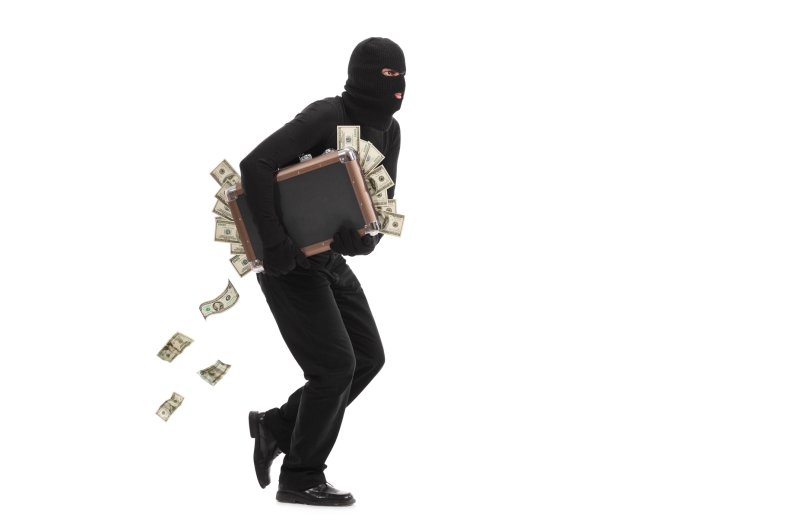 Robberies were down more than 20 percent in South Africa in 2018, with an increase of 2.6 percent in all contact crimes and the 17 community-reported crimes increased by 0.7 percent.