CDC Advice on How to Make a Face Mask with Fabric Amid the Coronavirus Outbreak
The Centers for Disease Control and Prevention (CDC) recommends wearing cloth face masks in public when social distancing measures are more difficult to maintain when at grocery stores and pharmacies. The CDC especially recommends wearing cloth face masks in areas of significant community-based transmission.
It is advisable to wear a cloth face mask to slow the spread of the coronavirus as it helps people who do not know they have the virus from spreading it to other people.
While in many states wearing a face mask isn't mandatory, the CDC recommends wearing a cloth face mask as a voluntary public health measure in addition to following local social distancing guidelines.
However, certain people should not wear cloth face masks, such as children under the age of two, people who have trouble breathing, or anyone unable to remove the mask without assistance.
The CDC is recommending that the public wears cloth face masks, not surgical masks or N-95 respirators, as these critical supplies that should be reserved for healthcare workers and other medical first responders.
How to Wear a Face Mask
According to CDC guidelines, cloth face coverings should do the following:
fit snugly but comfortably against the side of the face
be secured with ties or ear loops
include multiple layers of fabric
allow for breathing without restriction
be laundered and machine dried without damaging or changing the shape
Face masks should be regularly washed in a washing machine. When taking off the face masks, the wearer should avoid touching their eyes, nose, and mouth, and should wash their hands immediately after removing.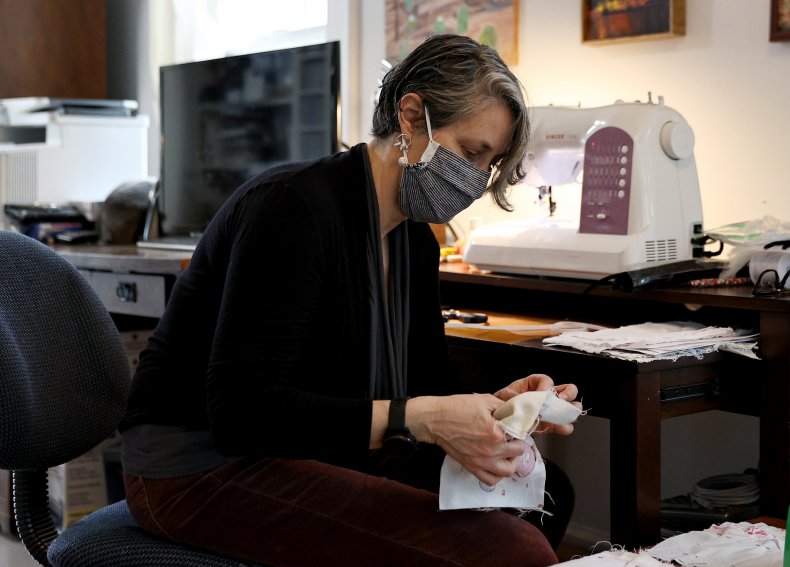 How to Make a Face Mask with Fabric
According to the CDC, to sew a cloth face mask you will need two 10-by-6-inch rectangles of cotton fabric, two 6-inch pieces of elastic (or rubber bands, string, cloth strips, or hair ties) a needle and thread (or bobby pin), scissors, and a sewing machine.
First, cut out two 10-by-6-inch rectangles of tightly woven cotton fabric, or T-shirt fabric as a back-up, and place the two rectangles on top of each other.
Then, fold over the long sides 1/4-inch and hem, then fold the double layer of fabric over 1/2-inch along the short sides and stitch down.
Now, run a 6-inch length of 1/8-inch wide elastic through the wider hem on each side of the mask, using a needle or bobby pin to thread it through, and tie the ends together tightly.
If you don't have elastic, you can use hair ties or a hair band, or you can use a string and tie the mask behind your head.
Finally, pull on the elastic and tuck the knots inside the hem. Gather the sides of the mask on the elastic and adjust so the mask fits your face. Securely stitch the elastic in place to keep it from slipping.
How to Make a Face Mask with a T-Shirt
If you don't have fabric, elastic, or a sewing machine, you can make a face mask using a T-shirt.
First, cut around 7 or 8 inches off the bottom of the T-shirt. Then, cut a rectangle around 6 to 7 inches long lengthwise across the T-shirt. Finally, cut the fabric along the hem to make strings that you can then tie around your head.
How to Make a Face Mask with a Bandana
To make a face mask with a bandana, you will also need a coffee filter, rubber bands or hair ties, and scissors.
First, cut the coffee filter in half and discard the bottom half. Fold the bandana in half and place the coffee filter in the middle. Then, fold the top of the bandana down over the filter, and fold the bottom of the bandana up over the filter.
Place the rubber bands or hair ties on either side of the filter, around 6 inches apart, fold the edges of the fabric into the middle and wear the mask with the bands securely around your ears.
Centers for Disease Control and Prevention Advice on Using Face Coverings to Slow Spread of COVID-19
CDC recommends wearing a cloth face covering in public where social distancing measures are difficult to maintain.
A simple cloth face covering can help slow the spread of the virus by those infected and by those who do not exhibit symptoms.
Cloth face coverings can be fashioned from household items. Guides are offered by the CDC.
Cloth face coverings should be washed regularly. A washing machine will suffice.
Practice safe removal of face coverings by not touching eyes, nose, and mouth, and wash hands immediately after removing the covering.
World Health Organization advice for avoiding spread of coronavirus disease (COVID-19)
Hygiene advice
Clean hands frequently with soap and water, or alcohol-based hand rub.
Wash hands after coughing or sneezing; when caring for the sick; before, during and after food preparation; before eating; after using the toilet; when hands are visibly dirty; and after handling animals or waste.
Maintain at least 1 meter (3 feet) distance from anyone who is coughing or sneezing.
Avoid touching your hands, nose and mouth. Do not spit in public.
Cover your mouth and nose with a tissue or bent elbow when coughing or sneezing. Discard the tissue immediately and clean your hands.
Medical advice
Avoid close contact with others if you have any symptoms.
Stay at home if you feel unwell, even with mild symptoms such as headache and runny nose, to avoid potential spread of the disease to medical facilities and other people.
If you develop serious symptoms (fever, cough, difficulty breathing) seek medical care early and contact local health authorities in advance.
Note any recent contact with others and travel details to provide to authorities who can trace and prevent spread of the disease.
Stay up to date on COVID-19 developments issued by health authorities and follow their guidance.
Mask and glove usage
Healthy individuals only need to wear a mask if taking care of a sick person.
Wear a mask if you are coughing or sneezing.
Masks are effective when used in combination with frequent hand cleaning.
Do not touch the mask while wearing it. Clean hands if you touch the mask.
Learn how to properly put on, remove and dispose of masks. Clean hands after disposing of the mask.
Do not reuse single-use masks.
Regularly washing bare hands is more effective against catching COVID-19 than wearing rubber gloves.
The COVID-19 virus can still be picked up on rubber gloves and transmitted by touching your face.