CDC Sparks Backlash After Ditching Monkeypox Mask Advice
The Centers for Disease Control and Prevention has sparked a backlash for scrapping advice for travelers to wear face masks to prevent the spread of monkeypox.
Last week, the CDC updated its monkeypox travel guidance to read: "Wear a mask. Wearing a mask can help protect you from many diseases, including monkeypox." It also raised the monkeypox alert level to Level 2, indicating that people should "practice enhanced precautions."
On the evening of June 6, however, the mask recommendation was deleted from the monkeypox travel notice on the CDC website.
In a statement issued on June 7, the agency said: "CDC removed the mask recommendation from the monkeypox travel health notice because it caused confusion."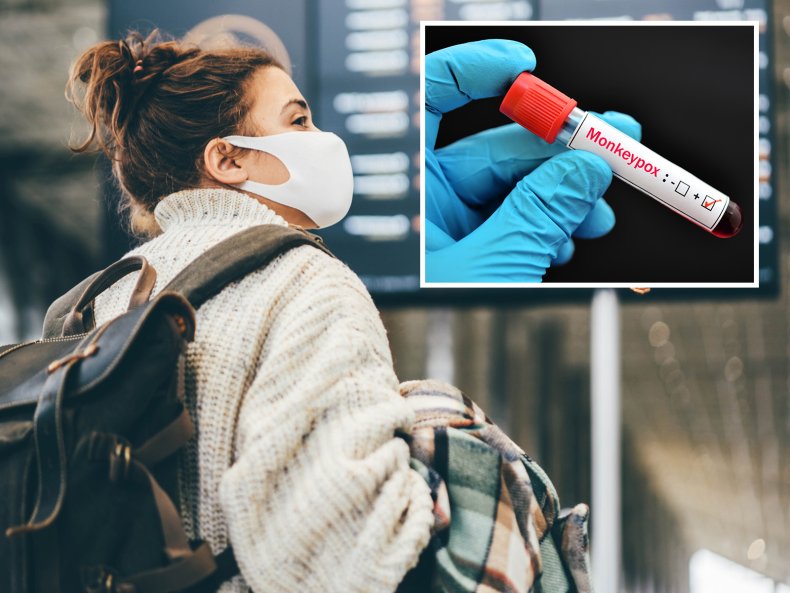 More than 1,000 monkeypox cases have been recorded across 29 countries in recent weeks, according to the World Health Organization. The virus is rarely fatal and is primarily thought to spread through direct contact with a contaminated person.
However, there is some evidence that it can also be airborne—spreading through the air in the form of droplets, similar to COVID-19. This has raised questions over whether the general public should be wearing face masks as a precaution.
The CDC decision to delete the mask advice for travelers prompted anger from some Twitter users.
Eric Feigl-Ding, an epidemiologist and health economist, tweeted: "HOLY MOTHER OF HELL—what the hell is this muzzling s*** @CDCgov?"
In a follow-up post, Feigl-Ding added: "I'm now furious at the @CDCgov. How can the @CDCDirector allow such irresponsible double backtrack messaging? Especially if it only serves to undermine the CDC (all by itself) and not make anyone safer with this idiotic public risk communication."
Dana Parish, co-author of Chronic: The Hidden Cause of the Autoimmune Pandemic and How to Get Healthy Again, wrote: "Thx for attempting to clear this 'confusion' but since monkeypox *can be* airborne, I guess I'm MORE confused.. So, should we bring a towel to sit on or wear gloves on planes & public transit since surfaces may be contaminated? What DO you advise?"
Vic DeGrammont, a businessman who is standing for the Republican nomination for Florida's 20th congressional district in the midterm elections, tweeted that the advice was deleted less than 24 hours after it was spotted by the media.
The mask recommendation was criticized by many scientists when it was first posted on the CDC website, with some pointing out that it could indeed lead to confusion, because airborne transmission of monkeypox is relatively rare and not the main source of infections.
Before the travel notice was changed, Dr. David Samadi, a urologist and prostate cancer specialist, tweeted that he was "still trying to comprehend" the CDC guidance.
"The disease is not airborne as of this moment. What exactly are the masks supposed to do in that case?" Samadi wrote.
The CDC is advising travelers to "avoid close contact with sick people, including those with skin lesions or genital lesions" and to "avoid contact with dead or live wild animals."
A CDC spokesperson told Newsweek: "In countries where there is a current monkeypox outbreak, CDC continues to recommend masking in high-risk situations including for household contacts and health care workers, or for other people who may be in close contact with a person who has been confirmed with monkeypox."
The spokesperson reiterated that the guidance had been changed because it "caused confusion" and added: "CDC will continue to update recommendations as more is learned about this current outbreak."
Update 06/09/22, 4:45 a.m. ET: This article was updated to add a comment from the CDC.