CDC Confirms 3 Feet Apart Is Adequate for Students, Giving Biden and Schools Big Win
The push to reopen schools just got a major boost, as the U.S. Centers for Disease Control and Prevention (CDC) announced Friday that students no longer need to be spaced 6 feet apart.
Under the revised rules, a distance of 3 feet between children will now be sufficient for all elementary schools and many middle and high schools—which will allow more students to be inside classrooms.
The change comes amid a massive campaign from lawmakers, school districts and parents to get kids back in the classroom after a year of largely remote learning because of the coronavirus pandemic.
"CDC is committed to leading with science and updating our guidance as new evidence emerges," the agency's director, Rochelle Walensky, said Friday in a statement. "These updated recommendations provide the evidence-based roadmap to help schools reopen safely, and remain open, for in-person instruction."
President Joe Biden has called for schools to fully reopen and pledged to have most elementary and middle schools open for instruction five days a week by the end of his first 100 days in office.
Biden's $1.9 trillion American Rescue Plan sets aside $122 billion for K-12 schools across the country to share. The funding can be used to modify classrooms and purchase protective equipment, avoid layoffs, create summer and after-school programs, and the hire additional nursing and janitorial staff to keep schools healthy.
On Wednesday, the U.S. Department of Health and Human Services said $10 billion would go to states to support school coronavirus testing programs to help in the reopening process.
"We know that school districts want to reopen, but up to this point many lack the resources to set up COVID screening programs for students, teachers and staff to help keep COVID out of our schools," said Carole Johnson, the White House's virus testing coordinator. "Today that all changes."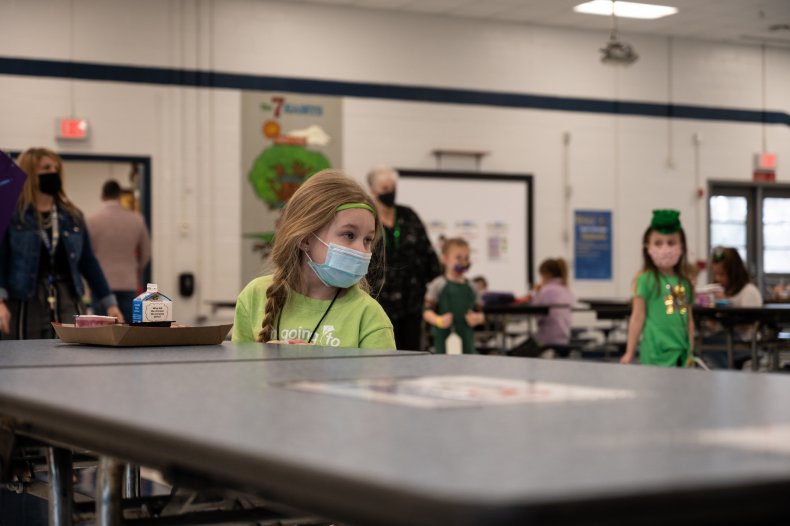 The CDC still recommends keeping students and teachers in distinct cohorts. In middle and high schools where community transmission of the virus is high, the agency advises that students stay 6 feet apart if schools aren't able to keep people in assigned groups. The CDC also still recommends 6 feet social distancing in common areas; when eating; during in-door activities, such as band practice and sports; and in settings outside of the classroom.
Debates about school reopening plans have been ongoing for weeks as new variants of the virus have spread. Dr. Michael Osterholm, a member of Biden's COVID-19 task force during the presidential transition, told MSNBC on Friday he thought it would be a mistake for the CDC to issue new guidelines.
"I think we're in a new ballgame," Osterholm said on MSNBC's Morning Joe. "I think it would be a major mistake if CDC changes their distancing right now for school recommendations.... If you know anything about viruses, the idea that you can prevent a virus like this from being transmitted at 3 feet—I can probably move the Grand Canyon to Fargo easier than to convince many of us in this area that that's actually real."
The updated school guidance by the CDC comes after a study published last week suggested that public schools could safely reopen as long as children are 3 feet apart and other preventive measures, like mask wearing, are in place. The World Health Organization has already recommended that schools distance children 1 meter, or 3.3 feet, apart.
Newsweek reached out to the White House for comment on the CDC's new guideline but did not hear back before publication.