CDC Coronavirus Symptoms List Added 3 New Symptoms, Including Runny Nose
Three additions were made to the Centers for Disease Control and Prevention (CDC) list of coronavirus symptoms. The additions appear to have been made in May, according to the CDC website.
Primarily classified as a respiratory virus, the coronavirus attacks the lungs. Patients with severe cases of the virus often need to be hospitalized and placed on ventilators. Symptoms of the coronavirus vary wildly, ranging from a mild temperature to difficulty breathing. As new telltale signs of infection are discovered, they have been added to the CDC's list.
Runny nose or congestion, nausea and diarrhea were placed on the CDC's list of symptoms. Coughing, fever, fatigue, muscle or body aches, headache, loss of taste or smell and sore throat were already established as part of the listing.
"This list does not include all possible symptoms," the CDC website read, noting that the page was last reviewed in May.
According to a statement sent to Newsweek from the CDC on Friday, "CDC updates COVID-19 symptoms based on data we receive on cases in the United States." While symptoms for coronavirus do vary during the course of the disease, 83 to 99 percent of those infected experience a fever. Coughing is exhibited by 59 to 82 percent of coronavirus patients.
According to recent data, the U.S. leads the world in the number of positive coronavirus cases with 2,502,311 instances of the infection reported. Initially, some state governments responded to the outbreak by issuing stay-at-home orders and closing non-essential businesses. While the attempts at mitigation caused economic damage, cases in most areas seemed to decline.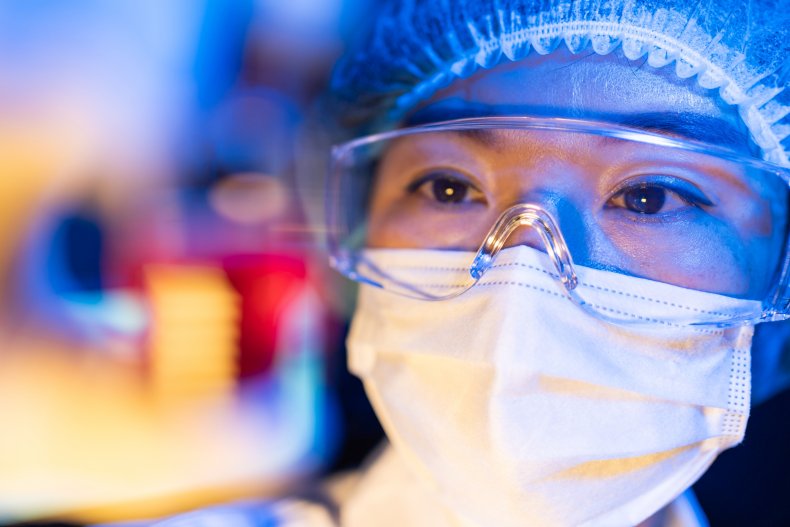 Increases began to be reported after states began to reopen businesses and relax their coronavirus mitigation protocols. In Texas, a sharp increase in cases caused Governor Greg Abbott to halt his state's reopening strategy.
Health officials in Texas reported 5,996 new coronavirus cases on Thursday, a new daily record. While Abbott did not rescind any of the previously given reopening guidelines, he did prohibit elective surgeries in order to provide more hospital beds to coronavirus patients.
"We are focused on strategies that slow the spread of the virus while also allowing Texans to continue earning a paycheck to support their families," Abbott said in a Thursday statement. "The last thing we want to do as a state is go backwards and close down businesses. This temporary pause will help our state corral the spread until we can safely enter the next phase of opening our state for business."
Citing a surge in California's positive cases, Los Angeles Mayor Eric Garcetti told residents to stay home. "That's why wearing a face covering, that's why practicing social distancing, washing our hands and, yes, still, as painful as it might feel, staying at home whenever we can is our best defense," Garcetti said during a Wednesday news conference.
California logged a record daily high in coronavirus cases on Tuesday with 6,652 positive tests reported.
President Donald Trump attributed the recent rise in positive coronavirus cases to a nationwide expansion of testing during remarks made Thursday in Wisconsin.
"We're up to almost 30 million tests," Trump said. "That means we're going to have more cases. If we didn't want to test, or if we didn't test, we wouldn't have cases. But we have cases because we test."
The following graph from Statista shows recent data indicating the upswing in U.S. coronavirus cases as of June 24.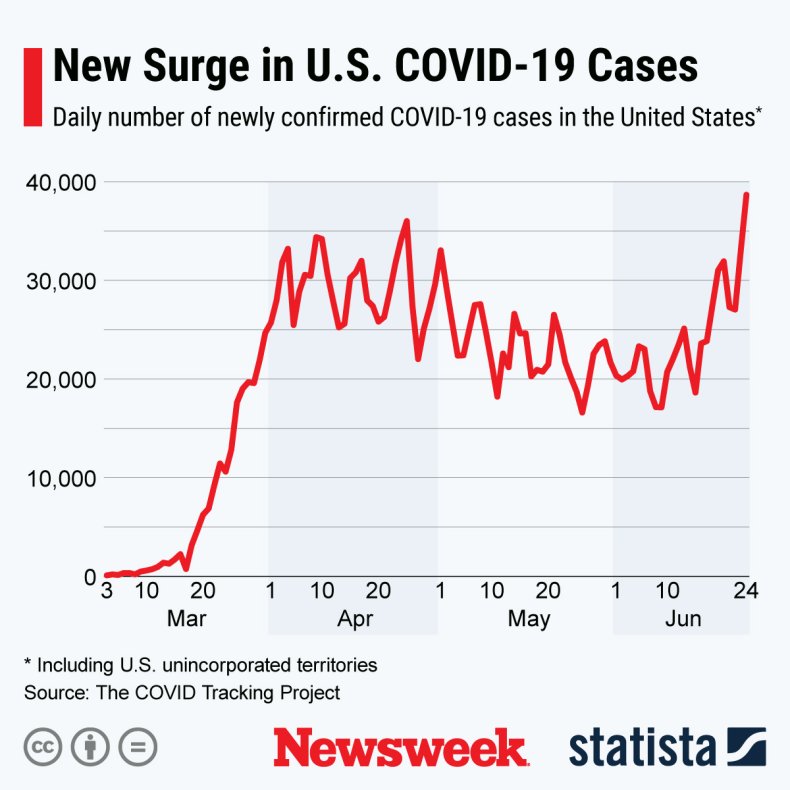 Updated 11:40 p.m. EST 6/26/2020: This story has been updated with a statement from the CDC.