Researchers have urged the U.S. Centers for Disease Control and Prevention (CDC) to abandon the "misleading" way it presents data on COVID-19 deaths related to race and ethnicity.
The CDC does not report COVID-19 death rates by race or ethnicity, Tori L. Cowger of the Harvard T.H. Chan School of Public Health and colleagues wrote in a research letter published in the journal JAMA Network Open. Instead the CDC weights data according to location.
It adds weight to large, urban areas, such as New York City, due to their high numbers of COVID-19 deaths, while excluding counties without any COVID-19 deaths.
In doing so, "the CDC inflates the proportion of residents of color in the weighted population, making their risk of death appear lower, while deflating the proportion of White residents, making their risk of death appear greater," the team said.
The authors said this approach is "misleading and obviates a key mechanism by which structural racism operates to produce health inequities: social segregation."
They gave the example of a hypothetical state where 30 percent of residents are people of color, but would be weighted as 46.7 percent by the CDC. Or in New York, for instance, large urban counties with relatively high numbers of crowded households and residents of color are weighted more heavily compared with their share of the population than smaller, suburban, and rural counties, where most residents are white.
Cowger and her co-authors wrote: "We urge the CDC to drop the misleading weighted counts and publish mortality rates per race/ethnicity group stratified by age, gender, education, and ZIP code characteristic to adequately equip epidemiologists and policy makers with the data to mitigate inequities."
If things do not change, resources may not be distributed fairly, the authors said.
Over half a year since the COVID-19 pandemic, BAME people have emerged as at greater risk of complications due to the disease, including death, according to data obtained by The New York Times.
The researchers behind the JAMA letter set out to investigate whether the CDC's methods for presenting data does not reflect how COVID-19 affects people of varying races and ethnicities differently. The team used publicly available data downloaded on May 13, 2020, when 54,861 COVID-19 deaths had been reported. They compared the percentage each racial or ethnic group made up in COVID-19 death data, and looked at how they would be distributed according to unweighted U.S. Census population figures, and when weighted according to the CDC National Center for Health Statistics' methods.
Going by the U.S. Census population distribution, black people made up a disproportionately large number of COVID-19 deaths, at 9.9 percent, than their share of the U.S. Census population, with white individuals making up -8.1 percent. But in the weighted data, white individuals were overrepresented among COVID-19 deaths, at 10.9 percent.
Newsweek has contacted the CDC for comment. As cited by the study authors, the CDC states on its website that it weights its data because "COVID-19 deaths are concentrated in certain geographic locations where the racial and ethnic population distribution differs from that of the United States overall."
But the team said the mechanisms underlying the distributions of COVID-19 deaths are shaped by structural racism that affect where Black, Latinx and Native American people live, "and is a key mechanism that produces and maintains inequities in infectious disease outcomes."
They wrote: "Specifically, historical and contemporary policies and processes, including land theft, racial terrorism, redlining, and gentrification, determine the location, quality, and density of residence for people of color."
The authors said the CDC's methods were unchanged as of July 7, 2020, but acknowledged their study was limited because the conclusions may change as the pandemic does.
In a separate study also published in the journal JAMA Network Open on Tuesday, researchers at NYU Grossman School of Medicine found that racial disparities in COVID-19 cases and deaths can be found regardless of poverty rates. The team looked at data from the state health departments, CDC, and the 2018 U.S. Census Small Areas Income and Poverty Estimates program.
Lead author Samrachana Adhikari, assistant professor in the department of Population Health at NYU Grossman School of Medicine said in a statement: "While we expected to see greater numbers of COVID-19 cases and deaths in predominantly non-white, low-income communities, we were surprised that this relationship still held even after we accounted for poverty rates.
"Given our findings, we believe that structural racism may explain these racial disparities in number of cases and deaths noted in Black counties."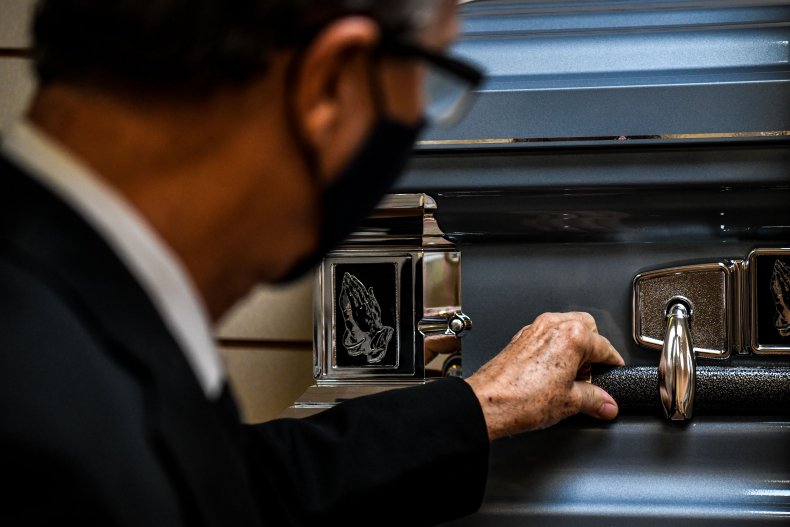 About the writer
Kashmira Gander is Deputy Science Editor at Newsweek. Her interests include health, gender, LGBTQIA+ issues, human rights, subcultures, music, and lifestyle. Her work has also been published in the The Independent, The Independent on Sunday, The i Newspaper, the London Evening Standard and International Business Times UK.