CDC Data Shows Black and Latino Americans Contract Coronavirus At Percentages Nearly Double Their Population Makeup
On Monday, the Centers for Disease Control and Prevention (CDC) released newly detailed data showing that the COVID-19 coronavirus has disproportionately affected black and Latino Americans.
Although black and Latino people only make up 13 and 18 percent of the U.S. population, respectively, they've accounted for 22 and 33 percent of newly lab-confirmed coronavirus tests in the CDC's dataset which includes tests administered between January 22 and May 30, 2020.
Of the 1,320,488 coronavirus tests in the CDC's data set, only 45 percent contained information on each test recipient's race or ethnicity.
"The proportion of missing race and ethnicity data limits the conclusions that can be drawn from descriptive analyses," the CDC said in its report, adding that the disproportionate rates are consistent with "data that found higher proportions of black and Hispanic persons among hospitalized COVID-19 patients than were in the overall population."
The data also found that rates of COVID-19 hospitalizations were six times higher, and deaths 12 times higher, among people who reported the underlying conditions of cardiovascular disease, diabetes and chronic lung disease compared to people who reported no underlying conditions.
While some attention has been paid to the social factors causing black Americans to be disproportionately affected by coronavirus, different factors contribute to the high rate of cases amongst Latinos.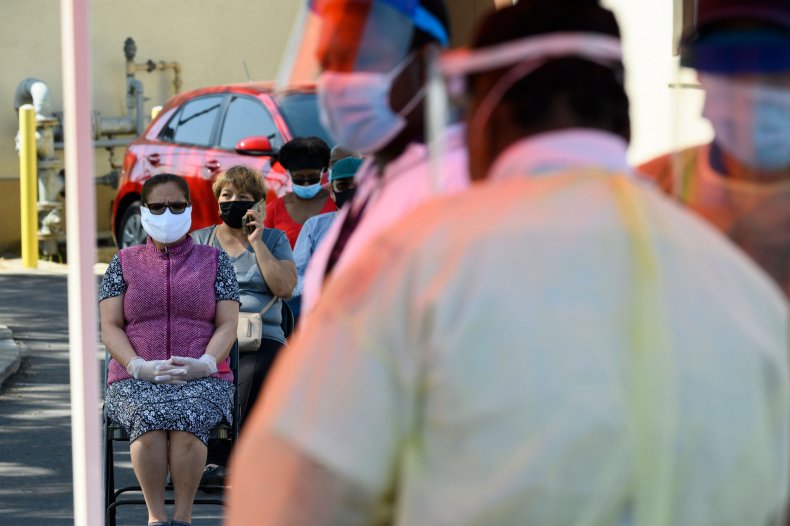 According to Salud America!, a national organization focused on Latino health, 27.2 percent of impoverished Americans are Latino and nearly 20 percent of Latinos in the U.S. lack health insurance. Both of these factors make Latinos less likely to get tested for COVID-19, even if testing is free.
The organization also said that Latinos are overrepresented in jobs in food, retail, hospitality and health industries, jobs that often require a lot of close contact with others but offer little or no paid leave. Their communities are often smaller and have less access to sidewalks and open spaces that make social distancing amongst community members more possible.
Salud America! calls the issue one of "health equity," and says that expanded healthcare coverage, paid sick leave, food assistance benefits, public transportation, addressing health and housing inequities and restricting the presence of Immigration and Customs Enforcement (ICE) intervention around medical facilities could all help address the disparity.
In April, Democratic presidential nominee Joe Biden blamed structural racism for the disproportionate impact of the coronavirus epidemic on the black community, and called on the CDC to release detailed data on how the epidemic has affected communities of different ages, races and incomes.
"Unsurprisingly, [the epidemic is] also amplifying the structural racism that is built into so much of our daily lives, our institutions, our laws, and our communities," Biden said.