The director of the Centers for Disease Control and Prevention said Wednesday that he would "absolutely" send his school-aged grandchildren back to school in the fall, adding that keeping schools closed because of the coronavirus pandemic would have negative consequences.
"I think it's really important to get our schools open," CDC Director Robert Redfield said during an appearance on Good Morning America, adding that the widely-debated decision is a matter of "public health versus public health."
"I think there really are a number of negative public health consequences that have happened to our K[indergarten] through twelves by having these schools closed," Redfield said. "It's so important now to work together with school districts to figure out how they can take our guidelines and operationalize them in a practical way."
The CDC recommends that K-12 school administrators should teach, monitor and enforce social distancing, hand-washing, daily health checks and disinfecting processes, according to its website.
All schools should dismiss staff and students for at least two to five days if a person infected with coronavirus has been in a school building. Virtual learning should still continue even if buildings are closed, the guidelines state.
Redfield, who has several school-aged grandchildren, said he would be "absolutely" comfortable sending them back to classrooms in the fall.
The viral disease expert acknowledged that one of his grandsons has cystic fibrosis, and said his family has some reservation about allowing him to attend in-person classes. Redfield said the final decision would depend on how his grandson's school district could accommodate him.
"One of the most important things is going to be the role of face masks and the role of social distancing in those classrooms," Redfield said in regard to reopening schools.
Newsweek contacted the CDC for comment but did not hear back in time for publication.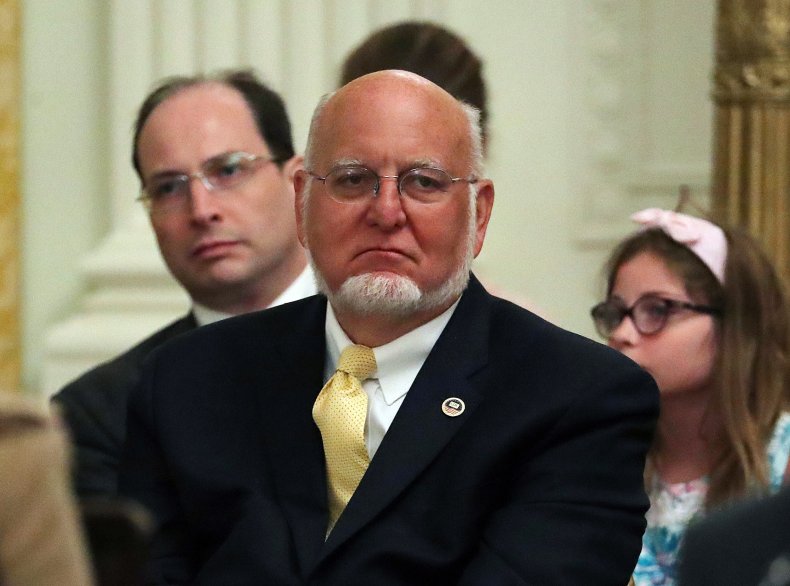 During the GMA appearance, Redfield discussed the "significant uptick" in positive coronavirus cases seen across the U.S. since mid-June, and urged all Americans to wear face coverings.
But when asked if he thought a national mask mandate was necessary, Redfield maintained that this was a question of getting Americans to "embrace that social responsibility," adding that the CDC's goal is to just "let the American public know how important this is."
President Donald Trump appeared to change his tone Tuesday regarding the use of face masks, stating during a press conference that "they have an impact."
Trump, who held a public coronavirus briefing this week for the first time since April, also acknowledged the surge in U.S. coronavirus cases.
"Some areas of our country doing very well, others doing less well," Trump said. "It will probably, unfortunately, get worse before it gets better. I don't like saying that, but that's the way it is."
As of July 21, the U.S. reported a total of 3,819,139 coronavirus cases and 140,630 deaths, according to CDC data.