CDC Director Warns of Staffing 'Challenges' As NYS Mandates Vaccines for Health Workers
The director of the U.S. Centers for Disease Control and Prevention said Monday that vaccine mandates for health care workers could create a potential staffing "challenge" as New York state's requirement takes effect.
Speaking on ABC's Good Morning America, Rochelle Walensky admitted that while she supported the mandate, it could pose a potential threat to health care systems in the state, as some workers still refuse to be inoculated.
"It absolutely creates a challenge. What I would say is [we need] to do some work, to educate these health care workers and meet them where they are, to understand where their hesitancy is so we can get them vaccinated and get them back to work," Walensky said.
Walensky's comments came on the same day that New York's vaccination deadline for health care workers takes effect. Now, health care workers in the state will have to prove they have received at least one dose of a vaccine or risk termination.
By Monday, tens of thousands of workers appeared to be defying the state requirement. Roughly 16 percent of hospital workers (about 70,000 people) statewide remain unvaccinated, while nearly one-quarter of employees at New York City hospitals in the Bronx, Brooklyn and Staten Island have not received the jab, according to the New York Post.
Additional data shows that roughly 1 in 7 nursing home workers statewide, or 13 percent, remain unvaccinated ahead of the Monday deadline, according to the New York State Department of Health
To address potential staffing shortages, New York Governor Kathy Hochul released on Saturday a plan to increase the workforce if large numbers of hospital and nursing home employees do not meet the deadline. That could include deploying medically trained members of the National Guard to state hospitals or declaring a state of emergency to allow workers from other states and countries, or recent college graduates, to practice in the state.
"We are still in a battle against COVID to protect our loved ones, and we need to fight with every tool at our disposal," Hochul said in a statement on Saturday.
"I am monitoring the staffing situation closely, and we have a plan to increase our health care workforce and help alleviate the burdens on our hospitals and other health care facilities," she went on. "I commend all of the health care workers who have stepped up to get themselves vaccinated, and I urge all remaining health care workers who are unvaccinated to do so now so they can continue providing care."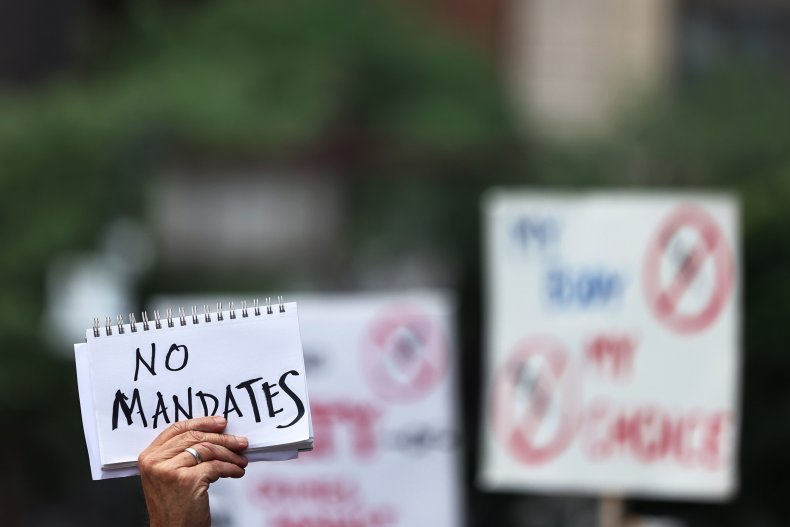 So far, many of New York's health care workers have resisted the vaccine mandate because of fears of potential side effects or because they say the mandate violates their religious or personal freedom.
The tens of thousands of health care workers who do not meet Monday's requirement and are subsequently terminated will not be eligible for unemployment insurance unless they obtain a doctor-approved request for medical accommodation.
Newsweek contacted Hochul's office for additional comment but did not hear back in time for publication.