The Centers for Disease Control and Prevention is not planning to change their guidelines on mask wearing anytime soon as transmission rates across the country remain high or substantial in over 90 percent of counties.
Asked whether the agency would consider issuing new recommendations for fully vaccinated individuals, CDC Director Rochelle Walensky pointed to the nation's transmission rates, saying that while cases, hospitalizations and deaths are on the decline, the CDC is still monitoring transmission before updating its guidelines.
"We're watching very carefully. We're scaling up our vaccinations, scaling up our booster programs and we will hopefully have vaccinations for children as well," Walensky told reporters during the White House's weekly COVID-19 briefing on Friday. "As we watch the community levels come down, we will update our recommendations."
"It's important to note that as we look at the current situation, we are also heading into respiratory virus season," she added. "During that season, we know respiratory viruses tend to thrive and so we're taking all of those into consideration."
Currently, the CDC recommends that vaccinated people wear a mask indoors in public if they are in an area of substantial or high transmission, which applies to more than 93 percent of the country as of Friday.
Data from the CDC indicated that 82 percent of counties are in an area with high transmission rate, which means there are more than 100 new cases per 100,000 people over the last week.
Roughly 11 percent of counties currently have an 11 percent transmission rate, meaning 50 to 99 cases were reported per 100,000 people in the past seven days.
Unvaccinated individuals are recommended to wear a mask indoors no matter what the transmission rate in the area is.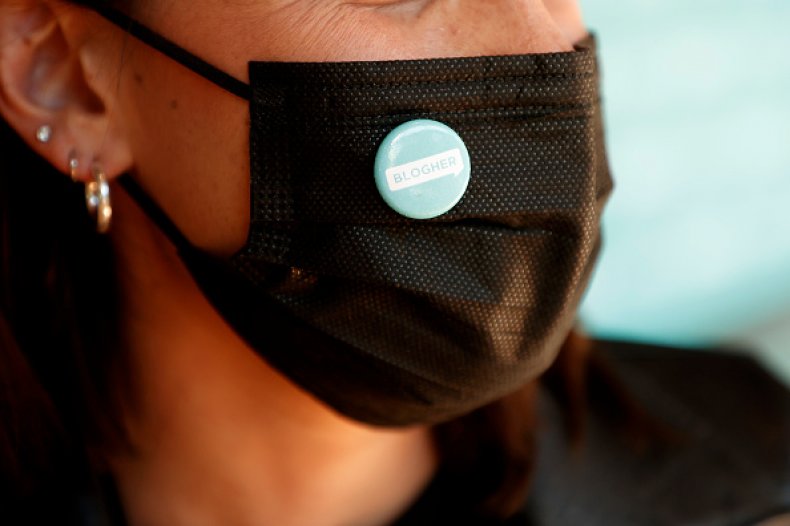 The CDC said that in general, people do not need to wear masks in outdoor settings, regardless of vaccination status, but suggest that individuals consider wearing one in crowded outdoor settings where there would be close contact with people who are not fully vaccinated.
The agency also suggested that anyone who has a condition or is taking medication that would weaken their immune system to mask up and follow the recommendations issued for unvaccinated people even if they are up to date on their vaccinations.
This week, federal officials announced that all three FDA-approved vaccines in the U.S. have also received approval for booster shots, clearing the way for more than 84 million Americans to get extra doses amid data that suggests the vaccines have waning immunity.
Americans will also be allowed to "mix and match" vaccines, meaning that their booster shots can be from a different drugmaker than the ones that manufactured their initial doses.
On Friday, Walensky said the CDC will not be issuing any recommendations as to which vaccine people should get.
Some experts have hinted that Johnson & Johnson one-dose recipients should get an mRNA booster from Pfizer or Moderna but federal agencies are stopping short of creating a hierarchy among the three, pointing to evidence that shows all three are safe and highly effective in reducing the risk of severe disease, hospitalization and death.
"We will not articulate a preference," Walesnky said. "My understanding is that most people have done largely well with the initial vaccine that they got and they expressed a preference very much for the original vaccine series."
"There may be some people who might prefer another vaccine over the one that they received and the current CDC recommendations now make that possible," she added.
Uncommon Knowledge
Newsweek is committed to challenging conventional wisdom and finding connections in the search for common ground.
Newsweek is committed to challenging conventional wisdom and finding connections in the search for common ground.
About the writer
Katherine Fung is a Newsweek reporter based in New York City. Her focus is reporting on U.S. and world politics. She has covered the Republican primary elections and the American education system extensively. Katherine joined Newsweek in 2020 and had previously worked at Good Housekeeping and Marie Claire. She is a graduate of the University of Western Ontario and obtained her Master's degree from New York University. You can get in touch with Katherine by emailing k.fung@newsweek.com. Languages: English.