A three-judge panel has refused landlords' request to put the federal eviction moratorium on hold.
The U.S. Court of Appeals for the District of Columbia declined an emergency request by a group of Realtors and landlords to lift the new moratorium, issued by the U.S. Centers for Disease Control and Prevention (CDC) on August 3 as millions of Americans remain behind on their rent amid the COVID-19 pandemic.
The ban temporarily halts evictions in counties with "substantial and high levels" of COVID-19 transmissions. About 90 percent of the U.S. population is estimated to be protected under the order, which is currently set to expire on October 3.
CDC Director Rochelle Walensky said that the moratorium is the "right thing to do" amid the prevalence of the Delta variant, which is prompting a surge of COVID-19 cases across the country.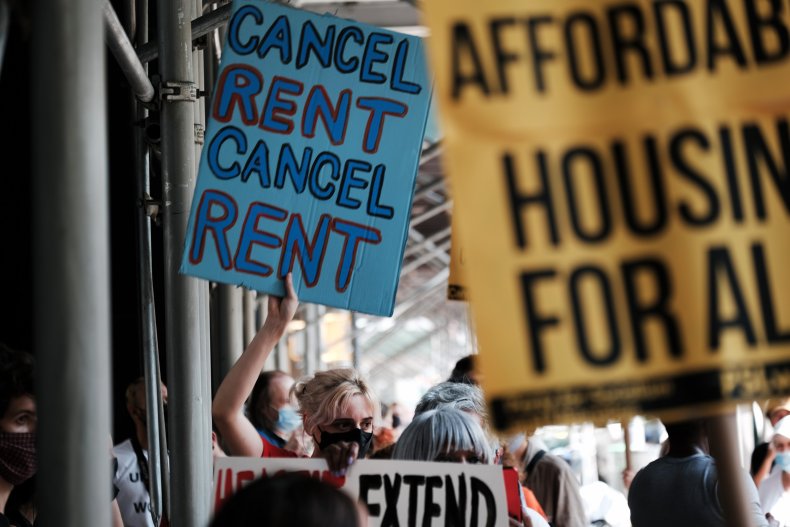 But Alabama and Georgia chapters of the National Association of Realtors turned to the federal courts for an order that would allow evictions to resume, arguing the CDC doesn't have the authority to reimpose the ban.
The groups wrote in a legal filing that the public health agency acted in bad faith and gave in to a "wave of political pressure" from Democrats in extending the eviction ban for another 60 days.
The landlord groups previously led a legal challenge against the first federal eviction moratorium that expired on July 31.
The Supreme Court narrowly allowed the moratorium to stay in place through July, but Justice Brett Kavanaugh said that any other extensions of the ban would need "clear and specific congressional authorization."
"The Supreme Court's ruling was hardly ambiguous," the Realtors' groups wrote in a 16-page motion challenging the CDC's new ban.
But last week, U.S. District Judge Dabney Friedrich denied the landlords' request, even though she said she believed the CDC's actions were illegal. Friedrich said her "hands are tied" because of a previous court ruling.
The landlords then appealed to the D.C. U.S. Court of Appeals, which on Friday allowed the pause to continue. The Alabama and Georgia Realtors' groups have vowed to take the case to the Supreme Court.
As of July 5, roughly 3.6 million Americans said they faced eviction in the next two months, according to the Census Bureau's Household Pulse Survey.
Ahead of the court's ruling, 33 Republican lawmakers sent a letter to President Joe Biden calling on him to rescind the CDC's eviction moratorium.
"We are deeply concerned that this action was not extended to prevent COVID-19 transmission, but instead is being used to provide additional pandemic payouts," the coalition wrote.