CDC Guidelines for Fully Vaccinated People: What It Means for Masks, Travel, Gatherings
Those who have been vaccinated against the new coronavirus can ease up on some COVID-19 precautions, especially when interacting with other vaccinated people, according to the Centers for Disease Control and Prevention (CDC).
The CDC issued new recommendations on Monday for fully vaccinated people, meaning it's been two weeks since they received both doses of a two-shot vaccine or the one-dose Johnson & Johnson vaccine. About 9 percent of Americans have been fully vaccinated and as long as they've passed that two-week mark, it's considered safe for them to gather inside in a small group of with others who are fully vaccinated but now is not the time to take off their masks.
"I use the example of a daughter coming in from out of town who is doubly vaccinated, and a husband and wife doubly vaccinated, and maybe a next-door neighbor who you know are doubly vaccinated," Dr. Anthony Fauci, director of the National Institute of Allergy and Infectious Diseases (NIAID) said. "Small gatherings in the home of people, I think you can clearly feel that the risk—the relative risk is so low that you would not have to wear a mask, that you could have a good social gathering within the home."
The CDC classifies people as being "fully vaccinated" if it's been two weeks since they received their second dose of a Pfizer or Moderna vaccine or the single dose of the Johnson & Johnson shot. At that time, people can gather indoors with other fully vaccinated people without wearing masks or gather indoors with unvaccinated people from one other household unless those people or anyone they live with have an increased risk for severe illness from COVID-19.
Fully vaccinated people also don't have to quarantine themselves or get tested if they've been around someone who has COVID-19 unless they have symptoms.
Vaccinations began in December and gave people a hopeful sign as the United States saw increased cases, deaths and the introduction of new strains. Mass vaccinations are vital to achieving herd immunity against the new coronavirus, which is, in turn, the key to resuming normal life.
But officials have warned being vaccinated doesn't negate the need for other public health measures, such as social distancing and mask-wearing.
While studies show vaccines are effective at keeping a person from getting COVID-19 and help keep them from getting seriously ill if they do contract it. However, scientists don't "fully understand" if vaccines prevent a person from spreading the virus, Jon Andrus, a professor of global health at the Milken Institute of Public Health at George Washington University, told Newsweek.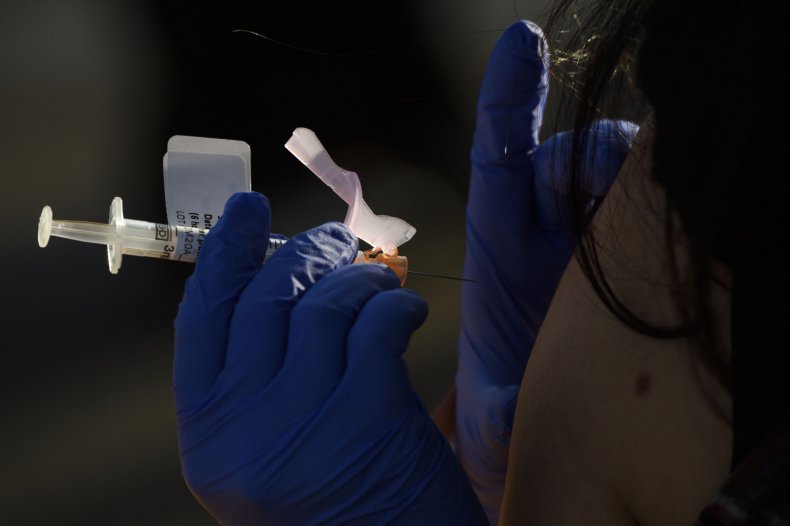 It's possible a vaccinated person could be exposed to SARS-CoV-2, the virus that causes COVID-19, and then unknowingly give it to others. So, being vaccinated and employing public health measures must be seen as a collective response, not an either/or situation and Dr. Anthony Fauci, director of the National Institute of Allergy and Infectious Diseases, said people could be wearing masks in 2022.
"If you combine getting most of the people in the country vaccinated with getting the level of virus in the community very, very low, then I believe you're going to be able to say, you know, for the most part, we don't necessarily have to wear masks," Fauci said on CNN's State of the Union on Sunday.
Two vaccines—Pfizer and Moderna—received an Emergency Use Authorization from the Food and Drug Administration in December and 58 million people have received at least one dose of either vaccine. New strains of the virus create an even more urgent need to vaccinate a wide swath of Americans but the rollout has hit a number of roadblocks, including a winter storm that delayed delivery.
Along with the setbacks, there have been a number of hopeful developments since December. On February 27, the FDA authorized an emergency use for the Johnson & Johnson vaccine, a potential "game-changer" because unlike Pfizer and Moderna's two-dose vaccines, people are fully vaccinated after just one shot of Johnson & Johnson's.
President Joe Biden said the United States will have enough doses to vaccinate every adult American by the end of May. The president's update could cut months off the herd immunity timeline. Fauci previously said the United States could have the 600 million doses needed to fully vaccinate 300 million Americans by July. Then, it would take time to administer doses so he estimated it would be the end of summer or early fall before 300 million people were vaccinated.
That's just the United States, though, and for there to be a true end to the pandemic, the entire world must be vaccinated. Worldwide, an estimated 302 million doses have been administered, according to a Brown University tracker, and about 7 billion people worldwide may need to be inoculated for herd immunity.
Until that happens, experts see a potential need to keep travel restrictions in place.
"This virus demonstrates that we are a global community and it also demonstrates that we can't move forward unless we all move forward together," Ruth McDermott-Levy, director of Villanova University's Center for Global and Public Health, told Newsweek. "There's precedent for it [and] it's not an unreasonable thing to request that people either be vaccinated and perhaps also test negative."
The CDC advises even those who are fully vaccinated to delay domestic and international travel and follow all CDC requirements and recommendations if they do travel.
With no definitive end to travel restrictions, White House press secretary Jen Psaki said restrictions would be in place as long as experts believe they're necessary. So, America could still have a long road to "normal." But, the CDC's recent recommendations may be the small change some need to alleviate the pressure they feel a year into the pandemic.