COVID-19 CDC Guidelines Every U.S. Business Should Read Before Reopening
As people return to work following the lifting of lockdown restrictions in the U.S. the Centers for Disease Control and Prevention (CDC) has released guidelines for employers and employees on how to stay safe during the coronavirus (COVID-19) outbreak.
As it stands, the U.S. has reported more than 2,381,000 confirmed cases of COVID-19. The five counties with the highest amount of cases are Los Angeles in California, Cook in Illinois and Queens, Kings and Bronx in New York. To date, there have been more than 121,900 deaths confirmed in the U.S. with 656,100 recoveries. However, with research still being conducted into the after-effects of COVID-19 on our bodies—including damage to the lungs, increased risk of strokes and potential brain damage—it is still important for Americans to continue to take precautions outside and in the workplace.
How can businesses and employers aid slowing COVID-19 spreading?
According to the CDC, with the appropriate processes in place, places of work can prevent and slow the spread of the pandemic. Taking into account the level of disease transmission in their communities and following the White House guidelines for opening up America, businesses can resume operations. They should also coordinate with their local and state health officials to ensure they have the most accurate information to make decisions.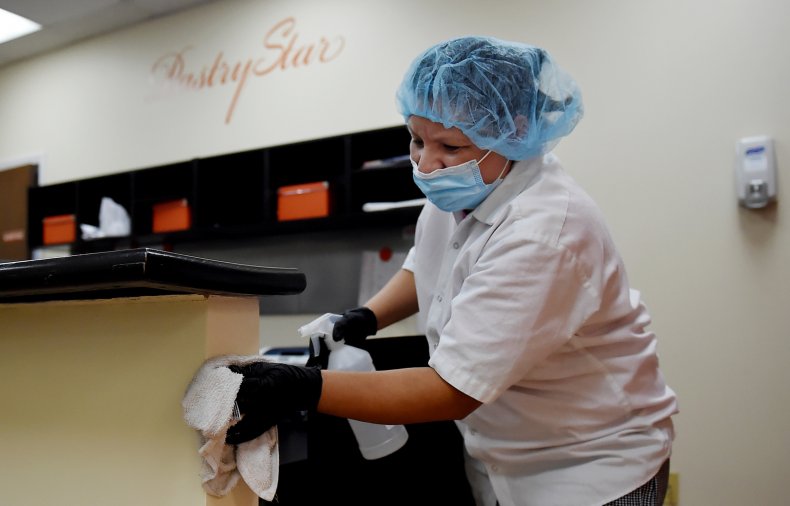 When coming up with a plan, three things should be taken into consideration, according to the CDC:
Prevent and reduce transmission among employees.
Maintain healthy business operations.
Maintain a healthy work environment.
How can businesses prevent and reduce transmission among employees?
While the risk of exposure will be different for each business, there are things that all employers can do to protect their staff and customers. For example, if an employee is sick they should be encouraged to stay at home, with the employee notifying their supervisor. The CDC has recommended steps for any employee such as home isolation and consulting health providers. Any employees who have sick family members should also follow guidelines as well as consider home-isolation.
Another step that is recommended is conducting daily in-person or virtual health checks. These could include screening for COVID-19 symptoms and temperature screening before employees enter into the workplace. CDC writes that employers can use social distancing, barrier or partition controls, as well as personal protective equipment (PPE) to protect any screeners—all checks should be done safely and respectfully, says CDC.
To prevent stigma and discrimination in the workplace, employee health screenings should be as private as possible. The CDC writes that employers can not make determinations of risk based on race or country of origin.
Other ways to protect employees includes:
Identify where and how workers might be exposed to COVID-19 at work.
Put in place guidelines and requirements for PPE—cloth face coverings are not considered PPE.
Separate sick employees if they are identified when they arrive to work or if they get sick during the day.
Have a procedure in place for safely transporting a sick employee to their home or a healthcare provider.
Have a plan of action is an employee is suspected or confirmed to have COVID-19—this could include closing off areas within the workplace or in extreme cases the need to shut down a facility.
Follow the CDC cleaning and disinfection recommendations.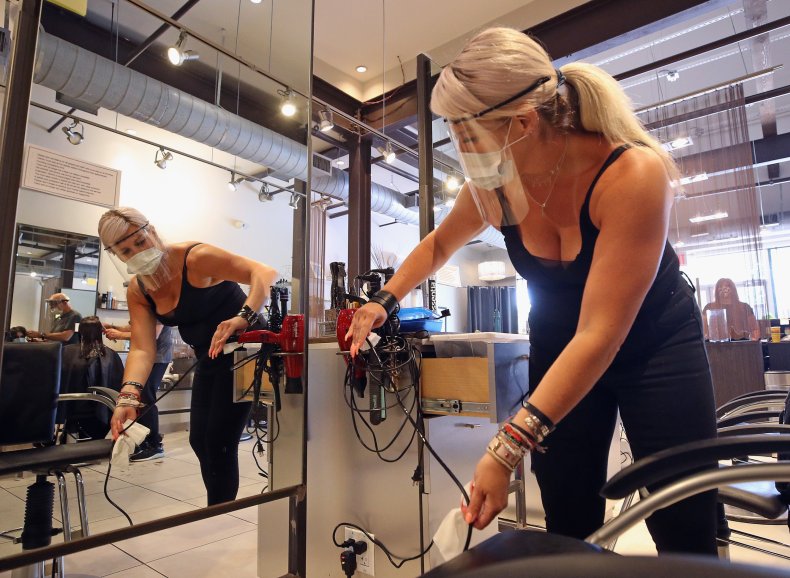 It is also imperative to educate employees about steps they can take to protect themselves at work and home from COVID-19 infection. Inform them of new policies or procedures relating to illness, cleaning, work meetings and travel.
Employees are advised by the CDC to do the following:
Wash their hands often with soap and water for at least 20 seconds or to use hand sanitizer with at least 60 percent alcohol if soap and water are not available. This should be done before and after work shifts, before and after work breaks, after blowing their nose, after using the restroom, before eating or preparing food and putting on and removing cloth facing coverings.
Avoid touching their eyes, nose, and mouth with unwashed hands.
Cover their mouth and nose with a tissue when they cough or sneeze, or use the inside of their elbow. The CDC has guidelines on coughing and sneezing etiquette.
Practice routine cleaning and disinfection of frequently touched objects and surfaces such as workstations, keyboards, telephones, handrails, and doorknobs. Dirty surfaces can be cleaned with soap and water before disinfecting—products that meet EPA's criteria for use against SARS-CoV-2 should be used.
Avoid using other employees' phones, desks, offices, or other work tools and equipment, when possible.
Practice social distancing by avoiding large gatherings and maintaining distance (at least 6 feet) from others when possible.
Employees should endeavor to use transportation that minimizes close contact with others such as biking, walking, driving or riding by car either alone or with household members—guidance on how employees can protect themselves when using transportation is also available on the CDC website.
How can a business maintain healthy business operations during the COVID-19 outbreak?
There are several things employers can do to ensure their business remains healthy during the pandemic.
The CDC recommends identifying a work coordinator to be responsible for any issues relating to the outbreak and the impact at the workplace. Working with the employer, this coordinator could promote the use of flexible sick leave, helping to protect employees who have a higher risk for severe illness, assess essential functions and potentially change business practices if needed.
There will also be a need to determine how the business will operate should absenteeism spike. Employers should look to monitor and respond to sick leave requests in the workplace, implement plans to continue essential business functions, consider flexible work and leave policies and cross-train employees in other roles.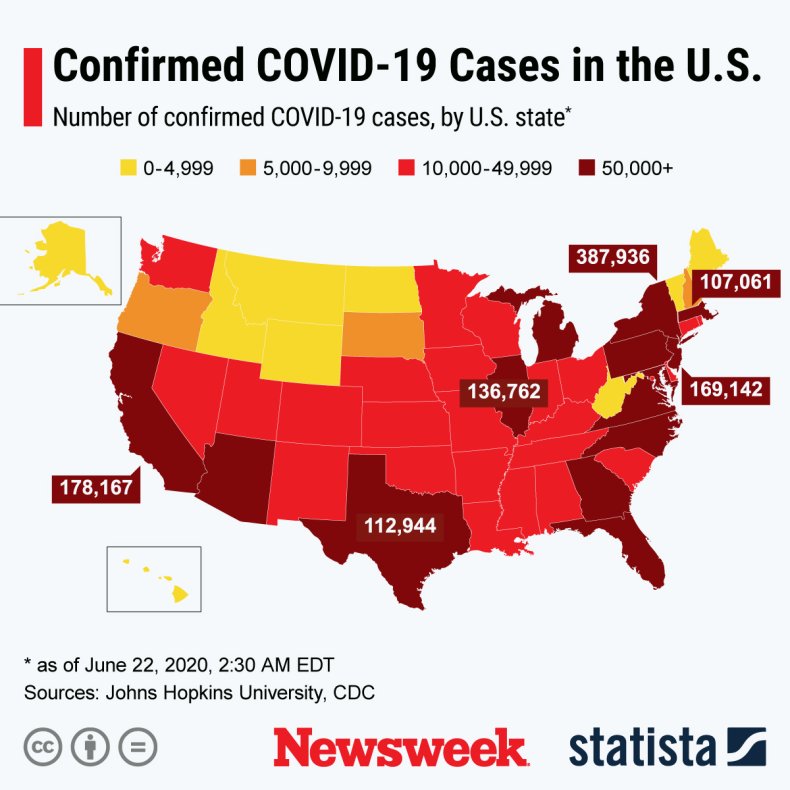 Healthy operations also mean establishing policies and practices for social distancing. This could include altering workspaces for workers and customers to maintain a safe distance from one another, physically separate employees from each other or implement more flexible working hours which would rotate or staffer shifts to limit the number of employees in the workplace at the same time.
How can employers maintain a healthy work environment?
As the CDC says, COVID-19 can be spread by those with no symptoms, which makes it more important for employers to evaluate and institute controls to protect employees and the general public.
One part of this is improving engineering controls using the building ventilation system. This could be increasing ventilation rates, ensuring systems operate properly to provide the appropriate indoor air quality or disable demand-controlled ventilation.
Employers should work with buildings and facility managers and engineers to have these things put in place. They can also review guidelines from the American Society of Heating, Refrigerating, and Air-Conditioning Engineers (ASHRAE) Guidance for Building Operations During the COVID-19 Pandemic. The CDC also recommends ensuring the safety of building water systems and devices as a prolonged shutdown—its Guidance for Building Water Systems could help.
As discussed previously, employers and businesses need to ensure they are providing employees, customers and any visitors with what they need to clean their hands and cover their coughs and sneezes. This includes:
Provide tissues and no-touch trash cans.
Provide soap and water in the workplace. If soap and water are not readily available, use an alcohol-based hand sanitizer that is at least 60 percent alcohol.
Ensure that adequate supplies are maintained.
Ideally, place touchless hand sanitizer stations in multiple locations to encourage hand hygiene.
Place posters that encourage hand hygiene to help stop the spread at the entrance to your workplace and in other work areas where they are likely to be seen—This should include signs for non-English speakers, as needed.
Discourage handshaking. Encourage employees to use other non-contact methods of greeting.
Direct employees to visit CDC's coughing and sneezing etiquette and clean hands webpage for more information.
More information can be found on the CDC website. The organization has also created the below table to help employers and businesses can ensure the protection of its employees, customers and visitors.
Example Controls to Prevent the Spread of COVID-19 in Work Environments
Engineering
Administrative
Personal Protective Equipment (PPE)

Facilities and Equipment

Assess job hazards for the feasibility of engineering controls
Ensure ventilation and water systems operate properly
Alter workspaces to maintain social distancing. Examples include:

Configure partitions as a barrier shield
Move electronic payment reader away from cashier
Use verbal announcements, signage, and visual cues to promote social distancing
Remove/rearrange furniture
Provide remote shopping alternatives (e.g., delivery, pick-up)

Management and Communications

Monitor state and local public health communications about COVID-19
Encourage sick workers to report symptoms, stay home, and follow CDC guidance
Develop strategies to:

manage worker concerns
communicate with workers

Remind workers of available support services
Communicate to partners, suppliers, other contractors on policies and practices
Encourage social distancing and the use of cloth face coverings (if appropriate) in the workplace
Use technology to promote social distancing (e.g., telework and virtual meetings)
Cancel group events
Close/limit the use of shared spaces
Ask customers who are ill to stay home
Consider policies that encourage flexible sick leave and alternative work schedules.
Schedule stocking during off-peak hours

Cleaning and Disinfection

Clean and disinfect frequently touched surfaces, (e.g., counters, shelving, displays)
Provide employees with disposable disinfectant wipes, cleaner, or sprays that are effective against the virus that causes COVID-19

TrainingProvide employees with training on:

Policies to reduce the spread of COVID-19
General hygiene
Symptoms, what to do if sick
Cleaning and disinfection
Cloth face covers
Social distancing
Use of PPE
Safe work practices
Stress management

PPE

Conduct workplace hazard assessment
Determine what PPE is needed for their workers' specific job duties based on hazards and other controls present
Select and provide appropriate PPE to the worker
Data on COVID-19 cases is taken from Johns Hopkins University unless otherwise stated.