CDC Head Rochelle Walensky Fights Tears, Feels 'Impending Doom' as COVID Cases Rise in 30 States
Centers for Disease Control and Prevention (CDC) Director Rochelle Walensky appeared to be fighting back tears during a Monday news conference with the White House's COVID-19 response team as she warned Americans about the rising seven-day average of new cases.
In her address to the American public, Walensky said the U.S. was reporting trends in new cases that she said were similar to those that some European countries reported a few weeks ago. Those countries are now experiencing new surges in coronavirus infections, she added. Walensky called upon elected officials and other community leaders in the U.S. to continue encouraging citizens to take precautions against the virus.
"I'm going to pause here, I'm going to lose the script, and I'm going to reflect on the recurring feeling I have of impending doom," Walensky said. "We have so much to look forward to, so much promise and potential where we are, and so much reason for hope. But right now, I'm scared."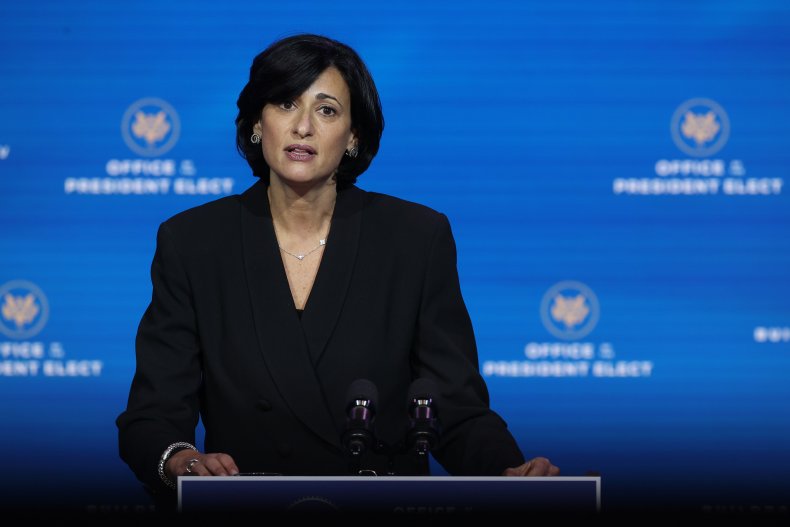 Walensky went on to say that she understands what physicians are going through as they deal with COVID-19 patients and pleaded with the American public to take the continuing threat of the pandemic seriously.
"We have come such a long way," she said, acknowledging the three COVID-19 vaccines that have thus far gained emergency use approval from the Food and Drug Administration. She said there were good reasons to celebrate as the U.S. continues heading into its second year battling the pandemic, with the vaccine rollout serving as a significant sign of hope. But she reiterated that the fight is not yet over.
"I'm speaking today not necessarily as your CDC director, not only as your CDC director but as a wife, as a mother, as a daughter, to ask you to just please hold on a little while longer," Walensky said. "I so badly want to be done, I know you all so badly want to be done. We are just almost there, but not quite yet."
More than 30 million coronavirus cases have been confirmed in the U.S. since the start of the pandemic, Walensky said. The CDC's latest seven-day rolling average of new cases is just shy of 60,000 new infections per day, which Walensky said marks a 10 percent rise over the previous week's seven-day average. Hospitalizations are also on the rise, as are COVID-19 deaths, which Walensky pointed out tend to follow a few weeks behind the onset of infections.
The CDC's forecast for total COVID-19 deaths in the U.S., based on its current data, estimates that between 558,000 and 578,000 lives will have been lost by April 17. The U.S. reported nearly 550,000 virus-related deaths by Monday, according to Johns Hopkins University's data tracker.
Walensky's comments came as new virus cases were on the rise in at least 30 states as of Monday, according to WNBC.
Newsweek reached out to the CDC for further comment and will update this story with any response.
Newsweek, in partnership with NewsGuard, is dedicated to providing accurate and verifiable vaccine and health information. With NewsGuard's HealthGuard browser extension, users can verify if a website is a trustworthy source of health information. Visit the Newsweek VaxFacts website to learn more and to download the HealthGuard browser extension.