The Trump administration has reportedly deployed a team from the U.S. Centers for Disease Control and Prevention to Guatemala to investigate the country's claims of dozens of people deported from the U.S. testing positive for coronavirus.
The CDC team was sent out after Guatemalan officials claimed that more than 70 people had tested positive for coronavirus shortly after arriving in the country on two recent deportation flights alone.
Officials said as many as 30 people who had arrived in the country on a March 26 deportation flights from the U.S. tested positive for coronavirus, while another 44 who arrived in Guatemala on Monday also tested positive.
In a statement published by The Los Angeles Timeson Thursday, U.S. Immigration and Customs Enforcement (ICE) spokesperson Jenny Burke said CDC officials were already on the ground in Guatemala "to review and validate" the claims.
"Once results are available, ICE will determine whether to reevaluate current medical procedures with CDC guidance to ensure that any newly necessary practices are implemented," she said.
In the meantime, Guatemala has reportedly suspended deportations from the U.S. indefinitely.
It is unclear whether ICE is still facilitating deportation flights to other Central American countries, however.
Currently, ICE does screen deportees for symptoms of coronavirus before making them board deportation flights. However, it does not test deportees for the virus, which does not always cause clear symptoms. Further, when it does, they can take days to manifest.
In recent weeks, ICE has identified 100 confirmed cases of coronavirus among detainees at detention facilities across the U.S.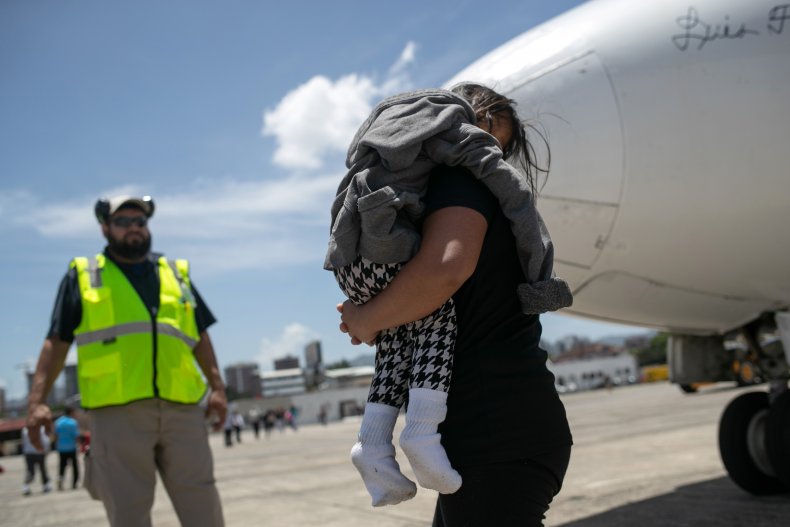 At one facility, the Otay Mesa Detention Center in San Diego, California, at least 17 detainees have tested positive for coronavirus, while 12 detainees also tested positive at the Buffalo Federal Detention Facility in Batavia, New York.
Meanwhile, 25 workers at ICE detention facilities have also tested positive for the virus, while another 81 ICE employees working outside detention facilities have also contracted COVID-19.
The surge in cases at immigration detention facilities across the U.S. had previously prompted concern that detainees being boarded onto deportation flights could potentially have been exposed to the virus.
Further, ICE has also been using its deportation flights to bring U.S. citizens and permanent residents stranded in Central American countries back home to the U.S.
It is unclear whether the agency will suspend all deportation flights or whether it plans to suspend its repatriation program, which was being facilitated in coordination with the State Department.
Newsweek has contacted ICE for comment.