The 34 Countries Where CDC Eased Travel Restrictions to the Lowest Level
Amid the ongoing COVID-19 pandemic and vaccine rollout around the globe, the U.S. Centers for Disease Control and Prevention (CDC) has eased travel recommendations for over 110 countries and territories. Dozens of countries were added to the health body's lowest travel warning level (Level 1: COVID-19 Low) on Monday.
A CDC spokesperson told Reuters travel alerts for 50 countries and territories were lowered to either Level 1 or Level 2 (COVID-19 Moderate).
Israel, South Korea, Singapore, Belize, Morocco and Fiji are among the 34 countries that were moved to Level 1, for which the CDC advises: "Make sure you are fully vaccinated before travel to these destinations."
The CDC's recommendations for 61 nations with the highest warning level (Level 4: COVID-19 Very High)—areas to which Americans are advised to avoid traveling—were eased Monday to recommending travel for fully vaccinated people, the federal body said Tuesday.
Travel alert levels for about a dozen countries and territories were also moved to the "COVID-19 Unknown" category, for which the CDC advises: "Avoid travel to these destinations. If you must travel to these destinations, make sure you are fully vaccinated before travel."
Some of the areas added to the "Unknown" alert level include the U.S. and British Virgin Islands, Samoa, Ireland, Aruba and Monaco.
See the CDC website for the full list of the latest travel alert levels for all countries and territories issued by the health body.
The latest changes to the CDC's travel recommendations were made based on the health body's updated criteria for its Travel Health Notice (THN) levels. The criteria include new case counts, incidence rates (cumulative new cases over the past 28 days per 100,000 population) and the trajectory of new cases (increase, decrease or stability).
The criteria for determining THN levels were "updated to better differentiate countries with severe outbreak situations from countries with sustained, but controlled, COVID-19 spread," the CDC explained Monday.
"This update gives specific travel advice for vaccinated and unvaccinated people according to the THN level, ensuring THN levels reflect the current global situation and are aligned with guidance for international travel.
"CDC lowers a destination's THN level when the incidence rate (or case count) and testing metrics meet the THN threshold for a lower level and remain at that level for 28 consecutive days. Vaccination coverage rates and vaccine performance will be considered when determining if the THN level can be lowered before 28 days," the federal body adds.
Countries and territories moved to CDC's travel alert Level 1
(Source: CDC, as of June 9, 2021)
Albania
Anguilla
Antigua and Barbuda
Belize
Benin
Burkina Faso
Burundi
Chad
Cote d'Ivoire
Dominica
Eswatini (formerly known as Swaziland)
Fiji
Falkland Islands
French Polynesia
Gambia
Ghana
Iceland
Isle of Man
Israel
Laos
Malawi
Malta
Morocco
Mozambique
Niger
Rwanda
Saint Barthelemy
Senegal
Singapore
South Korea
Togo
Turks and Caicos
Zambia
Zimbabwe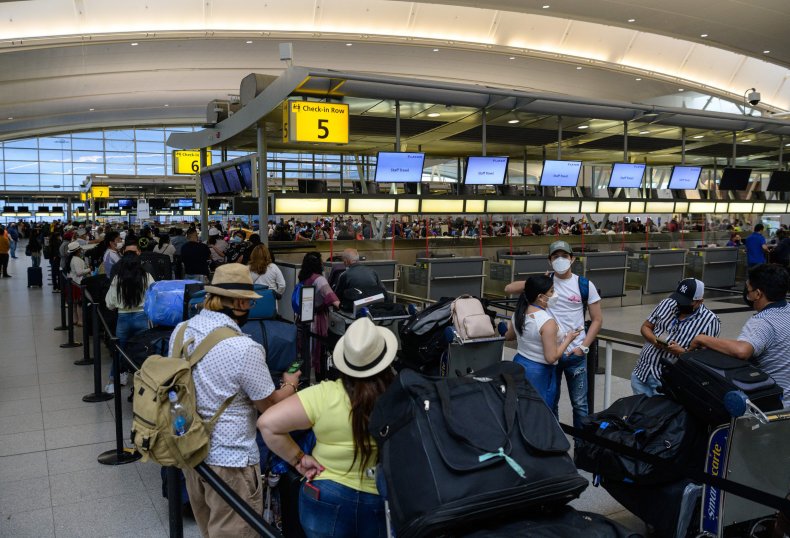 The wider picture
Coronavirus has infected more than 174 million people since it was first reported in Wuhan, China, including over 33.3 million in the U.S. More than 3.7 million people have died and over 2.1 billion COVID-19 vaccine doses have been administered worldwide, as of Wednesday, according to Johns Hopkins.
The graphic below, produced by research provider Statista, shows the total number of COVID-19 vaccine doses administered per 100 people across different countries.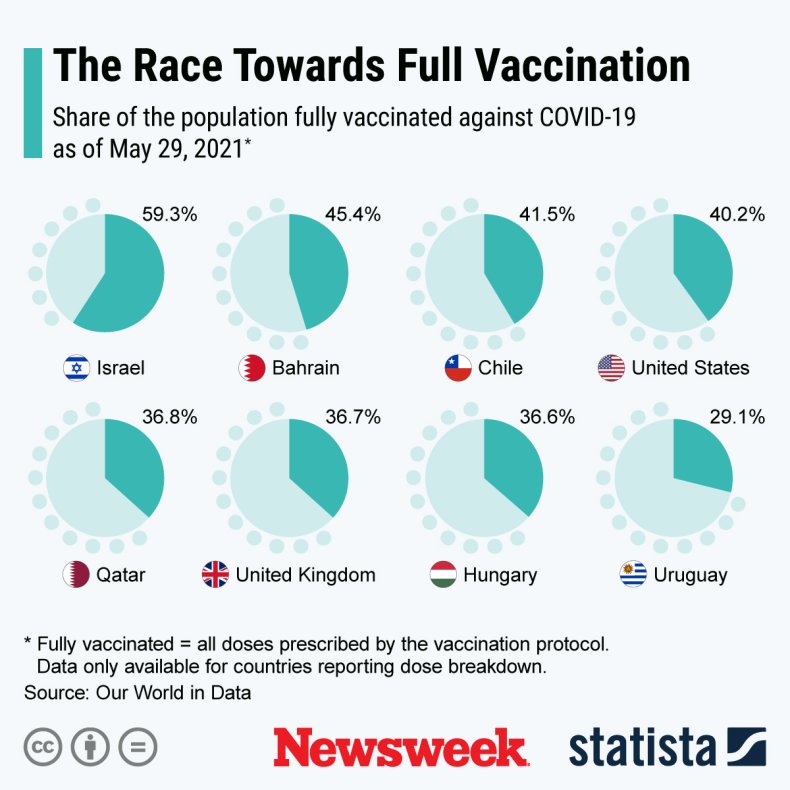 Newsweek, in partnership with NewsGuard, is dedicated to providing accurate and verifiable vaccine and health information. With NewsGuard's HealthGuard browser extension, users can verify if a website is a trustworthy source of health information. Visit the Newsweek VaxFacts website to learn more and to download the HealthGuard browser extension.