CDC Moves to Reissue School Reopening Guidelines Hours After Trump Threatens to Cut Aid
Centers for Disease Control and Prevention Director Robert Redfield said Wednesday the agency planned to release updated guidelines next week to help schools reopen safely in the fall as the coronavirus pandemic continued raging throughout the country.
Redfield announced the forthcoming series of updated recommendations during a press briefing with the White House's coronavirus task force, which Vice President Mike Pence and Department of Education Secretary Betsy DeVos also attended. The news came one day after federal and education officials convened in Washington, D.C., to discuss reopening strategies for schools and just hours after President Donald Trump said on Twitter he might "cut off funding" to schools that did not reopen for in-person instruction in time for the fall semester.
As reports of new COVID-19 cases have increased in several states over the last few weeks and the U.S. surpassed 3 million total cases, several state and local leaders cast doubt on the idea of resuming in-person schooling. But Redfield said the CDC's goals in revamping its guidelines for educators, parents and caregivers were intended to ensure educational institutions could operate safely, regardless of the continuing threats posed by the pandemic.
"I want to make it very clear that what is not the intent of CDC's guidelines is to be used as a rationale to keep schools closed," Redfield said. "We're prepared to work with each school, each jurisdiction, to help them use the different strategies that we propose that help do this safely so they come up with the optimal strategy for those schools."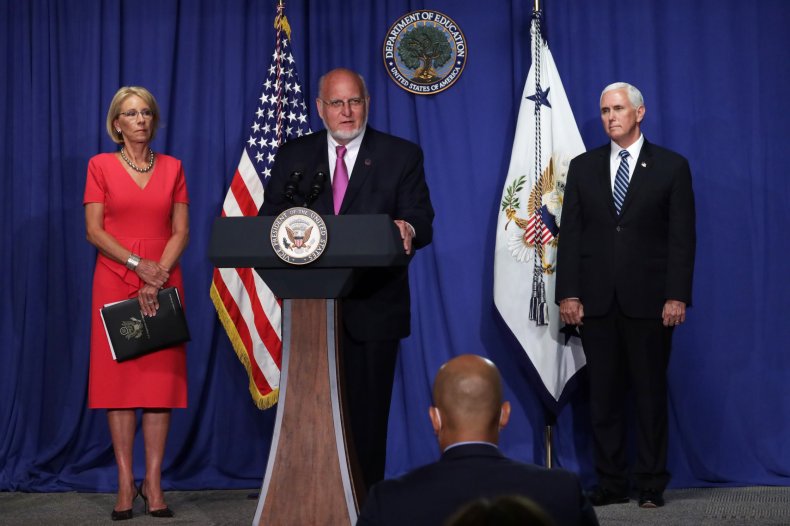 Redfield said the forthcoming guidelines would include recommendations on facial coverings, symptom surveillance in schools and updated recommendations for the K-12 school community.
Earlier Wednesday, Trump publicly criticized the CDC's current "tough" and "expensive" guidelines for schools in a tweet. "While they want them open, they are asking schools to do very impractical things," the president said. In a separate tweet, Trump suggested Democrats had political motivations for discouraging schools from reopening and said he would consider cutting funding to those that stayed closed.
During an interview Tuesday with Fox News, DeVos said the Department of Education was "seriously" exploring the possibility of cutting federal funding to schools that delayed reopening.
"Kids have got to continue learning, schools have got to open up," DeVos told Fox News. "There has got to be concerted effort to address the needs of all kids, and adults who are fear-mongering and making excuses simply have got to stop doing it and turn their attention on what is right for students and for their families."
Liz Hill, the communications director for the Department of Education, told Newsweek the department was weighing its options as discussions on reopening continued.
"Kids need to go back to school this fall, so we are looking at all of our options," Hill said. "As the secretary has said, the investment in education is a promise made to students and families. If schools are not going to keep that promise, why would they get the money? Why shouldn't that money go directly to parents to find an option for their student if the school they are assigned to refuses to open?"
During Wednesday's news conference, both Pence and Redfield emphasized the importance of reopening schools, saying the benefits went beyond educational progress.
"We can't let our kids fall behind academically, but it's important that the American people remember that for children that have mental health issues, for special needs children, for nutrition, for children in communities facing persistent poverty—the school is the place where they receive all those services," Pence said, citing recommendations issued by the American Academy of Pediatrics that encouraged school policies to remain flexible during the pandemic.
"It is critical that we get these schools open, do it safely," Redfield said, adding that the CDC's forthcoming updates for schools were intended to serve only as guidelines.
"Our recommendations are not requirements, and they're not meant to be prescriptive," Redfield said. "We have lots of different options on how the schools can put it together."