The CDC Must Explain the Endgame for School Masking Mandates | Opinion
The Centers for Disease Control and Prevention (CDC) is sticking to guidance on masking in schools that is increasingly proving absolutist, tone deaf and counterproductive. Last Wednesday, as COVID case rates declined to half of what they were five weeks earlier, CDC head Rochelle Walensky recommitted to universal masking in all schools for the foreseeable future. "As we head into these winter months, we know we cannot be complacent," Walensky said at a White House briefing. "So, right now, we are going to continue to recommend masks in all schools for all people in those schools."
Those recommendations have been in place since August 5, when the Delta variant pushed the CDC to tighten the masking guidance it issued just three weeks earlier allowing vaccinated students and teachers to go to school mask-free. That same day, the CDC quietly removed language acknowledging its role to inform school leaders on how to transition "out of COVID-19 pandemic precautions as community transmission of COVID-19 reaches low levels or stops." Wednesday's proclamation makes it clear the CDC does not intend to take up that role again anytime soon.
The CDC's refusal to clearly outline the conditions that would reverse school mask mandates turns its current "guidance" into an instruction—one that ignores huge variation in COVID caseloads, vaccination rates and risk across school districts. Instead of simply telling the public to "trust us," the CDC should explain to school leaders and parents what conditions are necessary to loosen mask mandates, and if needed, to reinstate them.
The issue at hand is not whether masks work. They do. It is unreasonable to argue that masking cannot help schools mitigate COVID threats, but it is just as unreasonable for CDC scientists to argue students and staff everywhere should continue to mask until the agency says so.
After all, a blanket call for universal masking ignores compelling reasons districts may have for loosening mask policies, such as falling COVID rates and rising vaccination rates. Indeed, school districts across the country are already ignoring the CDC's guidance and easing mask mandates.
For instance, Massachusetts—hardly a hotbed of right-wing COVID denial—is now offering exemptions to its state mask mandate for schools where student and staff vaccination rates exceed 80 percent. With below-average case rates and aggressive vaccination targets in schools, are such exceptions really unwarranted in that state?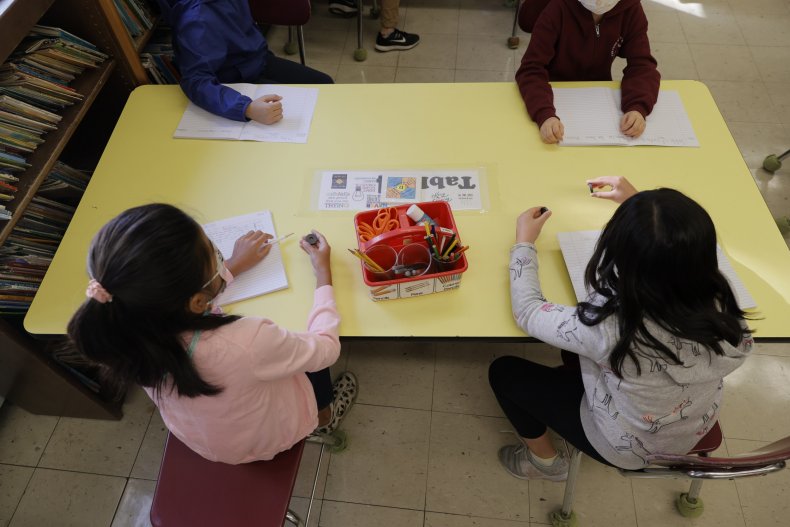 Universal school masking also doesn't make much sense in the southern states where recently soaring case rates have fallen dramatically. Florida banned mask mandates and saw a huge surge in cases, but now has the lowest case rates in the nation. In it and other states which may feel that the storm has passed, CDC's current guidance seems unmoored from the facts.
To be fair, it's not just the CDC falling into the trap of absolutist thinking in a nuanced situation. Joseph Allen, a professor at Harvard's School of Public Health and early champion of masks, argued last week in The Washington Post that school mask mandates should be done away with by the end of the year, everywhere. Allen's rationale—that coming approval for vaccines for children over five will reduce the already minuscule risk of infection and death for children—is better than the CDC's "need to not be complacent," but it still ignores dramatic differences around the country.
Missing from both the CDC directives and Allen's logic is an explanation of what conditions dictate the right time and place for required masking. Surely, when case rates of the top five states are five times those of the bottom five, or when rates of unvaccinated population in the top five states are more than double the share of the bottom five, we should not apply blanket approaches, whatever they may be.
Those who bear responsibility for implementing mask mandates need clearly articulated guidance. Armed with sound information, school leaders could set targets and incentives for mitigation efforts in their communities—particularly for vaccination. They could better reason with persuadable constituents who are angry about the inscrutable recommendations made from Washington. Most importantly, they can move into winter, and its serious potential for another COVID surge, with a plan for not only when mask mandates can go, but with a cogent case for when they might need to come back again.
Without an explanation for universal masking guidance, school leaders will have a much harder time defending their decisions, especially to vocal mask skeptics. If they buck the CDC's instruction, they face the ire of all who trust the CDC, with only the weight of their own authority to defend their decisions.
The CDC is failing school leaders—and the country—by refusing to have a lucid discussion of the endgame for school mask mandates. Worse, it is eroding public trust in its own authority, trust that we need to navigate this unfinished epidemic. An explanation from the CDC about school mask mandates won't solve distrust over COVID policies overnight or convince all masking opponents, but without it, that distrust and skepticism can only grow.
Nat Malkus is a resident scholar in education policy studies at the American Enterprise Institute.
The views expressed in this article are the writer's own.