CDC Panel Recommends Ending Pause on Johnson & Johnson COVID-19 Vaccine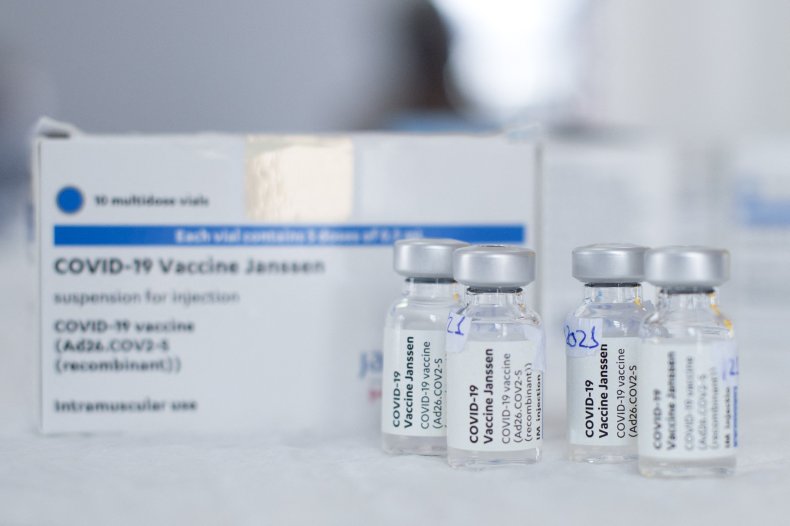 A Centers for Disease Control and Prevention (CDC) panel recommended ending the "pause" on Johnson & Johnson's COVID-19 vaccine on Friday, and the CDC and FDA both approved its reentry.
In a 10-4 vote, with one abstention, the Advisory Committee on Immunization Practices (ACIP) recommended that the vaccine again be approved for all adults, deciding that the benefits outweighed the risks.The panel suggested that a warning label should be added to warn consumers of the rare blot clotting disorder that caused the single-dose vaccine to be temporarily suspended on April 13.
"We need as many people to be vaccinated as possible in order to reach community immunity and put the pandemic behind us," ACIP member Henry Bernstein, a Zucker School of Medicine pediatrics professor, said during the meeting, according to ARS Technica. "The J&J vaccine will help us do just that."
The CDC and the Food and Drug Administration agreed to lift the pause within hours of the recommendation being made, saying in a joint statement that they "have confidence that this vaccine is safe and effective in preventing COVID-19."
Among the 8 million who received doses of the vaccine,15 cases of the disorder have been identified, resulting in at least one death. The disorder, thrombosis with thrombocytopenia syndrome, causes low levels of blood platelets and blood clots in potentially dangerous areas like the brain.
All 15 cases associated with the Johnson & Johnson vaccine have been in women, with 13 in women under 50. One additional case was seen in a man under 50 during clinical trials, while other "potential" cases are currently "under review," including in males.
The four ACIP members who voted against the recommendation urged their colleagues to include a stronger warning for women under the age of 50 due to the apparently higher risk of developing the rare disorder. They noted that the two other vaccines available in the U.S., from Moderna and Pfizer/BioNTech, do not carry the same risks.
"I did not object to the recommendation; I objected to the absence of any kind of guidance from us," said dissenting member Sarah Long, professor of pediatrics at Drexel University College of Medicine. "This is an age group that is most at risk [of TTS] that is getting a vaccine predominately to save other people's lives and morbidity—not their own."
"I'm very sorry that we haven't chosen to put up front the knowledge that we have that this is unique, it's clustered, it's almost certainly related to the vaccine, and there are options," she added.
A risk-benefit analysis that the ACIP used in coming to their decision found that resuming vaccinations for all adults would result in between 26 and 45 new cases of the disorder but 600 to 1,400 fewer deaths and 800 to 3,500 fewer intensive care unit (ICU) admissions over a six-month period.
Per 1 million doses given to women aged 18 to 49, the committee's analysis found that there would be 13 new cases of thrombosis with thrombocytopenia syndrome, 12 deaths prevented and 127 fewer ICU admissions. Only two new cases of the disorder were expected in women over 50, with 593 deaths and 1,292 ICU admissions prevented.
Newsweek reached out to the CDC for comment.
Update 4/23, 8:24 p.m.: This article has been updated to reflect that the Centers for Disease Control and Prevention and the Food and Drug Administration lifted the vaccine restriction shortly after the panel's recommendation.