An outbreak of a multi-drug-resistant salmonella strain that has infected at least 45 people across 13 states could be linked to pig ear dog treats, according to the Centers for Disease Prevention and Control (CDC). While no deaths have been reported so far, twelve of the reported cases have required hospitalization.
Iowa and Michigan have reported the highest number of cases in this outbreak—12 and 7 respectively—followed by New York, Illinois, Indiana, Kansas, Missouri, Pennsylvania, California, North Dakota, South Carolina and Wisconsin.
The infected patients vary widely in age from 1 to 81 years old, with a median age of 23. The CDC says that the first illness of the outbreak began in November 2018.
Health officials have launched an investigation to determine if any other cases of salmonella are part of this outbreak. Tests have shown that salmonella bacteria extracted from the infected people have close genetic relations, suggesting this outbreak is linked to a common source of infection, according to the CDC.
Health officials came to the conclusion that the outbreak may be linked to pig ear dog treats after interviews were conducted with 38 of the people who have been infected. Thirty-four of these said they had been in contact with a dog before their illness began. Among the 34 individuals, 17 said they had come into contact with pig ear dog treats or animals who were given these treats.
During the interviews, officials asked the infected people where they had bought the pig ears in order to collect samples from the various retailers involved. These samples were then tested for salmonella.
While the results did not identify the strain involved in the outbreak, officials from the Michigan Department of Agriculture and Rural Development did find traces of other salmonella strains. The retailers which sold the treats that tested positive have been forced to temporarily remove the offending products from their stores until the source of the outbreak is identified.
Unfortunately, other tests revealed that the strain responsible for the outbreak is resistant to several antibiotics, potentially making it more difficult to treat. The CDC warns that the number of reported illnesses could rise because it usually takes people a few weeks to report their illness after becoming ill.
The salmonella bacteria can cause symptoms to develop between 12 and 72 hours after infection. These tend to last for 4-7 days and can include diarrhea, fever and stomach cramps.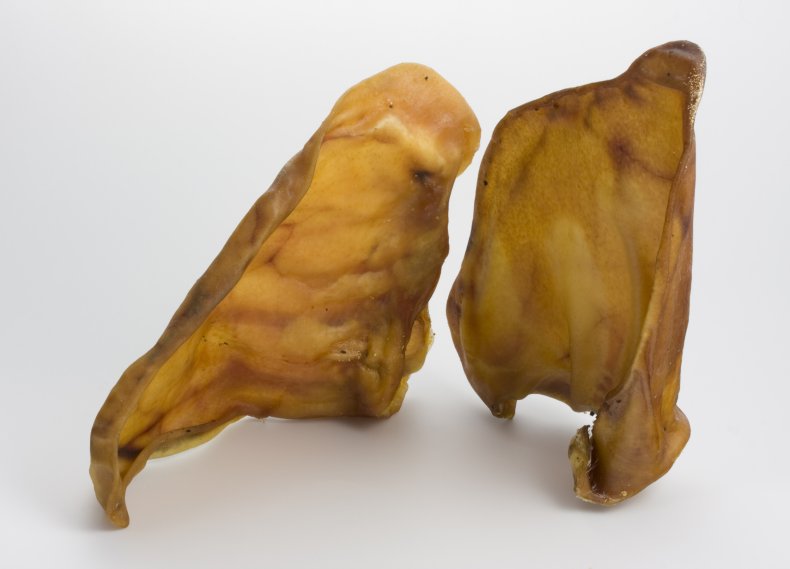 Uncommon Knowledge
Newsweek is committed to challenging conventional wisdom and finding connections in the search for common ground.
Newsweek is committed to challenging conventional wisdom and finding connections in the search for common ground.
About the writer
Aristos is a Newsweek science reporter with the London, U.K., bureau. He reports on science and health topics, including; animal, mental health, and psychology-related stories. Aristos joined Newsweek in 2018 from IBTimes UK and had previously worked at The World Weekly. He is a graduate of the University of Nottingham and City University, London. Languages: English. You can get in touch with Aristos by emailing a.georgiou@newsweek.com.