In CDC Q&A Americans Ask: Can My Dog Catch Ebola?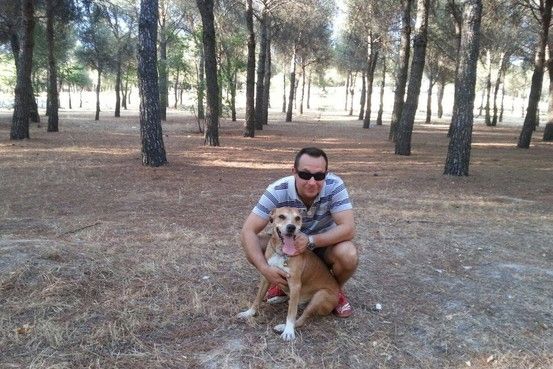 Global health experts working with the U.S. Centers for Disease Control and Prevention (CDC) took to Twitter Wednesday to answer the public's pressing questions on the Ebola virus, including how it is transmitted, travel restrictions from affected countries and how to stop the virus spreading.
But many people on #CDCchat were concerned about one thing: dogs.
Pet lovers all over the world shared their dismay Wednesday when they heard that Excalibur, the pet dog of a Spanish nurse who contracted Ebola by treating an infected priest, was put down by health authorities in Madrid because they were worried the dog might also be infected. Despite a petition to save Excalibur signed by 330,000 people, the dog was euthanized.
On the CDC's Q&A, it was clear people were confused about the introduction of a dog into the Ebola conversation, with questions covering whether pets pose a threat for infection and if the CDC thought Excalibur's death was overcautious or justified. Someone else asked the CDC to explain why domestic animals don't carry Ebola.
The CDC did say it is working with the American Veterinary Medical Association and the U.S. Department of Agriculture to develop guidelines for pets in America, but right now there is minimal risk that a pet in the U.S. will get Ebola and pass it on to its owners.
Several users pointed to a Psychology Today article in which Dr. Stanley Coren, an expert on the health link between dogs and humans, said dogs can spread the disease to humans, although dogs don't show Ebola symptoms and don't die from the disease.
"The possibility [of dogs catching Ebola] certainly exists, but in North America, Europe, and other areas of the world which are not adjacent to the affected countries in central Africa, the chances of actually contracting the disease is extremely low," wrote Coren.
The CDC said in a 2005 article that "given the frequency of contact between humans and domestic dogs, canine Ebola infection must be considered as a potential risk for human infection and virus spread."
Thomas Eric Duncan, the Liberian man who became the first person diagnosed with Ebola in the United States, died from the disease on Wednesday. Ebola has killed more than 3,800 and infected more than 8,000, according to the latest estimates from the World Health Organization, released Wednesday.