CDC Study Finds Teachers May Play 'Substantial Role' in Coronavirus Spread in Schools
A new study from the Centers for Disease Control and Prevention (CDC) shows that teachers may play a "substantial role" in coronavirus transmission in schools.
The study centered its investigation on one public school district in Georgia's Cobb County, with its eight elementary schools, during 24 in-person school days, from December 1, 2020, to January 22. According to the study, roughly 2,600 students (approximately 80 percent of the district's elementary school students) and 700 staff members attended elementary school in person.
During the 24 days of in-person classes, "Nine clusters of three or more epidemiologically linked COVID-19 cases were identified involving 13 educators and 32 students at six of the eight elementary schools," the study said.
According to the study, two of the nine clusters of cases were described as "probable educator-to-educator transmission that was followed by educator-to-student transmission and resulted in approximately one half (15 of 31) of school-associated cases."
The study also tested 69 household members of individuals with school-associated cases and found that 18, or 26 percent, received a positive coronavirus test.
"All nine transmission clusters involved less than ideal physical distancing, and five involved inadequate mask use by students," the study said. "These findings suggest that educators can play an important role in in-school transmission and that in-school transmission can occur when physical distancing and mask compliance are not optimal."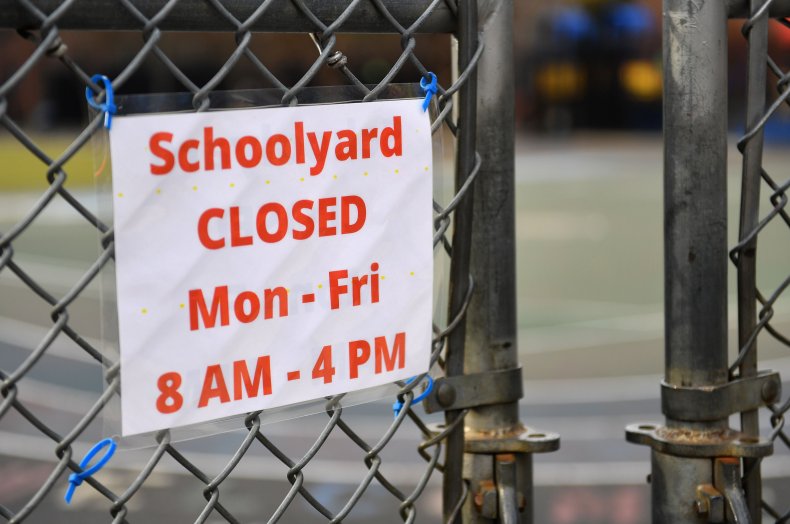 The study also said t it "found that initial infections among educators played a substantial role in in-school SARS-CoV-2 transmission and subsequent chains of infection to other educators, students, and households, highlighting the importance of preventing infections among educators in particular."
In an email to Newsweek, a CDC spokesperson said, "The two main reasons for the spread of COVID-19 in these schools were inadequate physical distancing and mask compliance."
The spokesperson added, "The study found that students sometimes wore masks incorrectly or did not wear them at all, despite a mask mandate and reportedly high compliance with the mask mandate."
The study's findings come shortly after the CDC issued guidance on how to safely reopen schools. In its guidelines, the CDC urges students and teachers to follow several different precautionary guidelines to mitigate the spread of the virus. These measures include the wearing of protective face masks, social distancing and monitoring the spread of the virus in the community surrounding a school.
The CDC spokesperson noted that "the findings in this study underscore the importance of strict adherence to the five, key layered prevention strategies outlined in CDC's K to 12 operational strategy released February 12, 2021. In particular, universal mask wearing, physical distancing of at least 6 feet, and using cohorting or podding of students are important to minimize spread throughout the school and its surroundings."