CDC's Push for Full Reopening of Schools Backed by Teachers Unions
The Centers for Disease Control and Prevention's newly released guidance urging schools to fully reopen in the fall, even if they cannot implement the agency's other coronavirus safety measures, has earned the support of the nation's largest teachers unions.
"Today's guidance is grounded in both science and common sense," American Federation of Teachers (AFT) President Randi Weingarten said in a Friday statement. "It takes what we've learned about COVID transmission in the last few months—from in-school learning, camps and the efficacy of vaccines—and charts a course for schools to fully reopen this fall."
AFT has more than 1.7 million members, including 80,000 early childhood educators and nearly 250,000 retiree members.
The CDC's new guidance calls on school districts to use local health data to guide their own decisions on mask wearing and physical distancing. And while the agency is continuing to recommend that students be at least three feet apart from one another, they are also now suggesting that other measures should be implemented to allow for reopening if distancing is not possible.
The push to get students back to in-person learning addresses the burden virtual learning has placed on both students and parents, many of who have had to stay home to provide childcare. Over the course of the pandemic, educators have continued to express concern that online classes were taking a toll on the well-being of their students.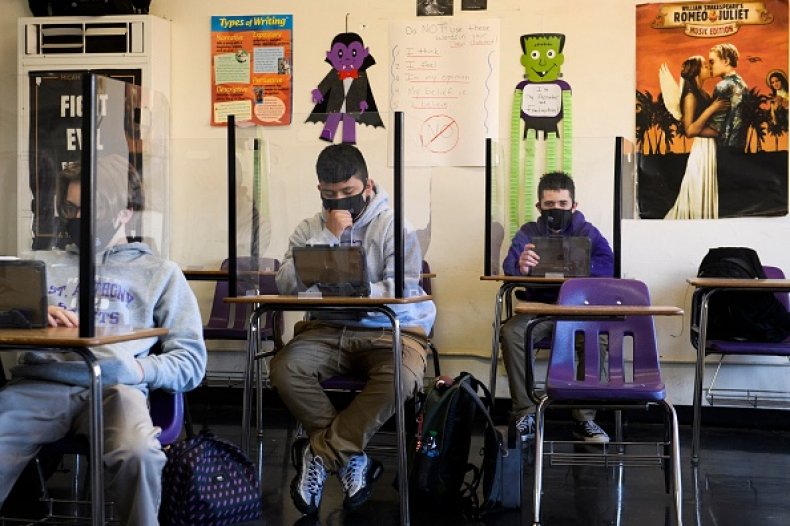 "There is no substitute for in-person learning, and we look forward to all students returning to school in the fall," National Education Association (NEA) President Becky Pringle said in a statement. "The CDC's latest guidance provides an important roadmap for reducing the risk of COVID-19 in schools."
The NEA is the largest labor union in the U.S. and represents three million educators in more than 14,000 communities in every state across the country.
While many teachers pushed back against a quick return to in-person classes last year, pointing out that children have been shown to be super-spreaders of COVID-19 and that other workers have been permitted to remain working from home, educators shifted their tone this spring as the Biden administration moved to prioritize teachers in vaccine rollouts.
Weingarten said the CDC's latest recommendations are only proof that vaccinations are the quickest way to getting students back in schools.
"The guidance confirms two truths: that students learn better in the classroom, and that vaccines remain our best bet to stop the spread of this virus and get our kids and educators fully back to those classrooms for in-person learning," she said.
Health officials said they were certain schools should be fully reopened by the fall, even as the highly contagious Delta variant continues to spread rapidly and children under the age of 12 remain ineligible for a COVID-19 vaccine—an approach that teacher unions have backed.
Both Pringle and Weingarten said that while the more transmissible strain is still surging, they don't believe schools should remain closed. They say the only effort that will protect students is encouraging all eligible people to get vaccinated.
"As the Delta variant spreads in many parts of the country and infections are increasing in younger people, it is particularly important that politicians, community leaders, parents, and educators work together to ensure that we all do our part," Pringle stated. "Everyone who is eligible to be vaccinated should get their COVID-19 vaccination. This is the most important thing we can do to protect ourselves and each other, and especially to protect those who cannot yet be vaccinated, including children under 12."
"We share the growing concern over the Delta variant, as well as the evolving science around COVID transmission in young people, all of which make it incumbent upon school districts to remain committed both to vaccinations and to these safety protocols," Weingarten added.
She continued, "But our ultimate goal remains: to get students, teachers and staff back in school buildings full time, and to make sure they're safe while doing it. Right now, the best way we know how to do that is to encourage as many people as possible to get vaccinated, and in fact, dozens of AFT affiliates around the country are holding vaccine clinics and drives in their communities to make that happen."