CDC's Walensky Says She Did Not Overrule Committee on Booster Shots: 'My Call to Make'
Dr. Rochelle Walensky, director of the Centers for Disease Control and Prevention, said she did not overrule a recommendation by her agency's advisory panel on booster shots, contending the final decision was hers to make.
"I want to be very clear that I did not overrule an advisory committee," Walensky said during a White House COVID-19 briefing on Friday. "I listened to all of the proceedings of the FDA Advisory Committee and intently listened to this exceptional group of scientists that publicly and very transparently deliberated for hours over some of these very difficult questions and where the science was."
She said after those deliberations, it became clear that the matter of whether frontline workers should be included in the groups of Americans eligible for a booster of the Pfizer vaccine "was a scientific close call."
"In that situation, it was my call to make. If I had been in the room I would have voted yes and that's how my recommendations came out after listening to all of their scientific deliberations," Walensky told reporters.
"As CDC director, it's my job to recognize where actions can have the greatest impact," she added. "In a pandemic, we most often take steps with the intention to do the greatest good, even in an uncertain environment, and that is what I'm doing with these recommendations."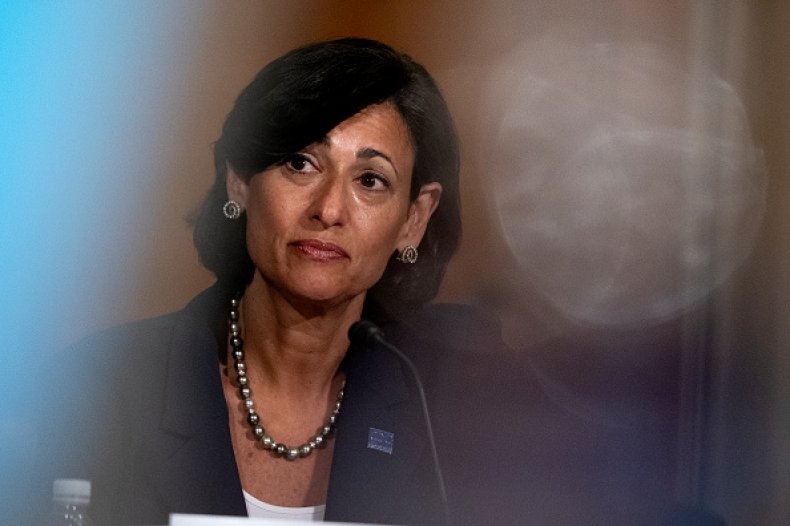 Late Thursday, the CDC aligned its policy with the endorsement of the Food and Drug Administration instead of its own advisory panel, which refused to expand booster shot eligibility as widely as the FDA recommended.
After two days of delineation, the CDC's advisory committee endorsed the newly FDA approved booster shots for Americans aged 65 and older, as well as all Americans over the age of 18 who have underlying medical conditions that place them at high risk of suffering severe complications from COVID-19.
However, the committee voted against endorsing the shots for those living and working in a setting where there is an increased risk of exposure to the virus.
But Walensky's decision reversed course on those votes and will open up booster shots for many more Americans, including "healthcare workers, teachers, those living in shelters or prisons and grocery store workers."
As early as Friday, up to 20 million Americans will be eligible for a booster shot, if they received the Pfizer vaccine and are six months out from their second dose, according to White House officials.
"We are ready and we are prepared," White House Coronavirus Response Coordinator Jeff Zients said on Friday. "Implementation is happening as we speak, so there are people who will be getting booster shots as early as this afternoon."