Hundreds of people have gathered outside a University of Oxford college to demand the statue of imperialist Cecil Rhodes be removed.
The protesters have gathered outside Oriel College chanting "decolonize" and for the statue to be taken down.
Protesters say Rhodes, who was a 19th century businessman, politician and committed imperialist in southern Africa, represented white supremacy and is steeped in colonialism and racism.
It comes after demonstrators tore down the statue of a slave owner in the city of Bristol during a recent Black Lives Matter protest.
The statue of Edward Colston, a 17th century slave trader, was thrown into a harbor, in a move condemned by Prime Minister Boris Johnson who described it as a "criminal act".
A group of Oxford councilors has also backed the campaign, with 26 city councilors saying that the figure at Oriel College was "incompatible" with the city's "commitment to anti-racism".
Shaista Aziz tweeted: "I'm one of 26 Oxford City councilors renewing calls for @OrielOxford @UniofOxford to remove #CecilRhodes statue from our High Street.
"We call on the University to work with @OxfordCity, residents, trade unions, to make Oxford a truly anti-racist city."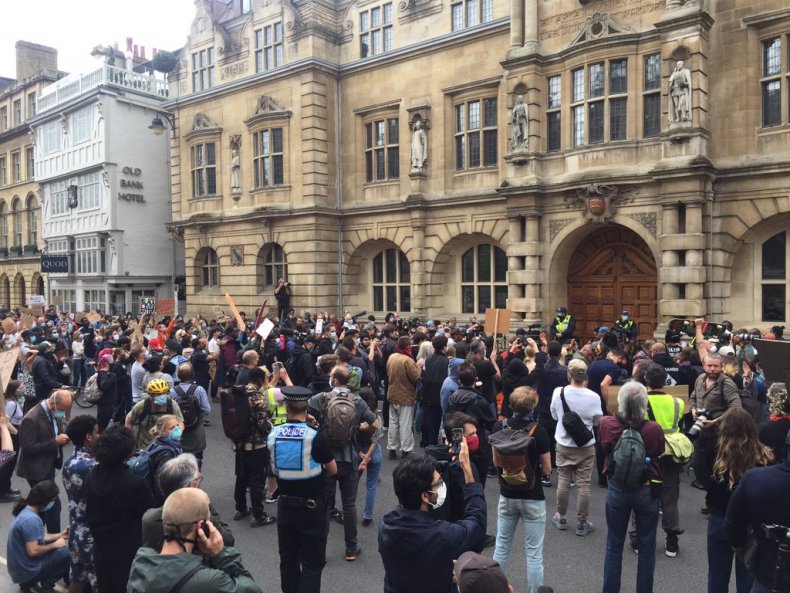 A statement from Oriel College's governing body said the college abhorred racism and discrimination in all its forms.
The statement said: "Oriel College abhors racism and discrimination in all its forms. The Governing Body are deeply committed to equality within our community at Oriel, the University of Oxford and the wider world.
"As an academic institution, we aim to fight prejudice and champion equal opportunities for everyone regardless of race, gender, sexuality or faith. We believe Black Lives Matter and support the right to peaceful protest.
"The power of education is a catalyst for equality and inclusiveness. We understand that we are, and we want to be, a part of the public conversation about the relationship between the study of history, public commemoration, social justice, and educational equality. As a college, we continue to debate and discuss the issues raised by the presence on our site of examples of contested heritage relating to Cecil Rhodes.
"Speaking out against injustice and discrimination is vital and we are committed to doing so. We will continue to examine our practices and strive to improve them to ensure that Oriel is open to students and staff of all backgrounds, and we are determined to build a more equal and inclusive community and society."
It comes after the Mayor of London Sadiq Khan ordered a review into all statues in the capital for their links to slavery, with the hope of removing those found to be involved in the slave trade.
"I'm all in favor of our city reflecting the values we have but also the diversity we have," he told the BBC's Today program, as the mayor launched The Commission for Diversity in the Public Realm, a review of the city's landmarks.
This will include not only statues but also street names, murals, street art and other memorials, before making recommendations.
"There are some statues that are quite clear cut: slavers, are clear cut in my view, plantation owners are quite clear cut," Khan said.