Kimberly Guilfoyle Compared to Cecily Strong 'SNL' Character After RNC Speech
Kimberly Guilfoyle, the former Fox News host, and girlfriend of Donald Trump Jr. gave an impassioned speech on the first night of the Republican National Convention Monday and her animated gestures have seen many online call for her to be parodied on Saturday Night Live.
Several RNC viewers have pointed out that Guilfoyle's speech is reminiscent of SNL regular Cecily Strong's Jeanine Pirro skit.
The Emmy-nominee has never actually done an impression of Guilfoyle but a lot of people think she would be perfect. Much like the entertainment world's scramble to congratulate comedian Maya Rudolph when Kamala Harris was confirmed as the Democratic running mate this year.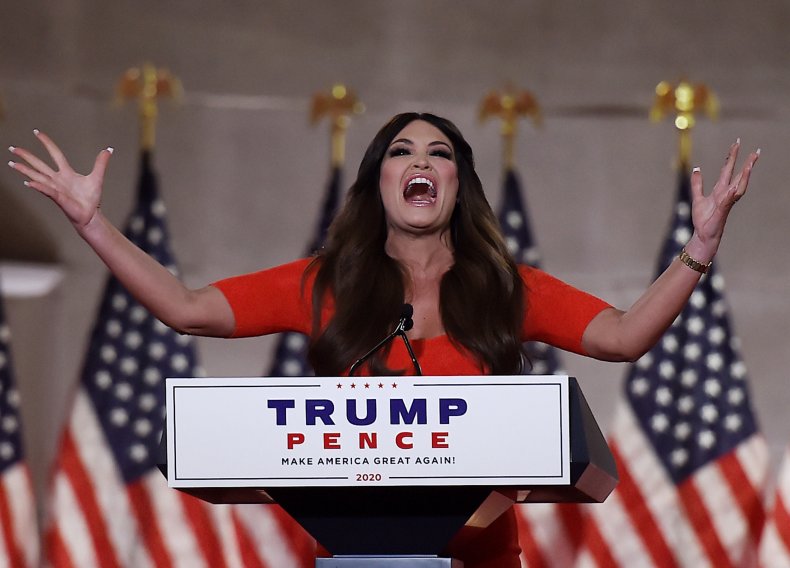 Twitter had a lot to say about Guilfoyle's speech, with many criticizing the television personality for shouting at the podium.
Veteran actress and Democrat Bette Middler tweeted: "Can't wait for Cecily Strong to play Kimberly Guilfoyle on SNL!!! So much material, so little time."
While television host Matt Rogers joked: "Cecily Strong hive, we are EAAAAAATINGGGG."
Another Twitter user added: "Kimberly Guilfoyle is the loudest Cecily Strong character ever. #RepublicanConvention."
While another wrote: "Cant wait for Cecily Strong as Girl You Wish You Hadn't Started a Conversation With at the #RNCConvention2020 aka Kimberly Guilfoyle on the new season of SNL."
Another tweet reads: "It is INCREDIBLY unfortunate that SNL is off and can't give us Cecily Strong as Kimberley Guilfoyle trying to order a latte at 120 decibels."
In her address to the RNC, the 51-year-old said: "If you want to see the socialist Biden-Harris future for our country, just take a look at California.
"It is a place of immense wealth, immeasurable innovation and immaculate environment. And the Democrats turned it into a land of discarded heroin needles in parks, riots in streets and blackouts in homes."
She added: "In President Trump's America we light things up, we don't dim them down. We build things up, we don't burn them down. We kneel in prayer and we stand for our flag."
She added: "President Trump believes in you. He emancipates and lifts you up to live your American Dream. You are capable, you are qualified, you are powerful, and you have the ability to choose your life, and determine your destiny.
"Don't let the Democrats take you for granted. Don't let them step on you. Don't let them destroy your families, your lives and your future. Don't let them kill future generations because they told you and brainwashed you and fed you lies that you weren't good enough."