Celebrate Capital Pride in Washington, D.C.: Parade Route, Best Places to View
The Capital Pride Parade in Washington, D.C. is taking place on Saturday, June 8, bringing together talent from the LGBTQ community and the community of the American capital.
Organized by Capital Pride Alliance, the festivities serve to "celebrate, educate, support, and inspire" multifaceted communities in order to grow and preserve history and protect rights for current and future generations.
The Capital Pride Alliance, located in Washington, D.C., is a nonprofit organization dedicated to serving the needs of the LGBTQ community and its partners. It provides educational events, entertainment, community outreach, and "celebrations of diversity." Capital Pride produces Trans Pride and the Pride Celebration in the nation's capital.
Washington, D.C. has been at the center of the fight for equal protections for the LGBTQ community. In the late 1940s, U.S. Park Police launched a Pervert Elimination Campaign to arrest, investigate and prosecute gay men in city's parks, which then escalated to Congress passing a sodomy law for the district. The law was introduced by Rep. Arthur Miller (R-Neb.) and it established a penalty of up to 10 years in prison or a fine up to $1,000. It was unaltered until it was repealed in 1995.
In 1950, there was a purge of 91 LGBTQ people which led to a government-wide campaign claiming over 10,000 careers and some lives. This was part of the Employment of Homosexuals and Other Perverts in Government Report which allowed job discrimination and denial of security clearances. This also led to President Eisenhower signing an executive order that allowed the firing of federal employees for being LGBTQ.
But Washington, D.C. also had great LGBTQ moments in its history. In 1957, Nob Hill became the longest continuously operating gay club in the district and one of the oldest black gay clubs in the U.S. Activists part of the Mattachine group fought for civil rights on security clearances and job discrimination, with "Liz Taylor" starting the first safe haven for female impersonators in the area. The local civil rights magazine The Homosexual Citizen, was published by the Mattachine Society, and the first gay disco club Plus One opened in 1968.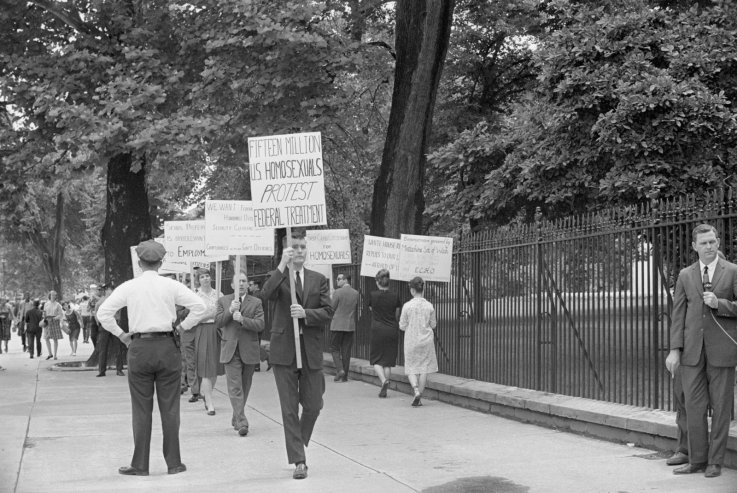 When Is Capital Pride 2019?
The parade takes place on Saturday, June 8, starting at 4:30 p.m. local time. The starting point is (Metro RED) Dupont Circle and finishes at U Street/African-American Civil War Memorial/Cardozo (Metro GREEN, 13th Street Exit).
There is a "Crack of Noon" Pride Brunch at noon, Saturday, June 8, before the parade. You can buy tickets from the Capital Pride website. Here you can relax and meet the hosts of the parade.
The parade will be hosted by Earline Budd, Brandon Wolf, Matt Easton, and members of the cast of FX's Pose. They will lead the Parade in accordance with this year's theme, shhhOUT: Past, Present & Proud, to commemorate 50 years since the uprisings at Stonewall.
Where Can I Watch The Parade?
The judges' review stand is located just northeast of Dupont Circle on New Hampshire Avenue and will feature entertainment beginning at 3:30 p.m. until 4:45 p.m. local time.
A second announcement stand is located at 14th and P Streets, north west. The announcement stand also features entertainment beginning at 3:30 p.m. local time. Families will be able to enjoy the parade along the route at Stead Park, with bleacher seats available at the Review Stand along with an ADA area for wheelchairs and sign language interpreters.
Celebrate Capital Pride in Washington, D.C.: Parade Route, Best Places to View | U.S.