Celebrate L.A. Pride: Parade Route, Public Transport Information, Where To Watch Live Stream
The L.A. Pride Parade takes place on Sunday, June 9. The theme #JUSTUNITE aims to bring together thousands from L.A.'s LGBTQ community as well as the straight community, creating memories in the spirit of unity and togetherness.
When does the L.A. Pride Parade Start?
The parade starts at 11:00 a.m. at Santa Monica Boulevard in West Hollywood, between Fairfax and Doheny. It goes on until 2:00 p.m. local time.
The website advises spectators to arrive early to get a great spot along the parade route. Parking in West Hollywood is tough, so it's worth using public transportation or rideshare services.
What Bus Goes To L.A. Pride Parade?
Several Metro Bus Lines are running almost directly to the L.A. Pride Parade including:
Line 2: Sunset Boulevard
Line 4: Santa Monica Boulevard
Line 704: Santa Monica Boulevard
Line 10: Melrose Avenue
Line 30: San Vicente Avenue
Line 105: La Cienega Boulevard
Line 217: Fairfax Avenue
Line 218: Fairfax Avenue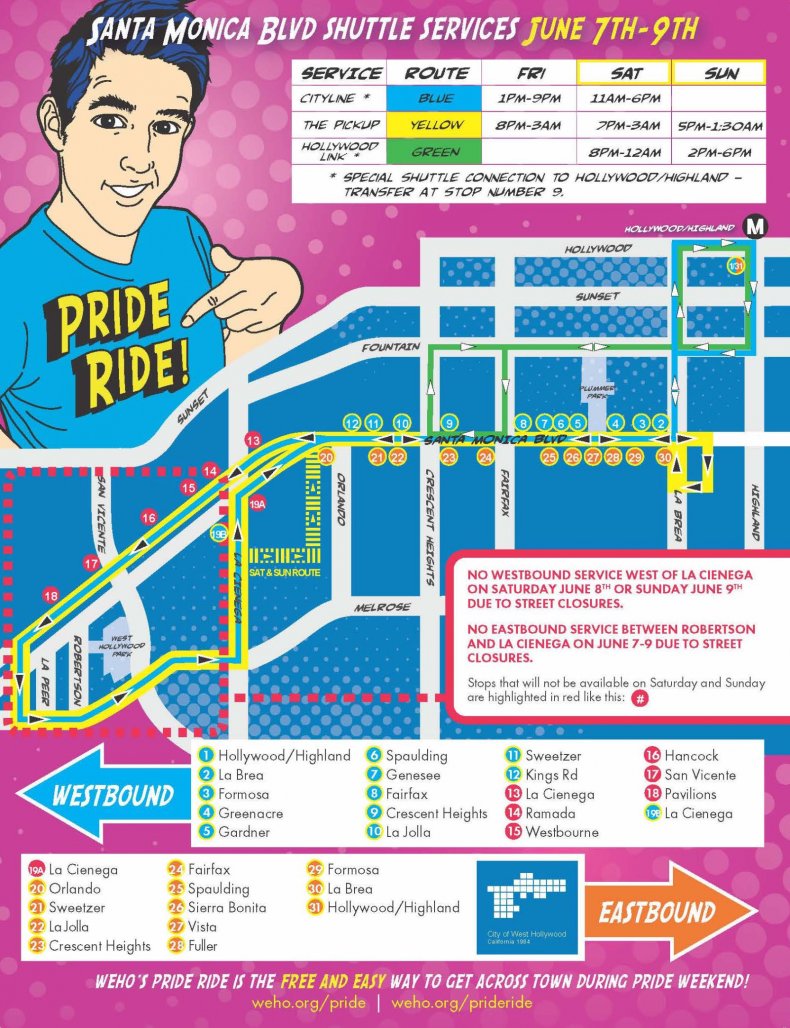 On Sunday, buses will be slightly detoured due to the L.A. Pride Parade. Spectators can get real-time updates to L.A.'s Metro Bus Lines on Twitter via @metrolosangeles and @metroLAalerts.
The City of West Hollywood has provided this handy guide to further public transport changes and road closures.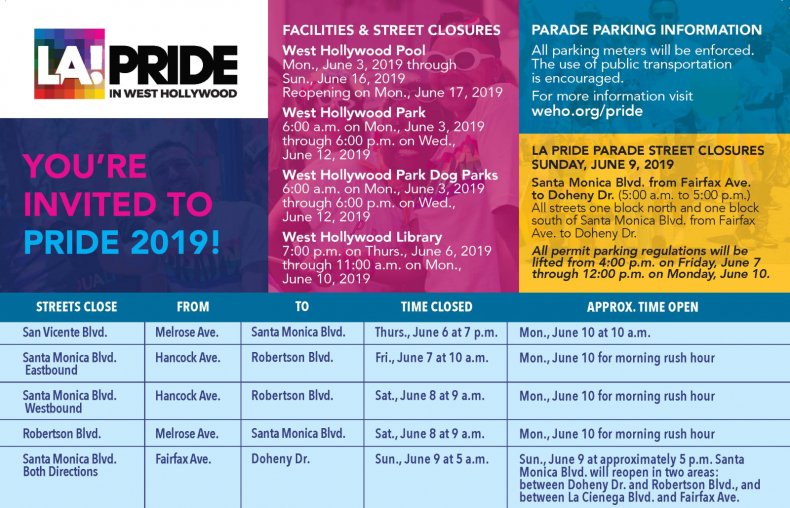 Where Can I Watch L.A. Pride Parade?
KABC is the exclusive television and digital broadcast partner for L.A. Pride. It will feature pre-parade coverage through Eyewitness News. The parade can be live-streamed online at the ABC7 website.
Disney Star Raven-Symoné will join KABC's Ellen Leyva and Brandi Hitt as they host the two-hour live broadcast from 11:00 a.m. until 1:00 p.m., local time.
Also joining the ABC7 team along the parade route will be Eyewitness News reporter Veronica Miracle and OTRC entertainment host, Karl Schmid.
A pre-parade preview show will also air Saturday, June 8 at 6:30 p.m. local time.
Grand Marshalls of the parade include Phill Wilson and the Los Angeles LGBT Center, and Netflix star Ryan O'Connell.
Who's Walking in the Parade?
L.A. Pride Parade contingents include:
ABC7 & The Walt Disney Company
ACE Beverage Co
ACLU of Southern California
Activision Blizzard
AIDS Healthcare Foundation
Airbnb & Gay Men's Chorus
Alliance for Housing and Healing
AMAAD Institute
AMAZON
American Institute of Bisexuality
Angel City Derby
APAIT, a division of Special Service for Groups
APLA Health & Wellness & LA's Two Spirit and Indigenous Contingent
Asians and Pacific Islanders for LGBTQ Equality
ASOS Magazine & GLAAD
Assemblymember Miguel SantiagoAustralian Consulate-General Los Angeles
BAE Systems
Bank of America
Barry's Bootcamp
Boohoo
BuzzFeed
Capitol Music Group
Cedars-Sinai
Celeb Grand Marshal: Ryan O'Connell
Channel Q Radio
Charles Smith Wines
Cheer Los Angeles
Chipotle Mexican Grill
Citi
City of West Hollywood
Coca-Cola
Comcast/NBC Universal
Community Grand Marshal: Phill Wilson
Congressman Adam Schiff
Consulate General of Canada in L.A.
Delta Air Lines
Equality California
Equity Residential
Gay Men's Chorus
GetPrEPLA
Google
Hollywood NOW (Hollywood Chapter of the National Organization for Women)
Hollywood United Methodist Church
Honey
Hulu
Human Rights Campaign
IATSE
Imperial Court of Los Angeles & Hollywood
60 Second Docs
Inland Empire Youth Pride
Insomniac
Invisible Men
InVision Church Los Angeles
IPG
ipsy
Johnson & Johnson
JPMorgan Chase Bank
JQ International
Kaiser Permanente
Kiehl's
KTLA
L.O.V.E. Living Our Vision Everyday Foundation
L.A. Care
L.A. City Attorney Steve Houchin
L.A. City Council
L.A. County Library
L.A. County Sheriff & LA County Fire
L.A. County Supervisor Sheila Kuehl & LA Metro
L.A. Fire Department
L.A. Kings
L.A. Mayor GarcettI
L.A. Police Department
Lambda Legal
Latino Equality Alliance
LGBT Bar Association of Los Angeles
Los Angeles Blade
Los Angeles LGBT Center
Los Angeles Public Library
lyft
MAC Cosmetics
Macy's Inc.
MedMen
Men's Health Foundation
Micky's West Hollywood
Microsoft
Milk Bar
Motorcycle Contingent for Equality
Netflix
New York University
Niantic, Inc.
Nordstrom
OC LGBT Pride
Office of the City Controller, Ron Galperin
Outsports
Paramount
Pasadena Scottish Pipes & Drums
PepsiCo
Perkins+Will
PFLAG Los Angeles
Planned Parenthood Los Angeles
POSE/FX
Postmates Inc.
Princess Cruises
Project Angel Food
Raha International
RaiseAChild
Richard Ceballos for District Attorney 2020
Riot Games
SAG-AFTRA
San Bernardino County Sheriff's Department
Sephora USA, Inc.
Sheppard, Mullin, Richter & Hampton LLP
Showtime Networks Inc
SoCalLutherans.com
Sony Pictures Entertainment
Southern Nevada Association of PRIDE, Inc
SpaceX
Speedo
Starbucks
Stonewall Democratic Club
Tesla
TGirl Nights
The Abbey
The Bloom Firm
The Leather Contingency
The Trevor Project
The UPS Store
The Wall / Las Memorias Project
Tinder
TJX Corporation
Trans Chorus of Los Angeles
Trans Latin@ Coalition
Transcanwork
U.S. Bank
Uber Technologies
UCLA
UCLA Health
UFCW Local 770 – OUTreach
UK Consulate Los Angeles
United Airlines
University of Southern California
Univision
VA Greater Los Angeles Healthcare System
Vanderpump Rules
VCA TLC Animal Hospital
Verizon
Wander Boys
Warner Media
Wells Fargo
WERLDEF (AKA Gloria Allred)
West Coast Singers: the LGBTQ+ Chorus of Los Angeles
West Hollywood Aquatics
West Hollywood Beverly Hills Democratic Club
West Hollywood Chamber of Commerce
West Hollywood Cheerleaders
West Hollywood Elite
Western Fertility Institute
WeWork
Celebrate L.A. Pride: Parade Route, Public Transport Information, Where To Watch Live Stream | U.S.