Celebrate New Orleans Pride: Parade Route, Best Places to View, Where to Watch Live Broadcast
The New Orleans Pride Parade takes place on June 8, 2019, embracing the message of "One CommUNITY." The event will raise money for its chapter of "Stand For The Silent" which focuses on ending bullying, and the pride festival and parade the following year.
Where does New Orleans Pride parade begin?
The biggest LGBTQ parade on the Gulf Coast starts at 7:30 p.m. at the Marigny and the French Quarter, through the historic district and finishing at French Market. You can watch the parade on WDSU on June 8.
The best family viewing area is in Jackson Square, the French Quarter side of Decatur. For the best balcony views head to Santos Bar, Good Friends Bar, Queens Head Pub, Oz New Orleans and Bourbon Pub.
Viewers with disabilities should head to Washington Square Park Safe Zone at St. Jude's on Rampart Street. Best street viewing is at Coyote Ugly, Marriott, The Page, The Black Penny, Rawhide, and 801 Royal.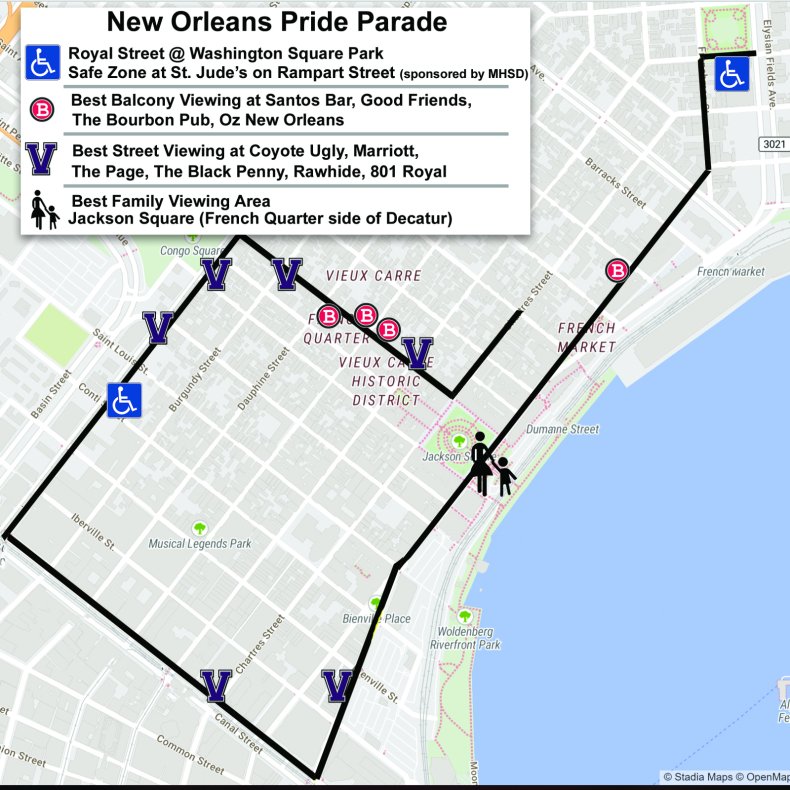 The parade is part of a larger Pride festival which starts on Friday and finishes on Sunday. Over 30 events will take place over the three day weekend, including:
Dancing/Queen Concert by the New Orleans Gay Men's Chorus
PrideFest with Big Freedia
GirlBar New Orleans: The Official Pride T-Dance for the Girls. 3:00 p.m. to 8:00 p.m. at the Bourbon Pub with DJ Missy Hall
New Orleans Pride Ball with Detroit Swindle
Sunday Funday Official Pride "T" Dance with DJ Orlando Ricardo at the Bourbon Pub
Family Equality Day at Longue Vue Gardens 11:00 a.m. – 2:00 p.m.
History of New Orleans Pride
According to its website, New Orleans Gay Pride began in February 1971. The Gay Liberation Front of New Orleans presented a "Gay In" picnic, which was the very first such event in the entire state of Louisiana
The first street parade was held in 1980, with the event moving to Armstrong Park the following year and was emceed by New Orleans native Ellen DeGeneres. In 1988 "Gay Fest" was changed to "Gay Pride, and moving into 1990s "Pridefest" received sponsorship by the New Orleans Alliance of Pride.
In 2011, The New Orleans Pride Organization was formed as its own organization and acquired a 501(c)(3) status. It consisted only of a parade, pageant, and block party on Bourbon Street with 80's pop star, Tiffany. Then, in 2012 the festival officially became "New Orleans Pride" and since then the board of the organization restructured to foster positive relationships between all communities in New Orleans.
The 2017 New Orleans Pride Festival was the largest Pride Festival to ever take place in Louisiana, according to its website, with over 35 events taking place over a three-day weekend, attracting more than 82,000 participants.