Celebrate World Book Day With Some of Newsweek's Favorite Lockdown Reads
According to the powers that be at the United Nations Educational, Scientific and Cultural Organization (UNESCO), April 23 is World Book and Copyright Day! While it's hard to party like wild in celebration of, uh, copyrights, it's never hard to celebrate our favorite books, particularly the ones providing us solace and escape as we while away the hours sheltering at home.
Netflix makes it easy to browse for something new to watch, and while many libraries have virtual browsing experiences, let's face it, they aren't exactly easy to navigate with any real success. I mean, that's how I wound up starting Proust's In Search of Lost Time after a search for "light beach reads."
To that end, I asked the Newsweek staff to share their favorite books with me. What, I asked, are you reading to keep you company and entertain you during the pandemic? They were more than happy (this is a guess based on the number of emojis used on Slack) to share the books that matter most to them during this trying time. Check them out and maybe you'll find your next lockdown favorite — I know I've already added a few to my ever-growing list! My bookshelves are already trembling at the idea of further additions.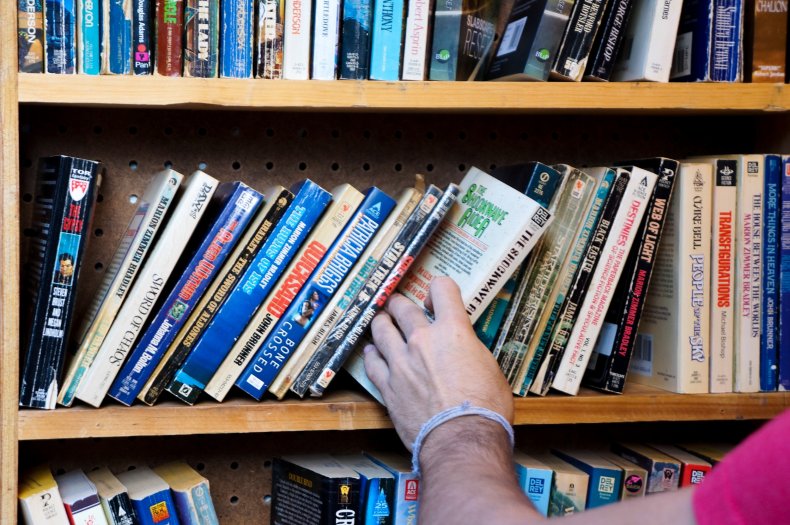 Donica Phifer, Editor
"The Book Thief by Markus Zusak, Harry Potter series (it's like a warm, comfy blanket),
Rebecca by Daphne Du Maurier.
Kelly Wynne, Culture Writer
"Marlena by Julie Buntin, The Things We Lost In The Fire by Mariana Enriquez, My Sister The Serial Killer by Oyinkan Braithwaite (I read the whole thing on Sunday and it was fantastic) and Stay With Me by Ayobami Adebayo"
Juliana Pignataro, US News Director
"New York by Edward Rutherfurd; Hitchhikers Guide to the Galaxy by Douglas Adams; The Things They Carried by Tim O'Brien; 20,000 Leagues Under the Sea by Jules Verne"
Jenni Fink, Chief Reporter, Breaking News
"Looking for Alaska, John Green, Watership Down, Richard Adams, The Master and Margarita, Mikhail Bulgakov, Sentenced to Life, Jenni Fink [Editor's note: JENNI WROTE A BOOK, GUYS.]
Erika Hobbs, Senior Editor
"A Long Petal of The Sea by Isabel Allende, because Allende is always comfortably, reliably, Allende."
Andrew Whalen, Writer
"The Golden Notebook, Doris Lessing, The Dispossessed, Ursula K. Le Guin
Janice Williams, Culture Writer
"The Alchemist, Paulo Coelho, Like Water For Chocolate, Laura Esquivel
Marina Watts, Editorial Fellow
"11/22/63 by Stephen King, along with the Frank Sinatra biographies by James Kaplan."
James Crowley, Culture Writer
"The Sun Also Rises, Hemingway, Killing Yourself to Live, Chuck Klosterman, Drive Here and Devastate Me, Megan Falley"
Jorge Solis, Culture Writer
"Raylan by Elmore Leonard. I'm a huge fan of the Justified TV show."
Rebecca Stokes (me), Senior Culture Editor
"Through a Glass Darkly", Karleen Koen. A sprawling escape into 18th-century English nobility and one heck of an engaging romantic drama."
Check out the whole list right here! Have ideas of your own about what everybody should be reading? Share away, we'd love to hear them in the comments.