Today's Google Doodle celebrates five decades of the Pride movement, in an interactive video showcasing the changing faces of parades over the years.
This year marks the 50th anniversary of the Stonewall Riots, considered a key moment in the modern LGBT rights movement.
The riots began when the Stonewall Inn, a bar on Christopher Street in Manhattan, was raided by police.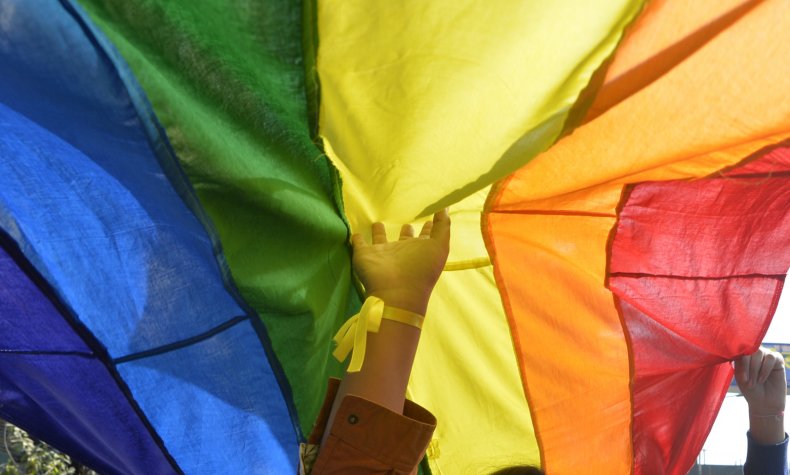 A brick was then thrown by a black transwoman, a totemic moment that brought the political struggle for equality into the mainstream for perhaps the first time.
A monument to Marsha P. Johnson and Sylvia Riviera, two activists at the heart of the riots, will be unveiled in New York City this year, The Guardian reported.
That iconic event is not represented in today's Google Doodle, which focuses more on the celebrations in the subsequent years.
It also depicts the AIDS crisis, using the triangle that symbolizes what the LGBT community says was the failure of the U.S. government in past decades to act on the crisis.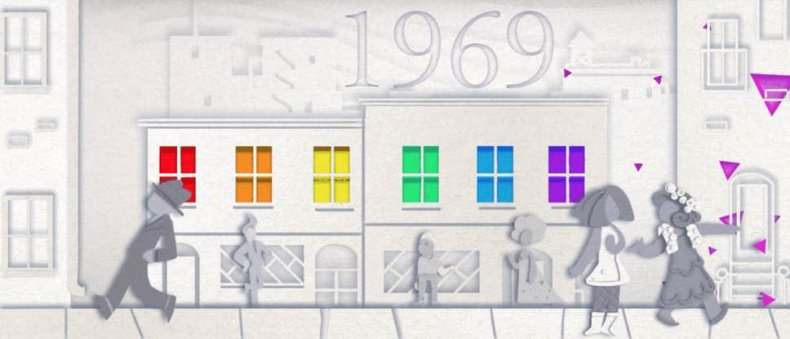 Nate Swinehart, who designed the Doodle, said of his animation: "The Pride Parade is a symbol of celebration and liberation for the entire LGBTQ+ community.
"From its early days of activism on Christopher Street in New York City, to the worldwide celebrations of today, it has empowered and given voice to a bright and vibrant community.
"In celebrating 50 years of Pride, my coworker Cynthia Cheng first had the idea to depict the parade itself and show it growing in size and momentum across the decades."
To capture the feeling of a parade that was increasing in size over the years, he experimented with using strips of cut paper to depict the people and setting.
Google marks the Pride movement down the years with its latest Doodle. The animation follows LGBT parades from 1969, the year of the Stonewall Riots.
He then added layers of depth across the decades, and used color to show the growth and vibrancy of the community over time.
"Working on this Doodle was a very personal project for me. As a member of the LBGTQ+ community, I am very familiar with the struggle of feeling included, accepted, and that I am a 'part' of this world.
"I have witnessed the strides forward for queer people over the decades, and today, many of us celebrate a level of freedom I could not have imagined in my wildest dreams while I was growing up," he said.
In past years, to mark June as Pride month, Google added a rainbow to the right side of the search bar when users search for LGBTQ terms.
This year, anyone searching those terms will see a graphic depicting Pride celebrations around the world.