With kindergarten teachers unable to read to their pupils in classrooms due to coronavirus quarantines, some parents are allowing celebrities to handle a portion of that task.
Head to Jennifer Garner's Instagram page, for example, and you'll hear the Alias actress whinny like a horse and snort like a pig as she reads Big Red Barn by Margaret Wise Brown. More than 210,000 have watched the five-minute video.
Likewise, Amy Adams's reading of The Dinosaur Princess by her daughter, Aviana Olea Le Gallo and illustrated by her husband, Darren Le Gallo, has been watched 540,000 times.
Garner and Academy Award nominee Adams launched their reading campaign, dubbed Save with Stories, on March 17 after U.S. public schools shut down, and they're using the initiative to raise money for a couple of charities: Save the Children and No Kid Hungry.
Aside from Save With Stories there is Josh Gad, who has a 13-minute rendition of Dr, Seuss' Happy Birthday to You! that might be of particular interest to young fans of Disney's Frozen who will recognize Gad as the voice of Olaf the snowman. Around 30,000 people have listened to him read the book thus far.
For parents looking for significantly more help with the education of their kids as they remain cooped up in their houses, actress Sam Sorbo has launched a YouTube vlog dubbed The Accidental Home Schooler. Sorbo has three children with her husband, Kevin Sorbo (the two met when she was cast on his 1990's hit series, Hercules: The Legendary Journeys), and the couple has been home-schooling them for more than a decade.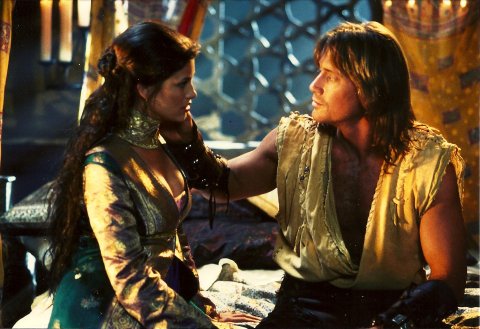 Sam Sorbo is also promoting CoronaVirusHomeSchooling.com, a new website from the Texas Home School Coalition that contains curriculum parents use for students in a variety of grades. Click on the subject of "animals" for fourth graders, for example, and you'll see a video of TV personality Robert Irwin give a tour of the Australia Zoo; followed by an Art for Kids video showing how to draw a panda bear; and finally a reading and writing exercise about bees and hummingbirds.
Sam Sorbo is fluent in five languages and studied biomedical engineering at Duke University, but she says parents need not be overachievers to home-school their children.
"Many feel inadequate to the task even though they went all through high school," she told Newsweek. "They're not inadequate, and now a whole bunch of people came together to create this website with myriad solutions."
The actress says her work with CoronaVirusHomeSchooling.com and her Accidental Home Schooler vlog came naturally to her, given she's an advocate of the practice. The Department of Education estimates about 3 percent of children ages 5-17 are home-schooled, and Sam Sorbo wants that to increase.
"Home-schooling was the furthest thing from the minds of parents. Yet here they find themselves because of coronavirus. Try it on. You have nothing to lose," she said.
There's also a host of British celebrities helping out with distance learning. Carol Vorderman, a UK game-show host for 26 years, created her Maths Factor web site about a decade ago, but she has made it free for kids ages 4-11 until schools reopen.
Dan Snow, known as The History Guy in the UK after making several shows on that topic for the BBC and other outlets, has made his History Hit streaming service available free for a limited time.
And Joe Wicks, who hosts a UK show called The Body Coach, has launched P.E. With Joe, a live and on-demand YouTube show typically 30 minutes in length. More than 2.3 million viewers tuned into his fifth show of the series that aired on March 27.