Celebrities Had a Lot to Say About Donald Trump's State of the Union Address: Chrissy Teigen, Andy Cohen, Trevor Noah and More
On Tuesday evening, the eyes of America were on President Donald Trump as he finally delivered his State of the Union Address, which had been postponed due to the government shutdown. Among those watching were various celebrities, many of whom shared their views of the proceedings via social media and other means.
In a tweet, late night host Trevor Noah joked about Speaker Nancy Pelosi's seemingly sarcastic applause of the president's speech, writing, "Not the first time Trump has got the clap," in reference to a slang term for gonorrhea.
On a live edition of the The Daily Show, Noah pointed out that the delay had probably helped the president because it "gave Trump extra time to practice mispronouncing big words," while noting that the real theme was, "we're all going to die, Mexican style," because of "criminals, child smugglers and illegal aliens."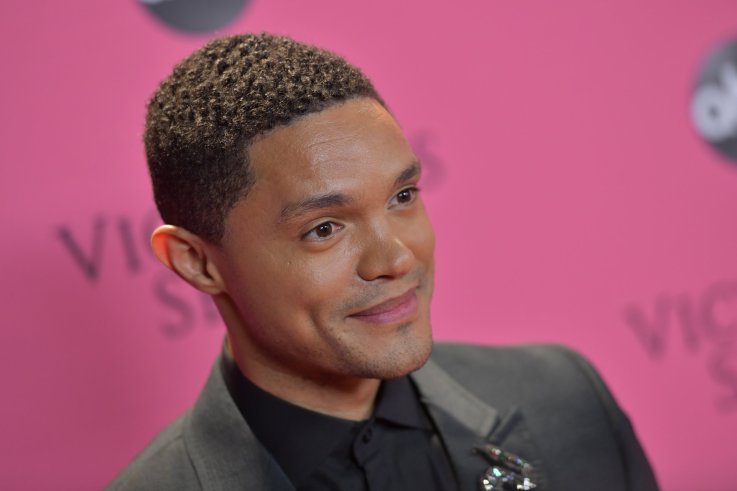 Meanwhile, actor, director and producer Elizabeth Banks chose to highlight the fact that all the Democratic congresswomen wore suffragette white as a symbol of solidarity with women across the country. "This is awesome. Congrats and thank you Congresswomen for representing at #SOTU," Banks tweeted.
Avengers: Infinity War actor Mark Ruffalo also picked up on this theme, tweeting: "Strong. Unified. Powerful. What a stunning sight to see all of the Democratic women in suffragette white at the #SOTU."
Charmed actor and activist Alyssa Milano picked up on Trump's calls for unity and cooperation for the "common good."
In a series of tweets, she said: "A president intent on unity does not create or enforce a policy that makes it impossible to reunite children with the families from whom they were reprehensibly separated at the southern border. A president intent on unity does not ban immigrants based on their religion. A president intent on unity does not call the press the 'enemy of the people.'"
Among other points, Milano also commented on Trump's calls in the speech for curbs on late-term abortion.
"Every day, women across America face deeply personal decisions of whether or not to continue a pregnancy," she wrote. "@RealDonaldTrump and his minions in the @GOP want to take away the most fundamental freedom women have: Freedom of their own bodies. Government doesn't get any bigger than when it is in a uterus. Stand for choice. Stand for freedom."
The Late Show host Stephen Colbert tweeted: "I loved watching the #SOTU tonight. It was my favorite episode of Russian Doll."
On a live edition of his show he joked about two contradictory statements that Trump made. The president said that "working-class Americans are left to pay the price for mass illegal immigration—reduced jobs" and also claimed "more people are working now than at any time in the history of our country."
Colbert said in an impression of Trump's voice. "Both of those things are true, if you don't think about it too hard. I don't. I don't think about it at all."
Natasha Rothwell—star of HBO's Insecure—chose to comment on Stacey Abrams's speech, the official Democratic response to the State of the Union. "Look at @staceyabrams speaking to hope and unity and not fear," Rothwell tweeted.
Model and author Chrissy Teigen and Watch What Happens Live host Andy Cohen both decided to watch something else instead, namely, Bravo's Below Deck Season 6 "Reunion" episode. "Now watching: state of below deck reunion," Teigen tweeted, while Cohen wrote, "Below Deck Reunion > SOTU."
Celebrities Had a Lot to Say About Donald Trump's State of the Union Address: Chrissy Teigen, Andy Cohen, Trevor Noah and More | U.S.