Celebrities Mourn the Passing of British TV Presenter Caroline Flack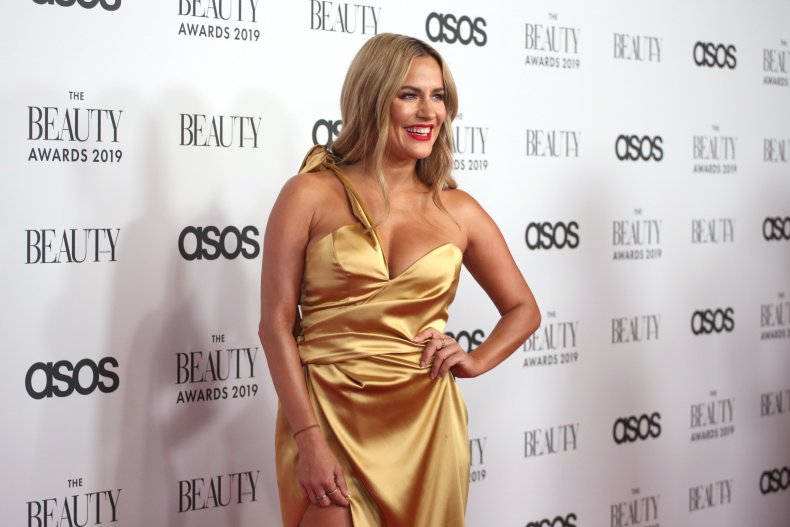 Caroline Flack, the former host of the British reality dating show Love Island, was found dead in her London flat on Saturday. She was 40 years old.
Her death was the result of suicide, according to The New York Times.
"We can confirm that our Caroline passed away today, 15 February. We would ask that the press respect the privacy of the family at this difficult time and we would ask they make no attempt to contact us and/or photograph us," a statement issued by Flack's family read, as reported by The Guardian.
Flack began hosting the show in 2015, but resigned last year amid accusations that she had assaulted her boyfriend, Lewis Burton, The Associated Press reported. In the months since her assault charge, Flack "had been the focus of several negative articles and was trolled across social media."
Some celebrities and journalists took to Twitter to express their feelings of remorse about the news of her death.
Laura Whitmore, who began hosting Love Island in 2020, posted a photograph of herself and Flack as well as a poem. In the post's caption, she wrote that she was "trying to find the words but [she] can't."
"Don't even know what to say," wrote Olivia Bowen Buckland, a former star of Love Island. "Just in shock, we love you Caroline."
"Such tragic news about [Caroline Flack]," Katie McGlynn, ... wrote. "[M]y heart goes out to her family and loved ones. Tabloids can destroy lives. It doesn't take a lot to be kind to people. Something needs to change. Rest in peace angel."
Actor Tom Felton shared a quote from Flack: ""In a world where we can be anything, be kind."
"[Flack's death] is such sad news," wrote Jason Watkins, who plays Prime Minister Harold Wilson on the historical television drama The Crown. "If only we could catch them before they fall. Thinking of her family and friends."
"Absolutely heartbreaking to hear the news about Caroline Flack," wrote singer-songwriter Cher Lloyd. "She was always so warm and kind. My thoughts are with family and friends at this very difficult time x."
"The news about Caroline Flack passing is so incredibly shocking and heartbreaking," wrote singer and actress Kimberley Walsh. "Sending love to her family and friends at this devastating time. There really are no words."
"I've met a lot of famous people over the years," wrote Julia Hartley-Brewer, a radio broadcaster. "I fear many (but not all) of them seek celebrity because they are already damaged souls needing external affirmation. It's not the fame or infamy that breaks them, it's their need for it in the first place. Very sad."
Samantha Quek, a former professional field hockey player, wrote that the "saddest thing in all this is that Caroline will never see the outpouring of love for her. If only she knew yesterday.
"Love now...Banish hate... Don't judge others how you wouldn't want to be judged yourselves," Quek continued.
Actress Jameela Jamil, star of TV's The Good Place, wrote in response to Flack's death: It was only a matter of time before the media and a prolonged social media dogpile, hers lasted for MONTHS, pushed someone completely over the edge. Rest In Peace Caroline Flack. This is f--cking horrendous."
She also tweeted a petition that called for the British government to look into harassment of public figures by the press: "Let's make sure this doesn't happen again, let's get the government to investigate how far the British press are allowed to go with their harassment."
James Mitchinson, editor of The Yorkshire Post, wrote that he hope Flack's death will spur the creation of "some sort of law ... that holds social media platforms and their evil abusive anonymous gargoyle trolls to account."
Conservative media personality Katie Hopkins had an opposing view.
"We are all part of it. Every time we click on a pic or wonder what she wore to court," she wrote. "Some are in the audience. Others perform. Without each other there is none[.] No law can change it. No law should."
Meanwhile, Burton posted an Instagram about Flack, that read in part: "I will be your voice baby I promise I will ask all the questions you wanted and I will get all the answers nothing will bring you back but I will try make you proud everyday."
If you or someone need help, please call the National Suicide Prevention Lifeline at 1-800-273-8255.
Updated 12:36 PM ET.