Celebrities Pledging '$45 to Fire 45' in Effort to Oust Trump in 2020 Election
Celebrities and athletes, including Julia Louis-Dreyfus and Blake Griffin, have recently been pledging "$45 to fire 45" on social media. This is the latest political effort to gather donations from voters and oust President Donald Trump in the November 3 election.
On Friday, Griffin quote-tweeted a message from Dreyfus pointing out that "four swing states" and "five senate seats" are key to Democrats' success in the upcoming election. Dreyfus' message quote-tweeted a post from comedian Andy Richter featuring the same message. With their various tweets, the stars are asking individuals to match their pledge of $45 at the site 45tofire45.com.
That site is being hosted and paid for by the nonprofit organization ActBlue, which has created online fundraising platforms for donors to give to Democratic candidates.
Pledgers can make a weekly donation of any amount they like, with easy options ranging from $25 to $5,000 easily available. Their donations will be split among four states: Arizona, Georgia, Texas, and North Carolina.
"These four superstates carry 80 make-or-break electoral votes and five Senate seats," the fundraising site reads. "What's more -- we're so close to flipping each of the four state houses just before the GOP rigs the maps for the next decade."
A little further down, the page reads, "Pitch in now so we can celebrate winning up and down the ballot on Election Day!"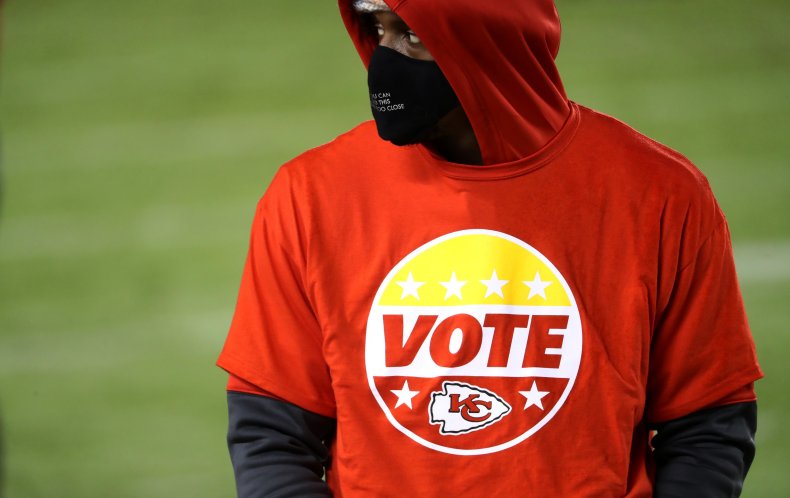 On Thursday, American Horror Story actress Sarah Paulson also showed her support for the fundraising campaign. Not only did she share the link on her Instagram page, she also posted a tongue-in-cheek drawing from 45tofire45.org.
"With your support, we can win in 4 key swing states this November," wrote Paulson in the caption. "Without them, Trump can't win. So donate. Let's flip TX, NC, AZ, and GA for good!"
Under the hashtag thread, #45tofire45, you can find other celebrities who are taking part in the online campaign. The list of names includes comedian and actress Sarah Silverman, Glee's Jane Lynch, West Wing actor Bradley Whitford, Dead to Me actress Christina Applegate and many more.
Of the celebrities participating, Dreyfus has been a particularly outspoken opponent of President Trump. Last month, the former Veep star took part as one of the hosts of the 2020 Democratic National Convention. The 11-time Emmy winner delivered zingers aimed at Trump throughout the final night of the DNC. Eva Longoria, Tracee Ellis Ross, and Kerry Washington also served as hosts, on separate nights of the Convention.
Whether or not these celebrities and the #45tofire45 campaign will be successful in their aims, well, we'll have to wait and see.